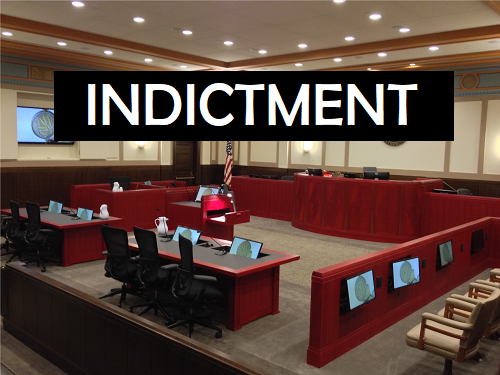 On November 21, 2019, four Georgia residents had their initial appearances in South Florida on charges related to their alleged involvement in an international scheme to defraud retirees of their veterans and social security benefits.
U.S. Attorney Ariana Fajardo Orshan for the Southern District of Florida, Special Agent in Charge David Spilker of the Veteran Affairs Office of Inspector General (VA OIG), Inspector in Charge David M. McGinnis of the U.S. Postal Inspection Service's (USPIS) Charlotte Division, Special Agent in Charge Anthony Salisbury of Homeland Security Investigations' (HSI) Miami Field Office, and Special Agent in Charge Rodregas W. Owens of the Social Security Administration Office of the Inspector General (SSA OIG), Atlanta Field Division made the announcement.
Jamare Mason, 25, of Lithonia, Ronaldo Garfield Green, 27, of Snellville, Mario Andre Ricketts, 24, of Carrollton, and Omar Shaquille Bailey, 24, of Snellville, all of Georgia, and three other individuals were charged with conspiracy to commit bank fraud and wire fraud (Case No. 19-CR-60313). The four Georgia residents had their initial appearances before U.S. Magistrate Judge Patrick M. Hunt in Fort Lauderdale, Florida.
According to allegations in the indictment, between May 2012 and July 2017, the defendants and three other individuals participated in a scheme to defraud the U.S. Department of Veterans Affairs and the Social Security Administration by fraudulently redirecting retirees' benefits to accounts controlled by them.  The scheme, which was international in scope, involved conspirators in Jamaica, Georgia, and Florida. The conspirators obtained the personal identifying information of veterans and social security beneficiaries and used that information unlawful access and gain control of beneficiaries' accounts at the U.S. Department of Veterans Affairs and/or Social Security Administration.  After doing so, the conspirators redirected the benefits to bank accounts, as well as prepaid debit cards and accounts, which they controlled.  The subjects then withdraw the funds from ATM machines or transferred funds to other accounts, for their own personal use.
An indictment is a charging instrument containing accusations. A defendant is presumed innocent unless proven guilty in a court of law.
A calendar call for defendants Mason, Green, Ricketts and Bailey has been scheduled for January 14, 2020 at 1:30 p.m. in Fort Lauderdale before U.S. District Judge Roy K. Altman. A jury trial has been scheduled for January 21, 2020.
U.S. Attorney Fajardo Orshan commended the investigative efforts of the Transnational Elder Fraud Strike Force, including our partners at the VA OIG, USPIS, HSI, and SSA OIG. The case is being prosecuted by Assistant U.S. Attorney Lois Foster-Steers. Assistant U.S. Attorney Alison Lehr is responsible for the asset forfeiture component of the case.
Combatting elder abuse and financial fraud targeted at seniors is a key priority of the Department of Justice. The mission of the Department's Elder Justice Initiative is to support and coordinate the Department's enforcement and programmatic efforts to combat elder abuse, neglect and financial fraud and scams that target our nation's seniors. To learn more visit https://www.justice.gov/elderjustice.  The public is encouraged to report their victimization and suspected fraud schemes. To find the right reporting agency visit https://www.justice.gov/elderjustice/roadmap or call the victim connect hotline at 1-855-484-2846.
Since President Trump signed the bipartisan Elder Abuse Prevention and Prosecution Act (EAPPA) into law, the Department of Justice has participated in hundreds of enforcement actions in criminal and civil cases that targeted or disproportionately affected seniors. In particular, this past March the Department announced the largest elder fraud enforcement action in American history, charging more than 260 defendants in a nationwide elder fraud sweep.  The Department has likewise conducted hundreds of trainings and outreach sessions across the country since the passage of the Act.