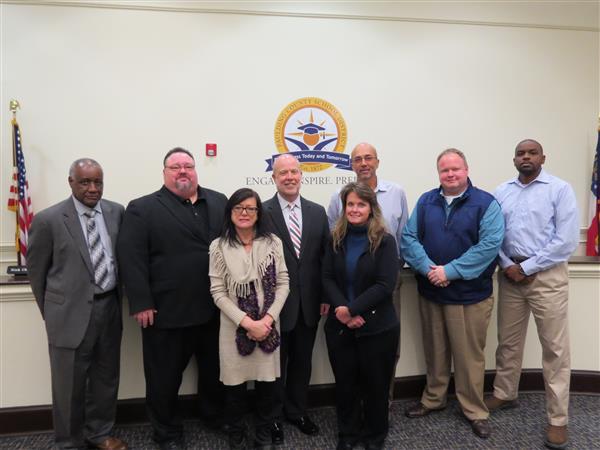 With all the talk of increased security in our schools since the tragedy in Florida, one subject has been on everyone's mind: Should we arm our teachers? Last week President Trump mentioned the idea. The Floyd County Board of Education called a special meeting to discuss the subject and earlier this week Bartow County Sheriff Clark Millsap said that his office would train any teacher that volunteered to carry if the option to arm teachers was utilized by the Bartow Board of Education.
House Bill 60 (passed in 2014) provides for a school district to opt into designating, on a voluntary basis, a teacher, administrator, or principal to carry a firearm. Should the district opt into this provision, there is no requirement or mandate that a teacher, administrator, or principle would have to unwillingly carry a firearm. You can find the bill here.
On Monday, All on Georgia Paulding contacted EVERY Member of the Board of Education via email to find out if the Paulding BOE was going to discuss the option of arming teachers. Following is the email that was sent to them.
"Good morning!
My name is Matt Lowe, some of you know who I am and others do not, I am a writer for All On Georgia and I manage the Paulding market. I am writing an article regarding arming teachers. Its been a topic of conversation both on a national level since President Trump mentioned it and on some of the local online pages. It's a subject that the Floyd county BOE called a special meeting for last week and now Bartow county is discussing it. The sheriff there has gone on record as stating that if the Bartow BOE chooses, he will train the volunteer teachers free of charge.
My question to each of you is this: Does the Paulding county BOE intend to have a discussion about utilizing the mechanism within HB60 that allows teachers to arm themselves? If so, when? If not, why not?
I appreciate a response from each of you.
Matt Lowe"
Only District 4 Board Member Glen Albright felt that my question of whether the BOE was planning to discuss arming teachers was worthy of a response. His response is below.
"Mr. Lowe,
I am not opposed to the idea of discussing teachers carrying a weapon on campus. That being said, any discussions around the idea of "teacher carry", must include a rock solid outline as to how to achieve greater security. However, to be perfectly clear, these types of knee jerk emotional reactions to tragic situations rarely have productive outcomes.
Respectfully,
Glen Albright
Sent from my iPhone"
Mr. Albright, All On Georgia appreciates you respecting the citizens of Paulding County enough to respond. Hopefully, your forthrightness will spread to other elected officials.
If you would like to contact the members of the Paulding BOE here is their contact information. It can also be found on the district web page here.
Nicholas Chester, Chair
District 2
nchester@paulding.k12.ga.us
770-443-8000 x10259
Kim Cobb, Vice Chair
District 3
kimberlycobb@bellsouth.net
770-597-8211
Glen Albright
District 4
galbright@paulding.k12.ga.us
770-443-8000 x10258
Kim Curl
District 6
kimcurlrx@bellsouth.net
770-445-2600
Jeff Fuller
At-Large
JLFuller@paulding.k12.ga.us
770-443-8000 x 10262
Photo credit: Paulding BOE website
Pictured from left to right: Sammy McClure (District 5), Glen Albright (District 4), Theresa Lyons (District 1), Dr. Brian Otott (Superintendent), Kim Cobb (District 3), Kim Curl (District 6), Jeff Fuller (At-Large), Nicholas Chester (District 2)
This column that is purely the opinion of the author, and does not necessarily represent the views of AllOnGeorgia.