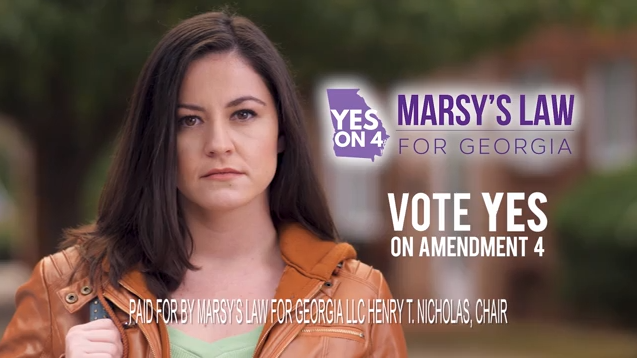 The following column is an opinion piece and reflects the views of only the author and not necessarily those of AllOnGeorgia.
---
As televisions continue to be inundated with political ads from candidates vying to be the next leaders in the Peach states, some of the advocacy organizations pushing for Constitutional Amendments have found the funds to put their cause on television, too.
The first of the general election cycle deals with Amendment 4, better known as Marsy's Law. Marsy's Law, addresses rights of victims of crime. It is part of a national effort to add additional rights and privileges for victims of crime.
But the new ad – and the press release that accompanied the ad – implies that victims of crime currently have less than equal rights.
In an press release sent out by Marsy's Law for Georgia on Thursday morning, the subheader of the release reads: "Amendment 4 would give crime victims constitutional rights."
I was under the impression that all Georgians – and Americans for that matter – already had constitutional rights.
The actual ad, titled "One Day," "portrays a victim's fear of coming into contact with the criminal who attacked them. Marsy's Law would ensure crime victims have a constitutional right to information about their assailant's case, such as trials, parole hearings and changes in custody status," the press release sent by Brian Robinson said.
Without getting into the inappropriateness of using fear and emotion to convince voters to make a decision about something that will forever alter how the state Constitution reads, it's problematic that the campaign that is nationally funded and very vocal in dozens of states is choosing loose verbiage to sell their idea.
The State Director for Marsy's Law, Ann Casas, is quoted in the press release saying "Victims deserve the right to have their voices heard in the criminal justice process, they deserve access to information that could keep them safe and they deserve equal rights."
These aren't constitutional rights that are currently in place for anyone – victims or otherwise – so Casas is acknowledging that the organization is advocating for additional rights that only victims of crime would possess. The ad, which is airing across the state actually says "It's time for equal rights," which is even more misleading because everyone is already equal under the law. The rights that are protected by the Constitution of Georgia already apply to everyone, despite what Marsy's Law for Georgia says.
If the ad were to be factually accurate, it would announce what the Amendment would provide, "more than equal rights" for victims of crime. These additional rights for victims come at a cost to taxpayers and at a cost in regard to due process, but that's a different column for a different day.
The ad is misleading and so is the campaign. What the advocates for this Constitutional Amendment aren't talking about is how this is already law, it just isn't enforced by judges, prosecutors, and victim's rights advocates. That isn't a constitutional problem, that's a justice system problem. And we don't need more government to fix it.  The protections they want are there.
Joe Mulholland, a district attorney in South Georgia, told his local paper that the amendment is technically already part of the law. "It's already technically part of Georgia law, but the legislature felt like being a part of the constitution is even stronger. Having that and knowing its part of the constitution, I think it gives peace of mind to prosecutors."
You can watch it below and decide for yourself.
I've also  penned a breakdown of the Constitutional Amendments to appear on the ballot this November. You can read it below the video.
BREAKDOWN: The 5 Constitutional Amendments on the November 2018 Ballot