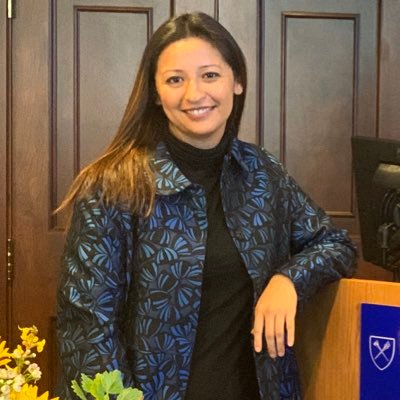 The following article is an opinion piece and reflects the views of only the author and not those of AllOnGeorgia.
By: Dr. Roxana Chicas
---
As the nation is ravaged by the coronavirus pandemic, it's important to recognize those lifting up our economy and communities during this difficult time. This includes all those who are staying home to help flatten the curve, grocery store attendants and delivery workers who are ensuring we have daily necessities, farmworkers in the fields, teachers continuing to educate our children from afar, and healthcare providers who are working around the clock to care for the sick. It's also important to recognize that many of those serving in these critical industries and response roles are immigrants, and that they are playing a vital role in Georgia's response to this crisis. 
Immigrants, such as myself, account for about 17 percent of workers in healthcare occupations overall. They represent doctors, nurses, home health aides, physicians, surgeons, and other health professionals who are making patients a number one priority. They are caring for the elderly and providing critical care. 
There's also a significant number of immigrants working as sanitation workers, grocery store staffers, and farmworkers, keeping families healthy and fed during the pandemic. Seventy-three percent of farmworkers in the United States are immigrants, serving as a reminder to their utmost necessity. Here in Georgia, lawmakers are working hard to protect businesses and farms that are essential to our daily lives, and a part of that means protecting the labor workers that make continuing operations possible. Despite the risks, immigrant field workers are a part of this workforce, filling essential roles in the food supply chain, putting their lives at risk to make sure we are safe and healthy.
In many ways, the coronavirus response is proving what many already know – that our great state cannot function without the essential contributions made by immigrant workers, especially as Vidalia onions and peaches will soon need harvesting. Ultimately, businesses and communities across the nation rely on nearly six million immigrants to play a critical essential roles, and are increasingly susceptible to impacts from this public health crisis.
I am one of these immigrants living in Georgia. I'm also a mother of three children, a Ph.D. nursing graduate, and a teacher. I'm able to give back to my caring community because I have been granted Temporary Protected Status (TPS), which allows me to live and work in the United States. I've been in the United States for 32 years. This is the only home I've ever known.
To me, and to many immigrants, being an American means putting family first, giving back to the community and committing to this country. TPS is my lifeline. It's allowed me to achieve my dreams of serving my community through health services. I'm proud to say that I was able to go from supporting myself as a waitress to researching ways to keep our agriculture workers safe.
Today, I'm training future generations of nurses in Georgia who will go on to help patients from all backgrounds. TPS has allowed me to have a job and pay taxes but, sadly, it hasn't allowed me to change my immigration status.
Like many immigrants, I'm here to help and to pass a better future along to my children. TPS holders are Americans. We work hard for our families and communities, but without my protected status, I wouldn't be here to conduct research, educate students, and serve as the breadwinner for my children.
And unfortunately, I am not alone. There are other immigrants with temporary status, such as Deferred Action for Childhood Arrival (DACA) recipients who were brought to the United States as children and were raised here. They currently live with a two-year status that must be renewed, but with critical government agencies closed and a looming Supreme Court decision on the future of the program, their lives in this country are also in limbo.
With continuous efforts to terminate immigration programs, and now with a global health crisis, my future is in constant danger. But Congress can help change this and the time to act is now. I urge lawmakers to act swiftly to provide protections for immigrants who are at the frontlines of fighting the coronavirus pandemic, whether working on the farms, providing health aide to the elderly or helping in our hospitals. From TPS holders to DACA recipients and beyond, the need for protections for millions of immigrants fighting for America now is greater than ever and they are playing a critical role on the frontlines of this pandemic.