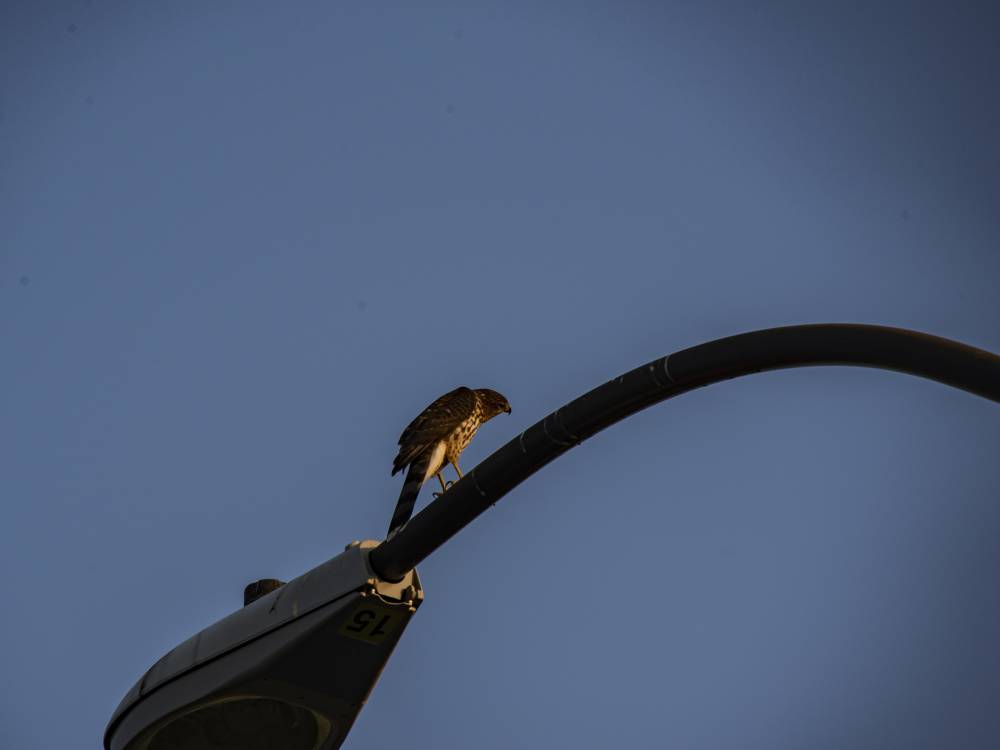 Many people have discovered the joy of birdwatching as they sampled new activities during this time of closed workplaces, social distancing and cabin fever.

Yet while that fledgling interest is a potential boon for bird conservation, another result of the pandemic has hampered researchers studying peregrine falcons nesting among city high-rises.
Dr. Bob Sargent of the Georgia Department of Natural Resources has a network of metro Atlanta residents who monitor peregrines on downtown buildings. Although Georgia's capitol is on the southern edge of the breeding range of the world's fastest birds, here as in some other cities tall manmade structures have proven an attractive substitute for the cliff faces where peregrines would usually nest.
Experts believe one or more pairs nest in metro Atlanta each year. The issue is finding them.
That's where the falcons network comes in. Sargent, a program manager with DNR's Wildlife Conservation Section, checks with his contacts each February through May. While some members are serious birders, many are office workers and building managers who never watched birds until "they were at their desk on the 40th floor, glanced out the window and found themselves the object of a peregrine's stare"—and a falcon watcher was born.
This year, however, the network was off the air because of closures related to COVID-19, Sargent said.
"I've received a couple of recent reports of falcons seen at SunTrust Plaza and the Four Seasons Hotel, as well as a sighting near Piedmont Park and at least four of a lone falcon from the towers at Zonolite Park, but nothing like the log of sightings I would usually receive."
With nesting season over, it's too late to pinpoint eyries, or nest sites. Sargent's focus now is finding "brown falcons," a sign successful nesting occurred. First-year peregrines are mostly dark brown with vertical streaking on the breast. Adults are typically charcoal gray with horizontal breast bars.
Outside of Atlanta, Sargent's search this spring for "wild" nests in north Georgia also came up empty.
In April, he and DNR pilot Capt. Steven Turner flew over Rabun Bald, a cliff face near Clayton where peregrines were seen or heard in 2017 and 2019, but saw no sign of falcons. During a visit this month to Tallulah Gorge, Sargent and Georgia Power environmental specialist Jim Ozier heard an adult falcon but found no evidence of an eyrie or juveniles. A pair nested on the north cliff face of the gorge from 2015–2018, the state's first nest outside of Atlanta since the 1940s. Although a nest has not been confirmed there since, staff at Tallulah Gorge State Park recently reported seeing two peregrines.
Peregrines are crow-sized falcons best known for their 200 mph-plus dives, or stoops, on ducks, pigeons, shorebirds and other prey. In the U.S., the species is recovering from a mid-1900s population crash linked to use of the pesticide DDT.
DNR and partners released nearly 30 young falcons from "hacking" enclosures in north Georgia from 1988–1994. Sites included Mount Yonah, Bell Mountain, Tallulah Gorge and Cloudland Canyon, where a peregrine nest in the early 1940s was Georgia's last documented in the wild until Tallulah Gorge in 2015.
The hacking project encountered problems, including great horned owls preying on some young falcons. Meanwhile, researchers in other parts of the eastern U.S. reported falcons successfully nesting on city high-rises. Georgia biologists expanded their effort to Atlanta in 1989, hacking a male falcon—or tercel—off the Georgia Power Building. That bird attracted a mate in 1992, and the pair successfully nested on the roof of an Atlanta hotel in 1996, leading to a run of peregrine nests and young in the metro area.
Peregrines were taken off the federal endangered species list in 1999. But they are state-listed as rare in Georgia and rank as a species of significant conservation concern in the State Wildlife Action Plan. This plan is a comprehensive strategy to protect and conserve native wildlife and plants and their habitats.
Sargent hopes that people who began birdwatching during the pandemic will remain connected to birds when the crisis ends, contributing their sightings to help conserve falcons and all bird species. "Citizen ornithologists can add significantly to the work of biologists and the understanding of birds."
He's also hopeful his Atlanta falcons network will grow as a result of the increased interest in birding, and be waiting and watching when the peregrine nesting season begins again this winter.
Please report peregrine nests, nesting behavior and suspected first-year birds to Sargent at (478) 994-1438 or bob.sargent@dnr.ga.gov. If reporting juvenile peregrines, photographs are helpful.