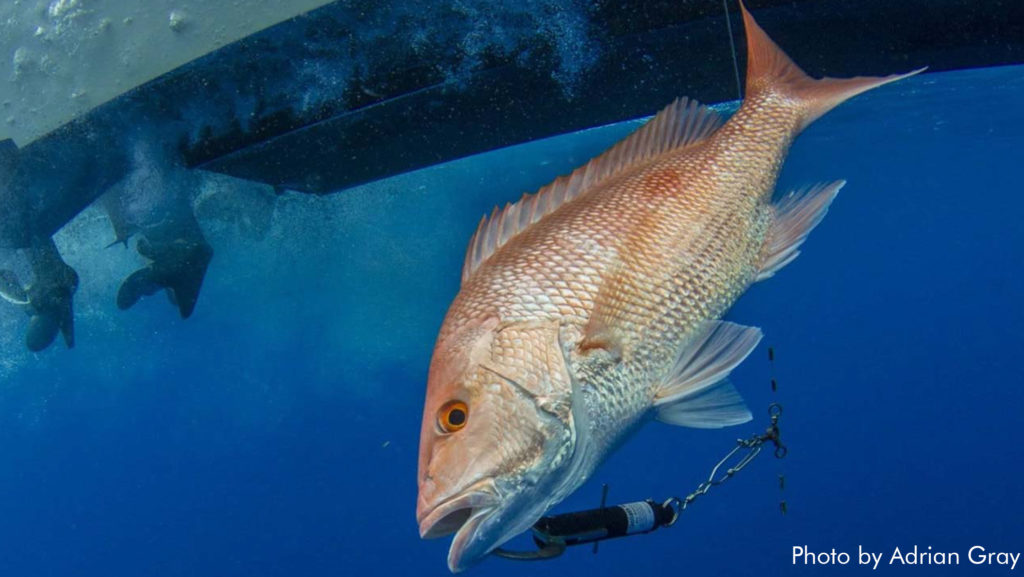 The Coastal Resources Division (CRD) of the Georgia Department of Natural Resources is seeking help from recreational saltwater anglers in collecting data during the upcoming red snapper harvest season July 10-12 and July 17.
The National Oceanic and Atmospheric Administration (NOAA) is allowing the harvest of one red snapper per person per day in federal waters at least three miles off shore with no minimum size restrictions during the period. CRD is asking anglers who filet their fish to donate the carcasses at one of 14 freezers located along Georgia's coast at marinas and bait shops. A complete list of locations is available at CoastalGaDNR.org/MarineCarcass.
These carcasses will be examined by CRD biologists to gather data about the fishes' ages, sizes, and growth rates. This information will be shared with regional and federal partners and used in fishery management.
"Fishery management can be a difficult task," said Carolyn Belcher, CRD's chief of Marine Fisheries. "But the more data we have, the better our estimates are. We have a wide variety of surveys and programs to gather data, and the input from recreational anglers is a vital part of our data-gathering process."
By donating red snapper carcasses, anglers are helping conserve the fishery for future generations, Belcher said.
When an angler or charter-boat group donates fish carcasses at any of the 14 freezer stations, the donor must complete a registration card and attach it to the plastic bag holding the carcasses. Two donors will be randomly selected to each receive a $50 gift card to Academy Sports sporting goods store. The donation stations are not limited to red snapper, and anglers are invited to donate carcasses of other species as well.
Carcass donation is not the only way recreational anglers can help CRD collect valuable data about fisheries. Anglers can volunteer information about their fishing trips by visiting MyFishCount.com or downloading the mobile app in the Apple App Store or Google Play store for Android by searching "MyFishCount." This program is an initiative of the South Atlantic Fishery Management Council which is responsible for the conservation and management of fish stocks within federal waters from three to 200 miles off the coasts of North Carolina, South Carolina, Georgia and east Florida to Key West.
Anglers are also likely to see CRD staff at marinas, boat ramps, beaches and other common fishing locations. These staff members are collecting information as part of the Access Point Angler Intercept Survey. The short, in-person survey collects data about how and generally where anglers fished, how long they fished, which species were targeted and other data points. All data is given voluntarily and is confidential.
Additionally, anglers are invited to receive a free descending device to help reduce the unnecessary deaths of fish. These devices reverse the effects of rapid ascension of fish, which happens when a fish is hooked at depths of about 50 feet or greater and quickly reeled to the surface. When this occurs, the fish's swim bladder, an organ that controls the fish's buoyancy, expands uncontrollably and can cause the fish's internal organs to protrude outside its body. This syndrome is known as "barotrauma." Discarded fish experiencing barotrauma are unable to return to appropriate depths after they have been released and are frequently subject to predation.
Descending devices reduce terminal barotrauma occurrences by quickly sending the fish back to appropriate depths. These devices are offered by CRD free to the public with support from Yamaha and FishSmart, an initiative of the American Sportfishing Association. Participating anglers will be asked to complete a short, web-based survey in exchange for the descending devices. To receive a descending device, contact CRD's Kathy Knowlton at 912-262-3122 or kathy.knowlton@dnr.ga.gov.  Anglers are also encouraged to visit safmc.net/best-fishing-practices to learn more about available resources (e.g., videos of fish released with a descending device, how to use various types of devices, best practices to release fish).
Beginning July 15th, descending devices will be required on board and readily available for use on commercial, for-hire and private recreational vessels when targeting snapper-grouper species in federal waters in the South Atlantic. Click here or visit https://www.fisheries.noaa.gov/action/regulatory-amendment-29-gear-requirements-south-atlantic-snapper-grouper-species for more information.