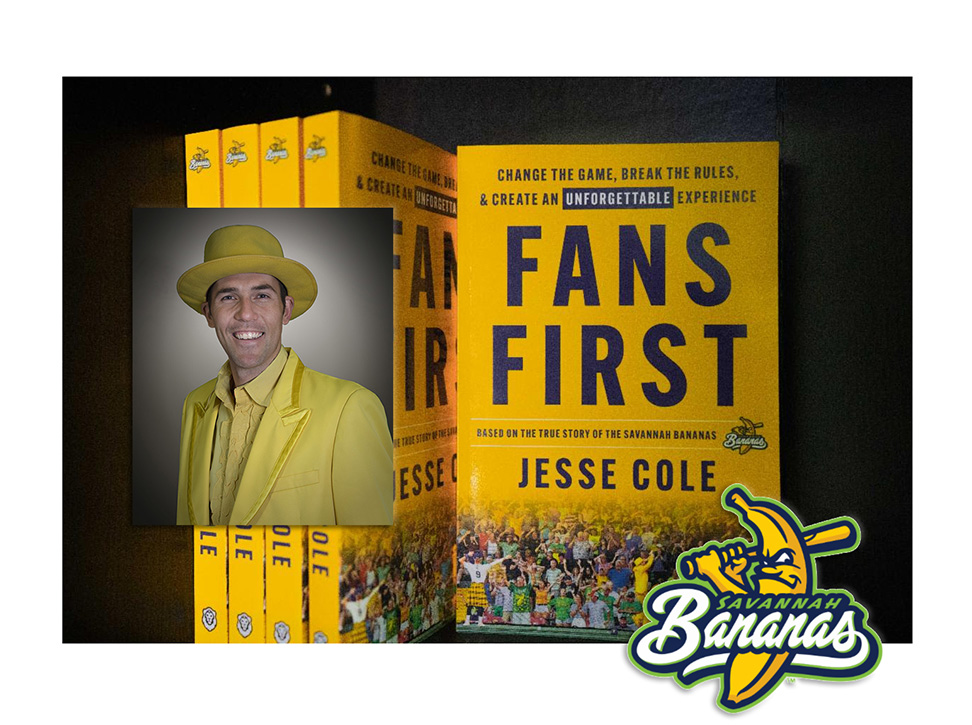 The Savannah Bananas have announced a book release this month. "Fans First" is written by Jesse Cole, author, founder of Fans First Entertainment, and owner of the Savannah Bananas.
Book description from Savannah Bananas:
The book shares the behind the peel story of the Bananas and how two words changed everything for our organization.
Everything we do is unconventional. None of it should work.
But it does because of two words that changed everything.
"Fans First" became more than a motto. It became a way of life for our organization. We became fanatical about our fans. Our mission was to put them first in everything we do.
Thinking back to how we started on October 5, 2015, we're blown away on how far we've come. We were just kids running a team and were handed the keys to the ballpark and told "Good luck."
We were expected to fail and we did at first. We tried to fit in and be like everyone else. We marketed like everyone else, sold like everyone else and acted like everyone else. It was tough to watch and the results were even worse. Just a handful of tickets were sold and we over-drafted our bank account.
It was obvious, Savannah didn't need just another baseball team. The baseball industry didn't need another baseball team with a typical fan experience. They needed something different.
We believed we could be that team.
After numerous experiments, setbacks, and lessons, we've grown more than I could ever imagine.
Fans First is the root of everything for us. It's the why behind our business. We put ourselves in our fans shoes with a goal of putting our fans first with everything we do. That's why we invest so much time and effort into our social media and our videos. We believe people are hungry to be entertained and hungry for fun. We do that and everything else in our organization because we are fanatical about the fan experience.
Today, we no longer chase customers. We are busy focusing on creating fans.
I believe this simple concept can transform any business.
In one week, we're so proud to share these stories, lessons and concepts with the world.
Pre-order the book now HERE. 
"Jesse Cole Is The Modern Day Walt Disney. Fans First Is A Blue Print On How Any Business Can Revolutionize And Disrupt Any Industry By Creating Brand Evangelists."
–John R. DiJulius III Author Of The Customer Service Revolution
"Few Books Transform Lives. This Book Is An Exception. Fans First Tells A Truly Remarkable Story. But More Importantly, It Gives YOU A Blueprint For Long-Term Business Success. Create Raving Fans. Think (Way) Outside The Box. Transform Your Business And Life. READ THIS BOOK."
– Dave Kerpen, serial entrepreneur and New York Times bestselling author, The Art of People