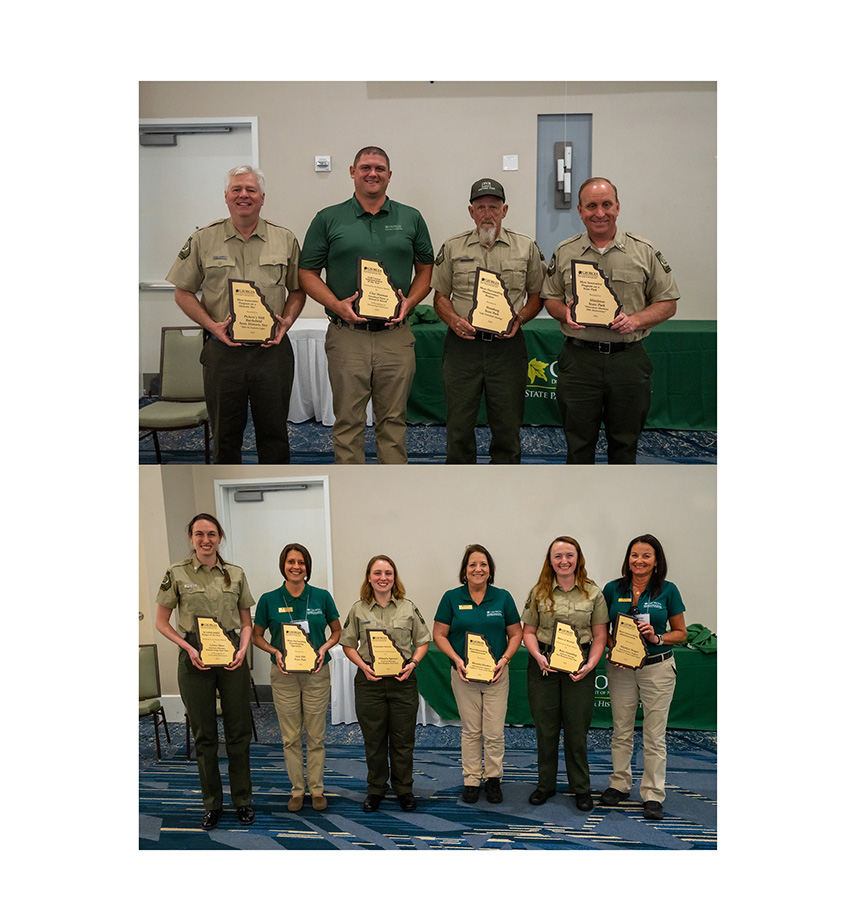 Several Georgia State Park and Historic Site employees were honored recently during a statewide Rangers Conference.
More than 120 assistant managers, park rangers, interpretive rangers, maintenance technicians and other staff gathered at Georgia Veterans State Park in Cordele for the event. This was the first time since 2019 that an in-person ranger conference was held. After two days of hands-on training and sharing ideas, the conference ended with an awards ceremony celebrating the efforts of those who make more than 60 State Parks and Historic Sites outstanding destinations for Georgia's citizens and visitors.
Award winners included:
Si Longmire Ranger of the Year Award:
Lieren Merz from Tallulah Gorge State Park, Tallulah Falls
Lieren Merz does an excellent job juggling her duties as assistant manager while also serving as manager-on-duty during an extended manager's absence. She was involved with several search-and-rescue operations while remaining calm, professional and reassuring to the person in need. Lieren is a very well-rounded ranger who can be counted on to make the Georgia Department of Natural Resources proud.
Above and Beyond Award:
Katy Gramling from Fort Mountain State Park, Chatsworth.
Assistant manager Katy Gramling has served as acting park manager for more than five months in the last year. With that added responsibility she has consistently gone above and beyond, filling in for housekeeping and training staff. Katy has quickly developed a strong knowledge of park procedures with a focus on administration and retail. She manages her time effectively and shows commitment to Fort Mountain.
Customer Service Award:
Mikayla Spencer from Reed Bingham State Park, Adel
Manager Mikayla Spencer puts forth extra effort, is patient and takes time to assist employees and volunteers. She consistently serves park visitors, from removing skunks in a campsite, to helping get a part for a broken-down truck, to searching for lost hikers. Mikayla understands that small actions can mean a great deal to park visitors. She has since been promoted to manager at General Coffee State Park in Douglas.
Outstanding Administrative Award:
Marilyn Yeager and Rhonda Hewlett from Stephen C. Foster State Park, Fargo
Administrators Marilyn Yeager and Rhonda Hewlett excel in their duties, ensuring Stephen C. Foster State Park follows policy and procedure. As a result, this park in the Okefenokee Swamp has been described as one of the best administrative operations in Georgia's state park system.
Outstanding Housekeeping Award:
Jack Hill State Park, Reidsville
Jack Hill State Park's housekeeping staff has excelled in maintaining cottages through a significant increase in occupancy the past two years. As a result, the park's cottages consistently receive 5-star reviews. One guest review said, "The cleanest, best maintained parks we have stayed in. The staff was most cordial and professional. We WILL be back."
Most Innovative Program on a Historic Site Award:
Pickett's Mill Battlefield Historic Site, Dallas
Pickett's Mill staff and volunteers created "Tales by Lantern Light" to combine storytelling with an evening lantern tour. The program highlighted different periods of the park's Civil War history with four stations along the trail.
Most Innovative Program on a State Park:
Mistletoe State Park, Appling
To celebrate the park's 50th anniversary, Mistletoe staff conducted hikes and a sunset paddle on Clarks Hill Lake. Naturalists talked about the park's history, area wildlife and lake ecology. More than 40 additional programs were also offered throughout the past year as part of the anniversary celebration.
Most Outstanding Maintenance Project Award:
Hamburg State Park, Mitchell
Hamburg State Park's staff is limited in size yet accomplishes large and challenging projects. Working with staff from A.H. Stephens State Park in Crawfordville, they spent six weeks clearing vegetation, invasive plants, fallen trees and debris around Hamburg Lake. Thanks to the staff's efforts, the site saved significant funds by conducting this work in-house.
Golf Superintendent of the Year Award:
Clay Norman from Richard B. Russell State Park, Elberton
Clay Norman is an exceptionally hard worker, helping the park's Arrowhead Pointe Golf Course regularly receive 4- and 5-star ratings. Clay maintains equipment well, excels with his research on chemicals, and attacks grass, insect and nematode issues aggressively. His friendly demeanor, effective leadership style and thoughtful task lists are appreciated by coworkers and golfers.