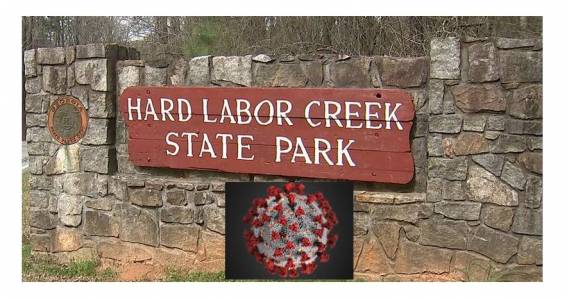 Several Georgia State Park and Historic Site managers were honored recently for their dedication to outdoor recreation and cultural resources. While the park system has faced unique challenges due to the pandemic, sites have remained open and continue to welcome guests to explore Georgia.
Award Winners Include:
Henry Struble Manager of the Year Award – Brad Gibson, Cloudland Canyon State Park (Rising Fawn)
Most Outstanding Site Operation – A.H. Stephens State Park (Crawfordville)
Above and Beyond Award – Angie Johnson, Training Supervisor (Dahlonega)
Best Year-Round Programming Award – Fort King George Historic Site (Darien)
Customer Service Award – Carol Sanchez, Manager of Hard Labor Creek State Park (Rutledge)
Natural Resource Enhancement Award – Chattahoochee Bend State Park (Newnan)
Cultural Resource Enhancement Award – Dahlonega Gold Museum Historic Site (Dahlonega)
Outstanding Golf Course of the Year Award – The Lakes at Laura S. Walker State Park (Waycross)
Award Descriptions:
Brad Gibson – Cloudland Canyon State Park's manager has done an exceptional job handling extraordinarily high park attendance during the COVID pandemic this year. He has excelled in training park staff, implementing excellent customer service.  He serves as the Georgia State Parks & Historic Sites Division's training instructor for CPR and conducts additional classes himself. Gibson has been an excellent mentor to several park managers in training, and he earns high performance evaluations for his overall management of one of Georgia's most popular parks. Gibson is well grounded and respected by his peers.
A.H. Stephens State Park — The team at A.H. Stephens was nominated for their continued success in all areas of running both a state park and historic site. Administrative tasks are completed on time, maintenance tasks are handled in-house, and staff routinely assist other sites. This past year, park staff have constructed eight new equestrian campsites. Manager Andre McLendon has assisted the State Parks Division with succession planning by serving as a training site and sitting on interview panels for the manager-in-training program.  Hamburg State Park is a satellite operation of A.H. Stephens, and staff from both locations regularly pitch in to assist each other with storm clean-up, administrative tasks, special events and resource management.
Angie Johnson – As the State Parks Division adapted to the pandemic, one staff member rose to the occasion and led through unknown territory.  Training Supervisor Angie Johnson was instrumental in following state guidelines while keeping sites open and safe, obtaining proper PPE, and quickly sharing updated information with field staff. She is instrumental in the State Parks Division's ability to serve its customers and citizens.
Fort King George Historic Site – Despite pandemic challenges, Fort King George was able to provide the public with nearly 100 programs during the past year, thanks to Manager Valarie Ikhwan, Ranger Allie Ellis and the rest of the team.  The site was also integral to a new online eRanger video series created when programming was temporarily canceled statewide. Among their events was a popular Escape Room titled Blockhouse Breakout where participants had to figure out clues given by an imprisoned British soldier. Other well received events included Tricks, Treats and Tricorns; a Halloween celebration; a traditional Scottish New Year's Hogmanay; paddling adventures; military drills and colonial skills.
Carol Sanchez — Hard Labor Creek State Park Manager Carol Sanchez was nominated for the customer service award for her ability to serve her employees, park guests and local community. During the COVID-19 pandemic, Hard Labor Creek served as an isolation area for two quarantined Georgia residents with nowhere else to go. Sanchez accepted the opportunity for her staff and volunteers to serve the citizens of Georgia in a time of need, leading her staff through media attention and community reaction. Sanchez does a great job serving her customers, quickly solving issues that may arise.
Chattahoochee Bend State Park  — Park staff and volunteers collaborated with Georgia Department of Natural Resources experts to transition 90 acres of Sweetgum forest to healthy, native pine stands. The work included control burns; treating invasive grasses such as perennial ryegrass and a non-native Russian thistle; and planting Yellow Indian Grass, Eastern SwitchGrass and Little BlueStem.
Dahlonega Gold Museum – Much needed maintenance and repairs were made this year to the 180-year-old building — one of the oldest courthouses in Georgia – which houses this museum.  With help from the Friends of the Dahlonega Gold Museum, the shutters, banisters and soffits were replaced and gutters were repaired. While retaining its original appearance, an emergency exit gate was improved. All of these repairs preserved the historic integrity while addressing structural and safety issues.
The Lakes at Laura S. Walker State Park — Golf Pro David Sikes works hard to promote the park's course in the community through multiple annual tournaments, golf packages and Hook-a-Kid programs with the YMCA.  New Superintendent Ivey Dyal has already made repairs to the irrigation system, cart paths and greens, and improved play by placing emphasis on maintenance.  His back-to-basics approach has resulted with more rounds played and many positive reviews. This course is led proudly by Park Manager David Jordan.