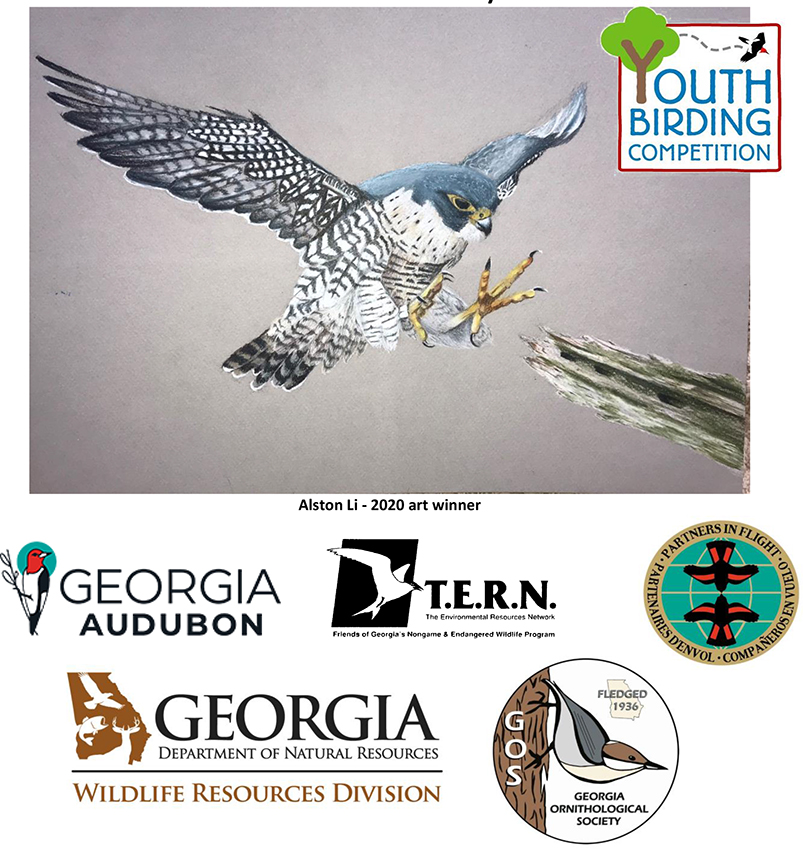 Out of safety concerns regarding COVID-19 and the surge of the fast-spreading delta variant, organizers are moving the popular Georgia Department of Natural Resources birdathon online, expanding the timeframe and planning a virtual awards ceremony instead of the traditional in-person banquet.

The revised competition is set for Sept. 24-Oct. 3. Teams of youth from kindergarteners to high school seniors will find as many bird species as they can in Georgia during a contiguous 24-hour period of their choice in that 10-day span, then submit their checklists electronically. Winners will be announced in a virtual ceremony Oct. 5. The registration deadline for any team that hasn't already signed up is Aug. 20.
DNR wildlife biologist Tim Keyes, the competition's founder and coordinator, said the latest changes are the best way to safely stage the 15th annual event, which was cancelled in 2020 and initially postponed as an in-person event this year from spring to September.
"With care, birding can be a wonderfully safe and fun activity, given that it gets kids outside and away from confined spaces with other people," Keyes said.
He also noted that this Youth Birding Competition will be both the first held during fall – taking advantage of fall migration – and the first held virtually, accommodating youth who may not have been able to take part when the event was a set 24-hour period and the check-in and banquet were tied to a specific site.
Here's what's new (see the event booklet at georgiawildlife.com/ybc  or below for complete rules):
First, teams and chaperones are strongly encouraged to follow the latest coronavirus health and safety guidelines, as well as related state laws and local ordinances. Guidelines and resources are listed in the competition booklet.
Registration has been extended to Aug. 20. Teams will still register at georgiawildlife.com/ybc. Those that signed up before the change to a virtual format do not need to re-register. DNR will contact them to confirm their participation and answer any questions.
Bird counts can cover any contiguous 24-hour period from Sept. 24-Oct. 3. The 10-day window includes four weekend days and provides margin for teams to plan around conflicting events.
While counts must be done during a contiguous 24 hours, they can start at any time the team chooses (for example, 5 p.m.-5 p.m. – the competition's traditional time – or midnight-midnight).
Checklists will be submitted by email or eBird (ebird.org) within three hours of finishing a count.
Winners will be announced in an online awards ceremony at 6 p.m. Oct. 5.
What hasn't changed:
All youth new to birding are welcomed! DNR can pair novice teams with a virtual mentor to help learn about birds before the competition (during it, only youth participants can identify birds).
Participants will receive a free shirt featuring the grand-prize artwork from this year's T-shirt Art Contest, a separate component of the Youth Birding Competition. Shirts will be mailed to youth. The T-shirt Art winners were announced in July and the artwork posted online (georgiawildlife.com/t-shirt-art-winners-announced-youth-birding-competition).
In an exception that recognizes COVID impacts, students who completed their senior year in high school this spring or summer will remain eligible to take part in the 2021 competition.
Teams can use the event to raise money for the Georgia Wildlife Conservation Fund – the main fund for DNR's Wildlife Conservation Section – and other wildlife organizations and causes.
2021YBC_Booklet_2021F2 ga dnr

Competition organizers will continue to monitor coronavirus impacts and reassess event plans as needed using the most current guidelines.
The Youth Birding Competition and T-shirt Art Contest are sponsored by DNR's Wildlife Conservation Section, The Environmental Resources Network Inc. or TERN – friends group of the Wildlife Conservation Section – and others including Georgia Ornithological Society and the Georgia and Albany Audubon societies. Visit georgiawildlife.com/YBC for competition rules, registration and other details.