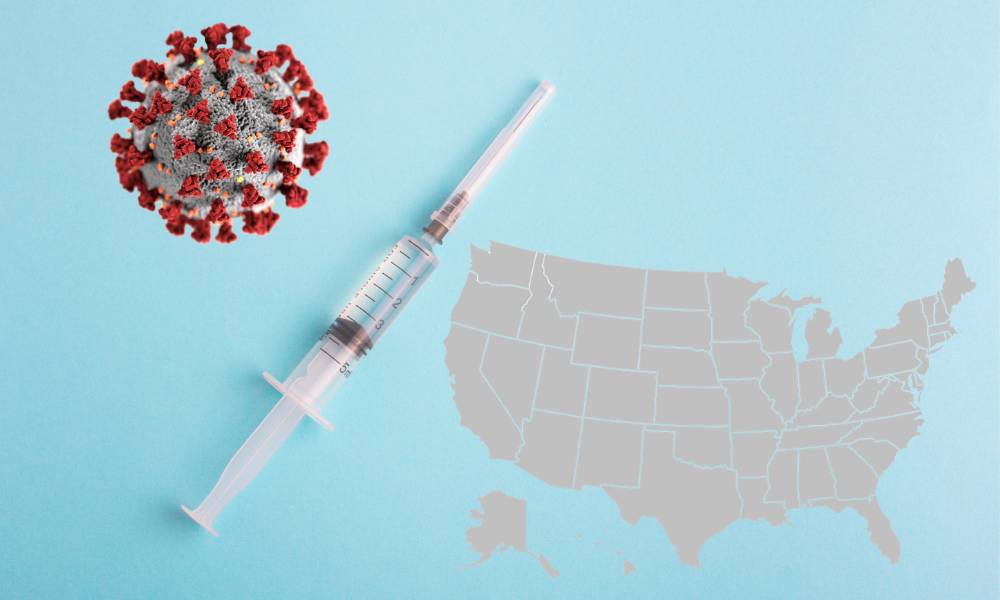 Which states will be more likely to accept and take the COVID-19 vaccine once it becomes available?
It's an interesting question given that a Gallup poll conducted in October 2020 found that 42% of Americans said they would not take a COVID-19 vaccine. But as three companies inch closer to having their vaccines widely available for people with a wide variety of conditions, the trend of acceptance may be changing.
LendingTree's QuoteWizard recently examined all 50 states across indicators, including adult age-appropriate vaccination rates across the country to see where vaccination rates are highest and to consider the existing rate of vaccinated adults, their access to healthcare, and public opinion help estimate the rate at which the vaccine will be received.
What the report found was that the average of American adults in 2019 with age-appropriate vaccinations was a mere 40%, but that largely does not equate to the willingness or ability to obtain a COVID-19 vaccine.
Among the key findings:
Massachusetts

, 

Rhode Island

, and 

Maryland

 have the highest rates of vaccinated adults in 2019. 

Nevada

, 

Wyoming

, and 

Georgia

 have the lowest rates.

Wisconsin

, 

Florida

, and 

Arizona

 saw the biggest increase in vaccinated adults from 2015 to 2019. 12 states saw a decrease in vaccinated adults.
Age-appropriate vaccinations have increased nationally by an average of 5.3% from 2015 to 2019.
Nine of the top 10 states for vaccinated adults in 2019 saw an increase in vaccination rates from 2015 to 2019.
Methodology
To get rankings, QuoteWizard analyzed the Commonwealth Fund's Health System Data on adults with age-appropriate vaccinations. The final ranking is based on states that had the highest percentages of vaccinated adults in 2019. States with the highest percentages of adults with age-appropriate vaccines were ranked 1 to 50. Also included is the rate change over a five-year period from 2015 to 2019 for each state.
| | | | | |
| --- | --- | --- | --- | --- |
| Rank | State | 2019 Adult Vaccine (%) | 2015 Adults Vaccine (%) | % Change |
| 1 | Massachusetts | 48 | 42 | 14.29% |
| 2 | Rhode Island | 48 | 46 | 4.35% |
| 3 | Maryland | 47 | 41 | 14.63% |
| 4 | Connecticut | 47 | 43 | 9.30% |
| 5 | Nebraska | 47 | 45 | 4.44% |
| 6 | North Carolina | 47 | 45 | 4.44% |
| 7 | Virginia | 46 | 42 | 9.52% |
| 8 | Washington | 46 | 42 | 9.52% |
| 9 | New Hampshire | 46 | 44 | 4.55% |
| 10 | Iowa | 46 | 47 | -2.13% |
| 11 | South Dakota | 46 | 51 | -9.80% |
| 12 | Pennsylvania | 45 | 41 | 9.76% |
| 13 | North Dakota | 45 | 42 | 7.14% |
| 14 | Vermont | 45 | 42 | 7.14% |
| 15 | Colorado | 45 | 43 | 4.65% |
| 16 | Wisconsin | 44 | 36 | 22.22% |
| 17 | Kansas | 44 | 41 | 7.32% |
| 18 | Maine | 44 | 41 | 7.32% |
| 19 | Missouri | 43 | 43 | 0.00% |
| 20 | Oklahoma | 43 | 44 | -2.27% |
| 21 | Minnesota | 43 | 45 | -4.44% |
| 22 | New York | 42 | 40 | 5.00% |
| 23 | Delaware | 42 | 43 | -2.33% |
| 24 | West Virginia | 42 | 44 | -4.55% |
| 25 | Ohio | 41 | 36 | 13.89% |
| 26 | Hawaii | 41 | 38 | 7.89% |
| 27 | Montana | 41 | 39 | 5.13% |
| 28 | Indiana | 40 | 36 | 11.11% |
| 29 | South Carolina | 40 | 37 | 8.11% |
| 30 | New Mexico | 40 | 38 | 5.26% |
| 31 | Oregon | 40 | 38 | 5.26% |
| 32 | Utah | 40 | 38 | 5.26% |
| 33 | Arkansas | 40 | 40 | 0.00% |
| 34 | Kentucky | 40 | 43 | -6.98% |
| 35 | California | 39 | 35 | 11.43% |
| 36 | Alabama | 39 | 38 | 2.63% |
| 37 | Tennessee | 39 | 40 | -2.50% |
| 38 | Michigan | 38 | 34 | 11.76% |
| 39 | Texas | 38 | 41 | -7.32% |
| 40 | Arizona | 37 | 32 | 15.63% |
| 41 | Illinois | 37 | 35 | 5.71% |
| 42 | New Jersey | 37 | 37 | 0.00% |
| 43 | Mississippi | 37 | 38 | -2.63% |
| 44 | Idaho | 36 | 33 | 9.09% |
| 45 | Alaska | 36 | 34 | 5.88% |
| 46 | Louisiana | 36 | 37 | -2.70% |
| 47 | Florida | 34 | 29 | 17.24% |
| 48 | Georgia | 34 | 34 | 0.00% |
| 49 | Wyoming | 34 | 34 | 0.00% |
| 50 | Nevada | 30 | 31 | -3.23% |
| | National | 40 | 38 | 5.26% |