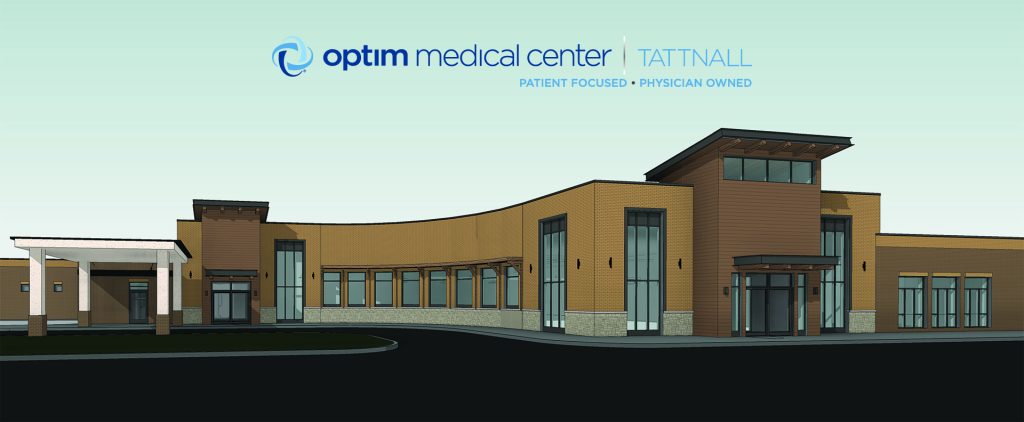 Optim Medical Center-Tattnall, a nationally acclaimed physician-owned orthopedic specialty and critical access hospital, announced the upcoming groundbreaking ceremony for two landmark construction projects. The groundbreaking ceremony, symbolizing the official commencement of these transformative endeavors, will take place on Thursday, July 13 at 10:00 AM on the hospital campus at 247 S. Main St., Reidsville, GA 30453.

One of the projects being unveiled is an expanded and renovated lobby behind a new hospital main entrance. The new lobby design will create a more spacious and inviting environment that enhances the experience for patients, visitors, and staff and supports the hospital's steadfast commitment to providing exceptional patient care. The expanded lobby will feature an impressive 7,032 square feet of space, over 2.5 times larger than the current space, and include unique zones and elements tailored to comfort, convenience, and communication. The anticipated completion date for this new lobby is July 2024.
As the second project, Optim Medical Center-Tattnall is embarking on the construction of a new patient wing featuring nine modern in-patient rooms, to replace older rooms being converted to other uses. Each private room will be thoughtfully designed with medical and personal amenities including an ensuite, ADA compliant bathroom. The wing will also house an expanded nurse station, promoting effective communication and efficient delivery of care. The construction of this patient wing will add 5,838 square feet to the hospital. The projected completion date for this new patient wing is June 2024.
To bring these projects to life, Optim Medical Center-Tattnall has enlisted the expertise of Garbutt Construction Co, a trusted name in the construction industry, as the General Contractor, and GMC, a renowned architectural firm specializing in healthcare facility design. Their combined expertise will ensure seamless integration of these expansion projects with the existing infrastructure, resulting in an aesthetically pleasing and functional space that will expand capacity to serve patients and visitors to the hospital.
The groundbreaking ceremony will be attended by key representatives from Optim Medical CenterTattnall and Optim Health System, including executives, medical professionals, and colleagues, along with community leaders and guests. Together, they will celebrate this significant milestone, recognizing the potential these expansions hold to further elevate Optim Medical Center-Tattnall's ability to provide outstanding healthcare services.
---
About Optim Medical Center:
Tattnall Optim Medical Center-Tattnall, nationally renowned for musculoskeletal care and part of Optim Health System, is a physician-owned, orthopedic specialty hospital with board-certified and fellowship-trained surgeons. Optim Medical Center-Tattnall is the only hospital in Georgia to earn prestigious DNV GL Healthcare ISO 9001 and Critical Access Hospital Accreditations and Certifications in Orthopedic Centers of Excellence – Quality and Patient Safety; Certified Center of Excellence: Hip and Knee Replacement, Shoulder Surgery Program, Spine Surgery Program, as well as, Healthgrades' Joint Replacement Excellence / Top 10% in Nation, Five-star recipient for Total Knee Replacement and Spinal Fusion Surgery.