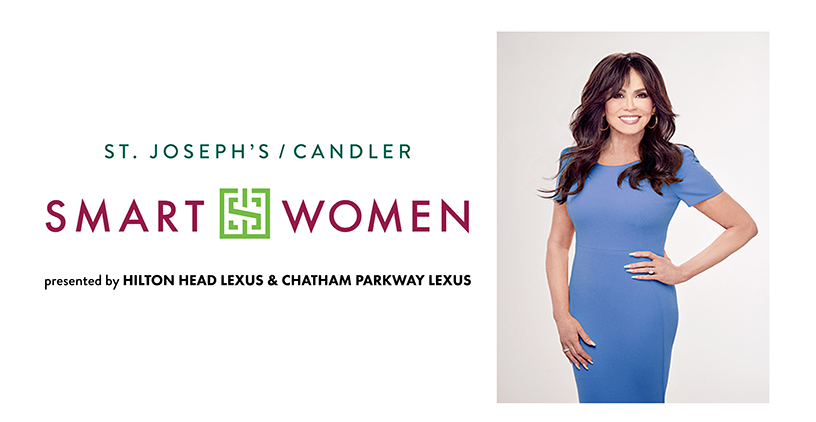 St. Joseph's/Candler announced that Marie Osmond will be headlining this year's SmartWomen Luncheon & Expo, an event that brings successful and inspiring speakers to Savannah and the Lowcountry.
Over six decades, Marie Osmond has made her mark as a singer, television star, dancer, actor, author and entrepreneur. She will bring that unstoppable energy to Savannah as the keynote speaker at the 21st annual SmartWomen Luncheon & Expo.
Osmond has charmed audiences across the world and across mediums, including television, radio, film, live concerts and Broadway performances. She has made an indelible impact on the world through her philanthropy as well, co-founding the Children's Miracle Network Hospitals. This October, the SmartWomen audience will have the chance to hear her stories, triumphs and challenges through Osmond's own dynamic voice.
The SmartWomen Luncheon & Expo is an annual fundraiser for St. Joseph's/Candler's Telfair Mammography Fund. The goal of the Telfair Mammography Fund is to ensure that all women have access to mammography and other breast health services, even if they are underinsured or have no insurance. In our region, approximately 25 percent of the population meets that criterion. With our five locations and our Mobile Mammography Unit, St. Joseph's/Candler offers that access where women live and work.
Over the last several years, the Telfair Mammography Fund has seen an increase in utilization and is in constant need of additional monetary support. The SmartWomen Luncheon & Expo has raised more than $1.8 million to meet this goal since its inception 21 years ago. Last year alone, SmartWomen raised more than $201,000, a record-breaking total for this event.
We are proud to announce that this year's presenting sponsor is Hilton Head Lexus and Chatham Parkway Lexus, a strong supporter and longtime contributor to the Telfair Mammography Fund.
"SmartWomen has become the preeminent event of this region and is highly anticipated every year," said Winston Pittman, Sr., President/Owner of Hilton Head Lexus and Chatham Parkway Lexus. "There is always a great speaker, a fantastic expo, raffles and so much more, and it's done in the company of 1,400 new and old friends. But most importantly, the impact that the Telfair Mammography Fund has had on our community is immeasurable. It is our privilege to be the presenting sponsor for this incredible event."
We also want to thank Savannah Chatham Imaging, who is this year's Speaker Sponsor.
"We are honored to do our part in making this event not just a fundraising success but also an unforgettable experience for the audience," said Dr. Jordan Dixon of Savannah Chatham Imaging. "Marie Osmond is an icon and fits perfectly in the line of dynamic, compelling speakers that SmartWomen is known for. We are excited to once again partner with St. Joseph's/Candler for this worthy cause and look forward to another record-breaking year."
The 2023 chair of SmartWomen, Carson Wilson, also anticipates we will have another record-breaking year.
"There is so much excitement, even now, months before the event," Wilson said. "People cannot wait to see what's offered in the Expo and to hear an inspiring story from our speaker. It is such a special day for everyone, and knowing the effect their dollars will have on uninsured and underinsured women in this region is empowering."
For more information on SmartWomen sponsorship opportunities, please call the St. Joseph's/Candler Foundations at 912-819-8683 or email sjcsmartwomen@sjchs.org.
About SmartWomen
When: Friday, October 27, 2023
Where: Savannah Convention Center
Expo: 10 a.m.
Lunch and program: Noon
Learn more at www.sjcsmartwomen.org.
The SmartWomen media sponsors are WTOC, The Savannah Morning News and 98.7 The River.
---
About Marie Osmond
Marie Osmond has spent over six iconic decades in the entertainment business performing as a successful singer, television performer and talk show host, dancer, actor, author, entrepreneur and public speaker. She has continued to maintain relevance, remaining an instantly recognizable figure across the globe.
Her debut single Paper Roses reached the #1 spot on two Billboard charts, a feat that not only placed her among an elite class of musical royalty, but instantly catapulted her into international superstardom.
She is a multiple gold and platinum selling artist and CMA winner, garnering numerous Billboard chart-topping singles and albums, and three New York Times Bestselling books. As a philanthropist, she cofounded Children's Miracle Network Hospitals, which has raised more than 8 billion dollars for children to date. Marie was recently awarded "The Secretary of Defense Medal for Outstanding Public Service" by 4-Star General Bob Brown, US Army Pacific (representing Secretary of Defense James Mattis), during her birthday concert in Hawaii. In 2019, the Hollywood Beauty Awards gave Marie the "Timeless Beauty Award" which is an honor bestowed upon a public figure that has maintained their grace and remained a positive influence and role model to their fans throughout their career. In August of 2019, Marie and Donny received the Key to the Las Vegas Strip, and in October 2019, they cemented their legacy with a star on the Las Vegas Walk of Stars. Marie was previously a co-host on the award-winning daytime show "The Talk." Since Marie and brother Donny ended their 11-year residency at the Flamingo in November 2019, she travels the US with her sell-out Symphonic shows. Her performances receive rave reviews. She has also starred in three Lifetime Christmas movies: "The Road Home for Christmas" (2019), "The Christmas Edition" (2020) and most recently "A Fiancé For Christmas" (2021).
Marie's Top 10 Billboard Country Chart album, "Music is Medicine," has been the perfect set up for her recently released "Unexpected" studio album which pushed her voice to remarkable heights and debuted #1 on Billboard's Classical Crossover Albums Chart following its December, 2021 release. It spent 24 weeks in the Top 10, having re-entered and re-entered the charts – Marie appropriately named the album because it was such an 'unexpected' surprise for her. She says she did it for the fans who allowed her to reach this high. "Unexpected" is dedicated to her father who encouraged Marie to follow her passion and sing every style of music she loved.
Marie continues to perform and raise money for children's hospitals, research and awareness. She has influenced countless audiences and benefited an innumerable amount of lives worldwide.
---
St. Joseph's/Candler