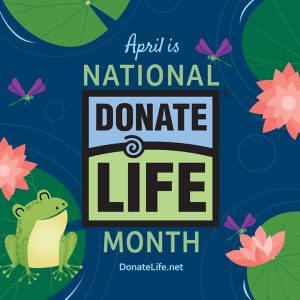 Did you know that one organ or tissue donor can save or enhance the lives of up to 75 people? More than 112,000 citizens in the United States await the gift of life through organ donation, and over 3,800 of those people are our friends and neighbors in Georgia. April is Donate Life Month, the month-long celebration that commemorates those who have received or continue to wait patiently for lifesaving transplants as well as acknowledging the donors who save and heal lives. The Donate Life Georgia organization is dedicated to saving and enhancing lives by creating an easy process for registering organ, eye and tissue donors. In participation of this national effort to increase awareness, Southeast Georgia Health System encourages all Georgians to join their state's organ and tissue donor registry.
"Organ and tissue donation provides the gift of life to tens of thousands of people each year through heart, kidney, lung, liver, pancreas, corneal or intestine transplants," says Jan Jones, R.N., BSN, director, Patient Care Services, Southeast Georgia Health System. "Without selfless organ donors, thousands of people – many who live among us – will die. What better way to help others than to become a donor and give the gift of life."
Residents can join Georgia's state organ and tissue donor registry in a variety of ways:
By visiting DonateLifeGeorgia.org
While obtaining/renewing a driver's license or identification card at a local driver's license office.
While obtaining a hunting, fishing or trapping license through the Department of Natural Resources (DNR).
By calling Donate Life Georgia directly at 1-866-57-SHARE (1-866-577-4273) and request a registry card.
LifeLink of Georgia is a non-profit community service organization dedicated to the recovery of organs and tissues for transplantation. Visit LifeLinkFoundation.org or call 800-544-6667 with questions about organ and tissue donation.
---
Southeast Georgia Health System