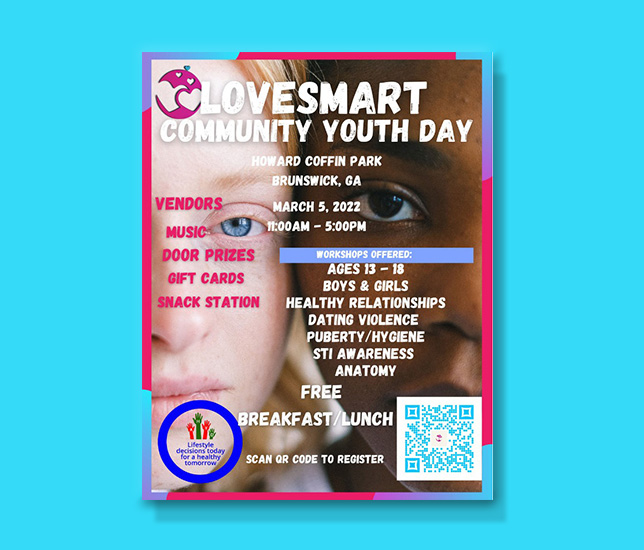 Georgia Department of Public Health's Coastal Health District Adolescent Health & Youth Development Program along with LoveSmart, Inc. will hold a Community Youth Day event on Saturday, March 5, 11:00 am to 5:00 pm, at Howard Coffin Park in Brunswick. The event is free and open to boys and girls ages 13-18.

The Community Youth Day will feature workshops on healthy relationships, dating violence, puberty and hygiene, sexually transmitted infection awareness, and anatomy.
"We are excited to partner with LoveSmart to bring this teen summit to Brunswick," said Coastal Health District Adolescent Health and Youth Development Coordinator, Antwonette Bulloch. "The topics we plan to cover will help empower our teens to make healthy choices and reduce risky behaviors."
Participants will be treated to free breakfast and lunch. The day will also include outside vendors, music, door prizes, games, gift cards, and a snack station. Those interested in attending are asked to register at eventbrite.com. See the flyer below.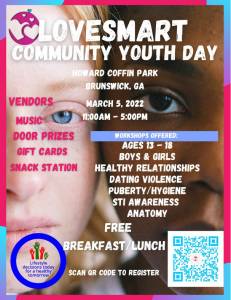 ---
About the Adolescent Health and Youth Development (AHYD) Program
The Adolescent Health and Youth Development (AHYD) program focuses on  improving the health status of adolescents throughout the Coastal Health District. The program provides various opportunities and programs  through collaboration with families, communities, schools, and other public and private organizations to promote positive youth development.
AHYD programming reinforces positive, healthy attitudes and provides a network of support to help youth ages 10-19 develop the skills to live healthier lives and to reduce risky behaviors.
Adolescent Health and Youth Development Program
---
About LoveSmart
History
Lovesmart Inc., was founded in 2020 by Valerie L. Williams who became a victim of Domestic Violence after being shot 3 times by her husband.  Yes, research promotes facts and many experts suggest patterns, however, this wasn't the case for Valerie.  A one time altercation with her husband, she tragically ended up in the hospital for three days after having been shot once in the head and twice into her right arm.  Valerie begin to notice that young people were getting into serious relationships too soon and without the proper understanding and knowledge of how healthy relationships work which  heightens their chances of becoming victims of abuse.  In 2013, Valerie started going into the public schools, local teen centers and other social organizations and presenting the Lovesmart Program.  In 2020, she decided it was time to establish LOVESMART INC. 501(c)(3)   
The Lovesmart program consists of workshops and presentations, community outreach and dating curriculum.   
Mission
 LOVESMART INC., is a nonprofit that partners with youth, parents and community leaders to end dating abuse and domestic violence through community outreach, education and supportive services.  LoveSmart Inc. provides Information and resources on dating violence and healthy dating attitudes and relationships for youth in hopes  of creating a culture without abuse in teen dating relationships.  Our mission is to create a community without violence through awareness, education and support at an early age to prevent violence in dating relationships.