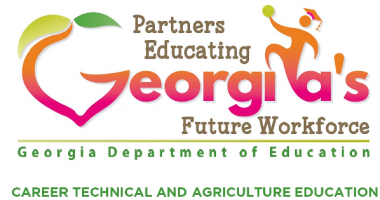 The graduation rate for students involved in Career, Technical, and Agricultural Education (CTAE) programs has risen to 96.54 percent in Georgia

This rate – which applies to students who complete a Career Pathway – exceeds the statewide graduation rate by 14.54 percentage points.
"Our goal in education is to prepare students to live fulfilling lives," State School Superintendent Richard Woods said. "We want students to find careers they love. We want them to use their skills and talents to contribute to their communities and build the future of our state. Career, Technical, and Agricultural Education makes that happen by connecting Georgia's K-12 schools with business and industry and helping students see the relevance of their education. This year's graduation rate shows the program continues to succeed."
Placement Rate: 99.6% of pathway completers go on to postsecondary education, advanced training, military service, or employment
Utilizing their skills after high school graduation, CTAE pathway completers are prepared for the next step in their career journey. While the 2019 placement rate for high school graduates who are pathway completers – in postsecondary education or advanced training, in military service, or in employment six months following graduation – is not yet available, the 2018 rate is 99.6 percent.
Georgia's CTAE program leverages partnerships with industry and higher education to make sure students are ready to take their next step after high school. Students can take courses in more than 100 Career Pathways within 17 Career Clusters, earn recognized industry credentials, participate in work-based learning and apprenticeship opportunities, and serve as leaders through membership in co-curricular Career and Technical Student Organizations (CTSOs).
CTAE is for all students, and Career Pathway completers are prepared to pursue higher education (through the University System of Georgia, Technical College System of Georgia, or another institution), enter the military, accept an apprenticeship opportunity or immediately begin their career.
Student Stories
"CTAE prepared me for college in multiple ways," said Shakeria Glynn, a 2019 graduate of Howard High School and Bibb County Schools' 2019 CTAE Student of the Year. "With CTSOs [Career and Technical Student Organizations], I improved my leadership and self-confidence, which I utilize daily. Without that confidence, I would have never been able to participate in dual enrollment my senior year of high school and begin a successful career in college. Also, writing weekly papers for my classes is a breeze after becoming a Microsoft Office Specialist in Word, something I could have never done without my Business & Technology pathway."
John King, a 2019 graduate of Northside High School and the Houston County Career Academy, completed the Automotive pathway and currently works at BMW in Macon.
"Without the education I received through the Automotive pathway, I would not be the same person I am today," King said. "It taught me how to be a leader and I gained hands-on experience, which gave me a head start on my career and led to a job with a promising future in the automotive field."
Allie Elise Tucker, a 2019 graduate of Camden County High School, completed two CTAE pathways – Pharmacy and Patient Care – and is currently a student at the University of Alabama planning to pursue a career in the healthcare industry. She said CTAE helped her make connections between her coursework and career goals.
"For example, my CTAE experiences have been invaluable in my Ethics course, where job and employment application and judgment and decision-making go hand in hand," Tucker said. "I have been able to use those experiences as I respond to ethical issues across many different settings and environments."​
This is a press release from the Georgia Department of Education.