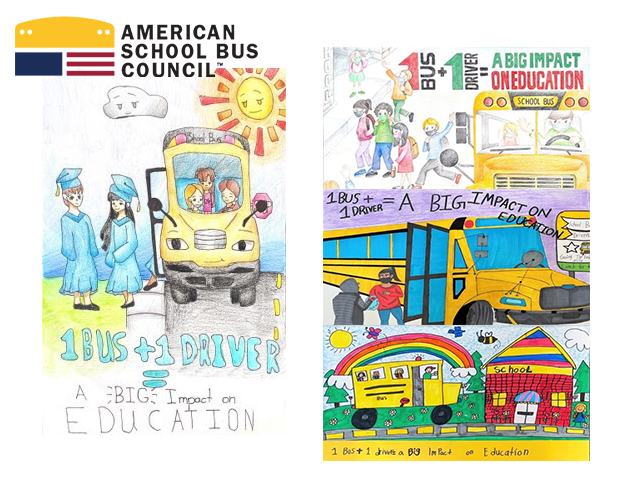 Four Georgia students placed in the 2021-2022 National School Bus Safety Poster Contest, State School Superintendent Richard Woods announced.
The contest is an initiative sponsored by the American School Bus Council (ASBC).
Congratulations to the following students:
Emma Adcock, David Perdue Primary, Houston County School District – Division 1 (Grades K-2) First Place
Jada Fitzgerald, Worth County Elementary, Worth County School District – Division 2 (Grades 3-5) Second Place
Claire Hwang, Northbrook Middle School, Gwinnett County Public Schools – Division 3 (Grades 6-8) Second Place
Kamil Samnani, Hull Middle School, Gwinnett County Public Schools – Division 4 (Special Education, Grades K-12) First Place
The theme for this year's contest was "1 Bus + 1 Driver = a BIG Impact on Education." School buses and their drivers are symbols of our education community. School bus drivers are invaluable to our education system, and their work is honorable. While change is inevitable, school buses and drivers remain a steady and knowing presence in the lives of many children; all you need is one driver and one bus to impact the lives of many children significantly.
"I wish to congratulate these four students and thank them for representing the state of Georgia so well on the national level – and for drawing attention to the important issue of school bus safety," Superintendent Woods said. "Each day, Georgia's school transportation employees work hard to ensure students' safety as they travel to and from school – as Georgians, we can all partner together to ensure all students are safe on the road."
Poster Contest judges based their votes on safety impact, originality, artistic quality, and visual impact. The judges awarded these four students votes securing their winning placement among entries from five divisions with posters submitted from 15 states.
The 2022-23 poster contest theme will be Safely Rolling to My Destination; entries for the 2022-23 National School Bus Safety poster contest may be submitted any time between August 15, 2022 and March 31, 2023. Artwork created for and evaluated as part of the poster contest becomes the theme for the subsequent National School Bus Safety Week. This annual event is held during the third full week in October each year.