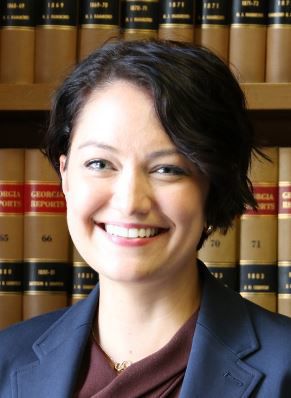 Attorney General Chris Carr announced last week that Cobb County Assistant District Attorney (ADA) Hannah Palmquist has been hired to lead the Georgia Department of Law's newly-created Human Trafficking Prosecution Unit – effective July 1, 2019.
"I am looking forward to Hannah Palmquist's work – along with our state, local, and federal law enforcement partners – to rid our state of this evil industry," said Governor Brian Kemp. "Together, we will build a safer and more prosperous Georgia."
"We are committed to ending human trafficking in Georgia, and the creation of this new Human Trafficking Prosecution Unit speaks volumes about the importance of this issue to all Georgians," said Attorney General Chris Carr. "We will work every single day with all of our law enforcement partners to protect our state's most vulnerable and put buyers and traffickers behind bars. This work requires an experienced and aggressive prosecutor of those who have abused our children, and that is what Georgians are getting with Hannah Palmquist leading this Unit."
Hannah has served as an ADA for DeKalb County and as an ADA for Cobb County. In Cobb County, Hannah started in the Trial Division before moving to the Special Victims Unit where she prosecuted sexual offenses and crimes against children, including human trafficking. In September 2018, Hannah became the supervisor of the Cobb County Juvenile Unit where she worked with juvenile runaways and victims of human trafficking.
"I am honored to join Attorney General Chris Carr as we build the Department of Law's first Human Trafficking Prosecution Unit," said Hannah Palmquist. "Beginning on day one, this team will fight alongside local, state and federal partners and will utilize every weapon in our arsenal to imprison those who seek to buy or sell our children, disrupt human trafficking networks and rescue those who are victims of this horrific industry."
Hannah earned her law degree from Emory School of Law.
The Human Trafficking Prosecution Unit will be housed within the Department of Law's Prosecution Division. See Governor Kemp's original announcement about the creation of the Human Trafficking Unit HERE or watch it HERE.
This is a press release from the Georgia Department of Law.