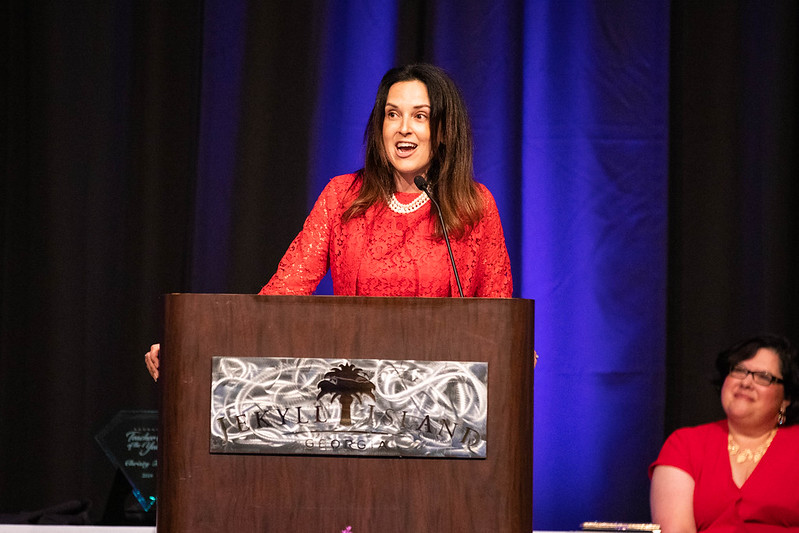 Christy Todd, a music technology teacher at Rising Starr Middle School in Fayette County Public Schools, is the 2024 Georgia Teacher of the Year. State School Superintendent Richard Woods announced the selection at a banquet held over the weekend on Jekyll Island to celebrate all district Teachers of the Year.

"Christy Todd is a phenomenal teacher who blends technology with the fine arts to expand students' horizons and prepare them for potential careers in Georgia's growing creative industries," Superintendent Woods said. "Her creativity, commitment, and skill are a gift to her students in Fayette County, and she will be a gift to the state of Georgia as she advocates for public education over the next year."
Christy Todd wants all learners to find their creative superpowers, so much so that she founded Fayette County Public Schools' Community for Creativity (CFC) initiative. Through the CFC program, students learn to create songs, podcasts, videos, audiobooks, and more, which they then release through the school's label, Hall Pass Entertainment. At Georgia Teacher of the Year events this weekend, guests had the opportunity to hear music tracks created by Todd's students.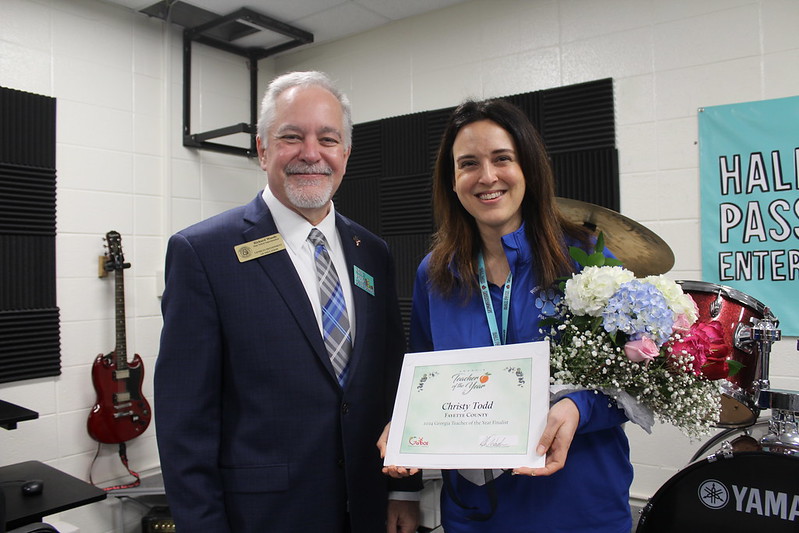 Previously, Todd was a chorus director whose choirs performed at events throughout the state. She is a published researcher, honor choir clinician, and founding member of the Story Arts Collective, a group of education and industry leaders committed to growing Georgia's creative workforce.
Todd's commitment to building partnerships has opened doors for her students and deepened connections with the community.
"Community involvement is bigger than asking a company to write a check to cover t-shirts," she wrote in her Georgia Teacher of the Year application. "True collaboration not only benefits the school, but it also enriches the surrounding community."
Prior to teaching, Todd worked in nonprofit consulting and business development. She received a Bachelor of Music Education from Shorter College and a Master of Music Education from Florida State University.
As Georgia Teacher of the Year, she will serve as an advocate for public education in Georgia, speaking to the public about the teaching profession and serving as an ex-officio member of the State Board of Education. She will also participate in the competitive selection process for the 2024 National Teacher of the Year.
Runner-Up: Vanessa Ellis, Muscogee County School District
Vanessa Ellis is an eighth-grade social studies teacher at Veterans Memorial Middle School in the Muscogee County School District. History has always been Ellis's passion – in fact, from a young age, she knew her destiny was to become a teacher. After graduating from college, the school district she attended as a student hired her, and she was teaching alongside the educators who once impacted her. Ellis received her Bachelor of Arts in History and Secondary Education, as well as her Master of Education in Secondary Social Sciences, from Columbus State University. In 2017, the Georgia Council on Economic Education recognized her as a Georgia Economics Teacher of the Year.
2024 Georgia Teacher of the Year Finalists
Finalists are listed alphabetically by last name, except for the Teacher of the Year and Runner-Up.
Christy Todd, 2024 Georgia Teacher of the Year – Music Technology Teacher, Rising Starr Middle School, Fayette County Public Schools
Vanessa Ellis, 2024 Runner-Up – Eighth-Grade Social Studies Teacher, Veterans Memorial Middle School, Muscogee County School District
Veena Black – Second-Grade Teacher, Briarlake Elementary School, DeKalb County Schools
Lucas Brock – Agricultural Education Teacher, Central Middle School, Carroll County Schools
Inga Cashon – STEM Teacher, North Tattnall Middle School, Tattnall County Schools
Katie Jenkins – EIP Teacher, Stark Elementary School, Butts County Schools
Laura Lambert – AP Biology and Biotechnology Teacher, Newton College and Career Academy, Newton County Schools
Jennifer Lean – Third-Grade Teacher, Park Elementary School, Harris County School District
Brittany Nearhoof – Art Teacher, McAllister Elementary School, Bryan County Schools
Katherine Jane Stewart – Seventh-Grade Language Arts Teacher and Gifted Coordinator, Chattanooga Valley Middle School, Walker County School District​