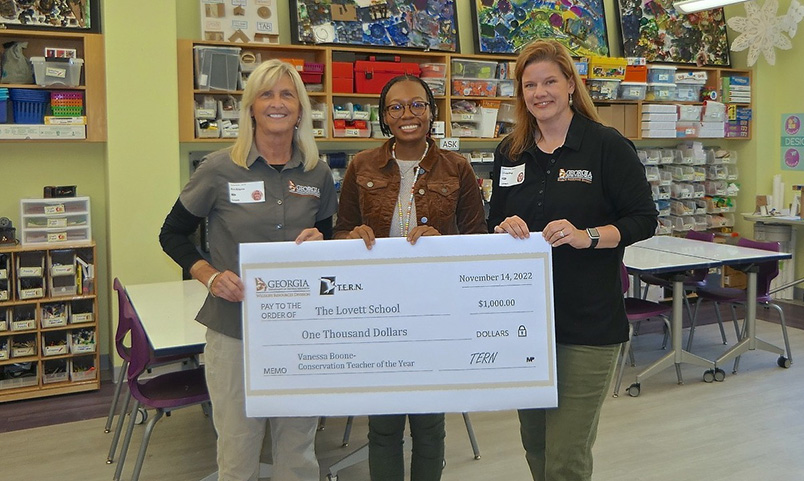 An Atlanta teacher's proposal to design and create birdhouses earned her school a $1,000 grant from the Georgia Department of Natural Resources.

Vanessa Boone, a technology teacher at The Lovett School in Fulton County, received DNR's 2022-23 Conservation Teacher of the Year grant, the agency announced today. The annual award goes to a third- through fifth-grade public or private school teacher in Georgia who demonstrates exceptional energy and innovation in teaching life sciences. Funding is provided by The Environmental Resources Network, or TERN, friends group of the DNR Wildlife Conservation Section.
Boone was selected for her proposal "Birds in Georgia's Backyard: Design, Engineering and Literacy," said Linda May, outreach coordinator with the Wildlife Conservation Section. "Solid learning objectives, cross-curricular creativity and hands-on STEM activities made her proposal rise to the top," May said.
The school's 110 fifth-graders will learn about the birds that live in Georgia's Piedmont region, the challenges they face and the benefits of conservation efforts. Students will use tips from Cornell Lab of Ornithology's NestWatch and a 3D modeling program to design birdhouses. After honing their prototypes and finalizing their designs, they will use a laser printer to cut the custom pieces. Once assembled, students will collaborate with Georgia Audubon to place the birdhouses in nearby Standing Peachtree Park. The public greenspace along the Chattahoochee River is managed by the city of Atlanta and steeped in Native American history.
Grant funds will be used to buy bird field guides and natural history books, as well as wood and other materials needed for students to build the nest boxes they design.
Boone said she is excited for her students to "experience Georgia's wildlife in such a hands-on way!" "I think it's really important for today's learners to understand the importance of caring for and protecting our environment and species," she added. "Students learn best by doing, so I'm grateful to have the resources for them to complete this project."
The grant is coordinated and proposals are reviewed by DNR Wildlife Conservation Section staff and a TERN member. The primary mission of TERN, a nonprofit formed in 1992, is to help financially support the Wildlife Conservation Section and its projects.
Through education, research and management, Wildlife Conservation works to safeguard and restore the diversity of native animals not legally fished for or hunted, rare plants and natural habitats, while also striving to increase public enjoyment of the outdoors. The agency is funded largely by grants, direct donations and fundraisers, such as sales and renewals of Georgia's bald eagle and monarch butterfly license plates (georgiawildlife.com/licenseplates).