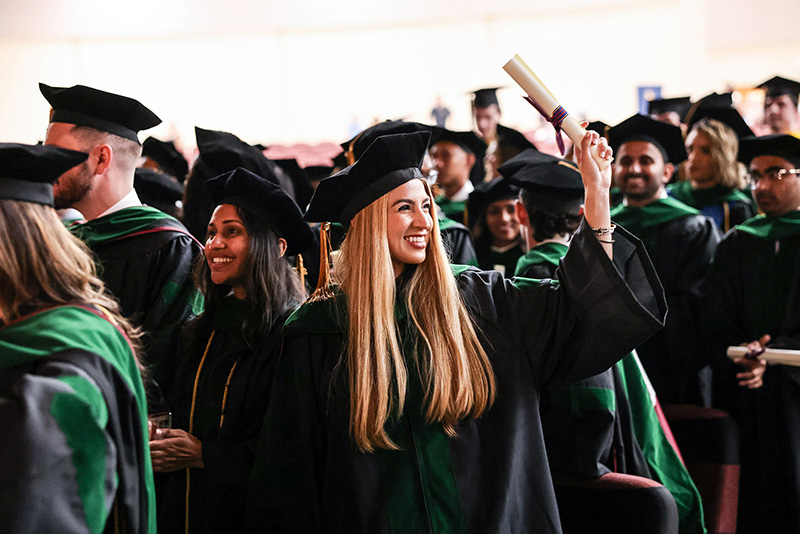 To the cheers of family and friends, the first class of PCOM South Georgia students to earn the doctor of osteopathic medicine degree graduated on Thursday, May 25, at the UGA Conference Center in Tifton along with the second class to earn the master of science degree in biomedical sciences.

PCOM South Georgia opened in 2019 in Moultrie, Georgia, becoming part of the Philadelphia College of Osteopathic Medicine's long-standing educational legacy.
"Today is a dream come true for so many," Jay Feldstein, DO '81, PCOM president and CEO, said. "PCOM South Georgia was created to be a place that would inspire, motivate and empower the healthcare leaders of tomorrow – leaders who will be dedicated to addressing our nation's physician shortage, healthcare disparities, and to advancing medicine in underserved rural communities."
During the ceremony, John P. Kearney, a member of the PCOM Board of Trustees, presented James L. Matney, president and CEO of Colquitt Regional Medical Center, with an honorary degree, the doctor of laws. Matney then delivered the commencement address, during which he reminisced about how many laughed at his dream of having a medical school in the region.
"Many of those early first conversations were difficult and even felt impossible at times, but looking out across this group of graduates confirms that all of the work that led us to today was certainly worth it," Matney said. "As you walk across this stage, it is important for you to remember that with this incredible accomplishment, there comes an immense responsibility with being the first."
---
About PCOM South Georgia
Philadelphia College of Osteopathic Medicine (PCOM) extended its commitment to the Southeast by establishing PCOM South Georgia, an additional teaching location in Moultrie, Georgia, in 2019. PCOM South Georgia offers both a full, four-year medical program leading to the Doctor of Osteopathic Medicine (DO) degree and a Master of Science in Biomedical Sciences degree. PCOM is a private, not-for-profit accredited institution which trains professionals in the health and behavioral sciences fields. Joining PCOM Georgia in Suwanee in helping to meet the healthcare needs of the state, PCOM South Georgia focuses on educating physicians for the South Georgia region. pcom.edu/southgeorgia
---
SOURCE Philadelphia College of Osteopathic Medicine