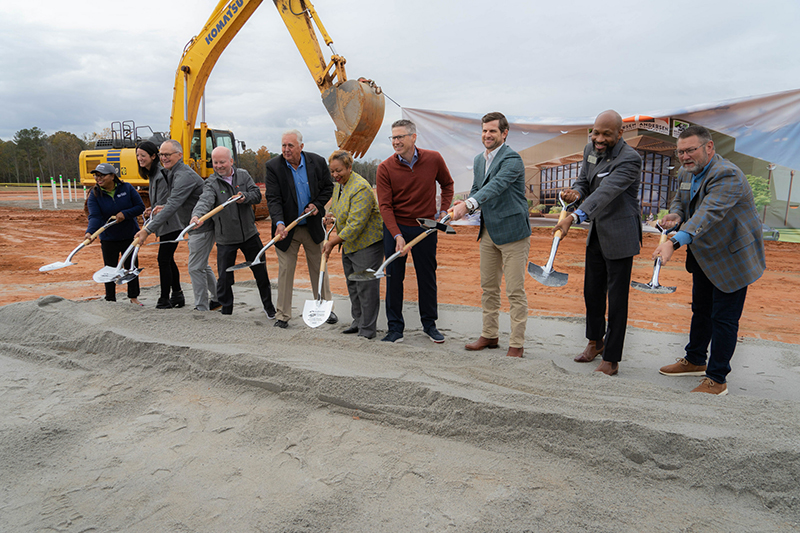 Andersen Corporation, America's premier window and door manufacturer, announces that construction has begun on the new Renewal by Andersen manufacturing and distribution facility in Locust Grove, Georgia. Renewal by Andersen is the full-service window replacement division of Andersen Corporation, which manufactures, sells and installs an exclusive replacement window solution to customers across North America.

On November 15, the company celebrated this strategic investment in its fast-growing replacement business with a ceremonial groundbreaking. The teams from Andersen and Renewal by Andersen were joined by Locust Grove Mayor Robert Price, Henry County Chair Carlotta Harrell and other state and local dignitaries to commemorate the occasion.
"We are thrilled to be investing in a facility that will help us meet homeowner demand for our Renewal by Andersen® products and expand our footprint further into the southeast," said Chris Galvin, Andersen Corporation president and chief executive officer. "Here in Locust Grove, Renewal by Andersen is building both a state-of-the-art manufacturing facility and a place where individuals across a wide range of skillsets will be able to build meaningful careers. We are grateful for the support and warm welcome from the State of Georgia, Henry County, and the City of Locust Grove, and we look forward to growing in this community."
Andersen Corporation is one of the largest window and door manufacturers in North America, and along with its subsidiaries, operates more than 20 manufacturing and distribution facilities, with an industry-leading portfolio of window and door products serving customers across the new residential, light commercial, home improvement and remodeling segments. Renewal by Andersen plans to invest more than $420 million in this new facility. Construction of the 638,000 square foot state-of-the-art facility is expected to be completed in late 2024, with operations expected to begin in 2025. When running at full capacity, the facility will employ approximately 900 team members.
The products to be manufactured at the facility in Locust Grove will use Andersen's unique Fibrex® material. Fibrex material is a high-quality, long-lasting engineered composite that garnered more than 25 United States patents over time and has become a different and better material used in numerous Andersen® and Renewal by Andersen® product lines. The material contains a blend of wood fiber, mostly reclaimed from Andersen manufacturing processes, and thermoplastic polymer, some of which is also reclaimed.
The new Renewal by Andersen facility is being built at The Cubes at Locust Grove, and will be its first manufacturing facility in Georgia, joining an Andersen Logistics distribution center located in Douglasville and an Andersen Windows, Inc. office in Marietta. The facility will initially support Renewal by Andersen, with capacity to expand in future years to support additional Andersen enterprise product lines.
"The City of Locust Grove is excited to see the progress so far for this outstanding project by Renewal by Andersen with today's groundbreaking," said Locust Grove Mayor Robert Price. "We are thrilled to be the home to this new manufacturing plant which is bringing good-paying advanced manufacturing jobs to our community. Furthermore, the project is providing the City and County with an improved Price Drive for better mobility throughout our region and giving focused access to the future Bethlehem Interchange at I-75."
The facility is being built by Clayco. "Much like Andersen, at Clayco we are dedicated to creating a better product and experience for our customers. It's not just about the structures we build, but it's about the people inside and the purpose they create within the space," said Anthony Johnson, President of Clayco's Industrial Business Unit. "That is why we are privileged to partner with Renewal by Andersen to create this facility, which represents a landmark in economic development for this community along with the state of Georgia, and will provide products creating homes and communities across the country."
At the groundbreaking ceremony, Andersen reinforced its commitment to investing in the communities where it operates with a $25,000 donation to Southern Crescent Habitat for Humanity. The company also committed to donating windows for Southern Crescent Habitat for Humanity's home builds in 2024, furthering its commitment to supporting affordable housing and helping more families achieve their dream of stable homeownership.
Renewal by Andersen will be hiring team members for its new facility throughout 2024 and 2025 in a wide variety of roles, with a focus on engineering, supply chain and manufacturing positions. Interested applicants can view current job openings here or sign up to learn more about a career at Andersen and future opportunities on the company's site. Andersen offers highly competitive wages, profit sharing, an inclusive workplace, paid parental leave and more.
---
About Andersen Corporation
Headquartered in Bayport, Minnesota, Andersen Corporation and its subsidiaries manufacture and market window and door products under the Andersen®, Renewal by Andersen®, EMCO®, and MQ™ brands. Andersen, a privately held company, operates manufacturing sites across North America and Europe. Andersen has earned the U.S. Environmental Protection Agency's 2023 ENERGY STAR® Partner of the Year – Sustained Excellence Award. Learn more at andersenwindows.com.
About Renewal by Andersen
Renewal by Andersen LLC is the full-service window replacement division of Andersen Corporation. Renewal by Andersen offers a replacement process that includes an in-home consultation, custom manufacturing, and installation through one of the largest nationwide networks of window replacement specialists. Learn more about Renewal by Andersen at renewalbyandersen.com.
---
SOURCE Andersen Corporation