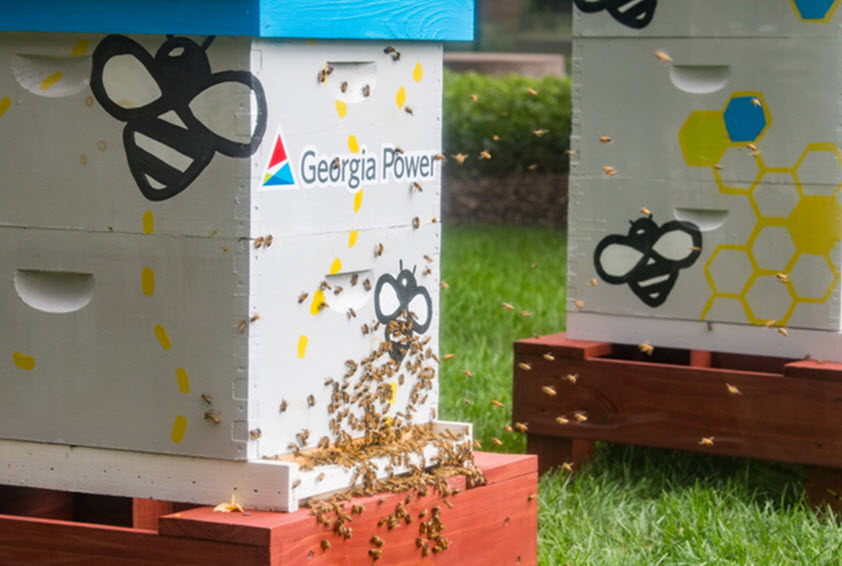 In late September, a honey sample numbered 243 won first place in the National Black Jar Honey Contest hosted by the Georgia State Beekeepers Association. Honey number 243 was from the Georgia Power honeybees!
Out of hundreds of entries from 24 different states tasted and evaluated by Welsh Honey Judges, the Georgia Power honey was named best in show and took home the title of "Best Honey in the Nation."
Georgia Power is a proud partner of Bee Downtown, a company dedicated to rebuilding a healthy honeybee population by partnering with companies that truly care about the environment and conservation. The utility is committed to improving sustainability and helping Bee Downtown create the largest pollinator corridor in the country.
Bee Downtown's lead beekeeper, Nicholas Weaver, said the Georgia Power honey is very smooth and tastes so great because it's multi-floral, which means it's from lot of different plants and trees, not just one type. Wildflower, blackberry, poplar, and several other different things have gone into the honey.
The three hives and approximately 150,000 honeybees joined the Georgia Power family at their corporate headquarters in downtown Atlanta in 2018.