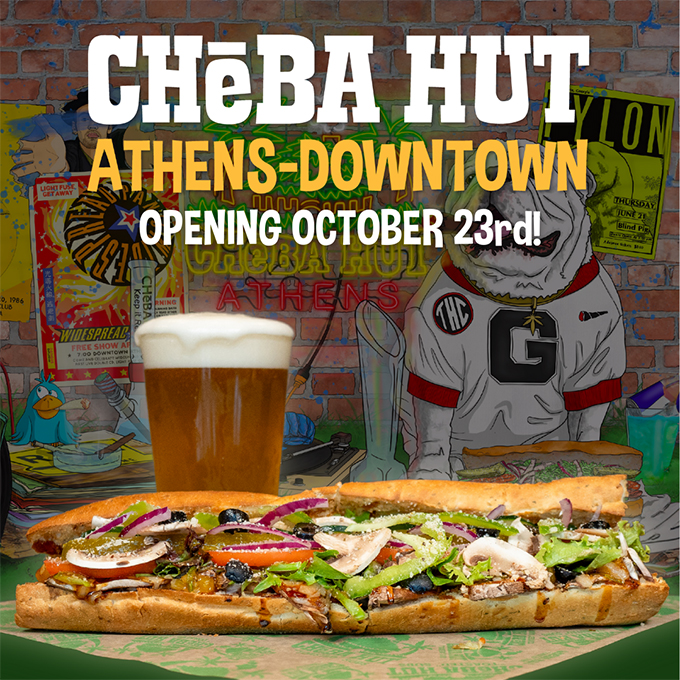 Cheba Hut announced its latest opening in Athens will be on October 23.

The cannabis-themed restaurant and bar is eagerly anticipating its Athens, GA, opening and can't wait to light the joint up and be the undisputed neighborhood hangout for curing cottonmouth and the munchies.
Shop owners Josh Burdick, Justin Beatty, and Jon Beatty are opening a new "Toasted" Subs location in Georgia. The trio has played a crucial role in establishing Cheba Hut's culture throughout Atlanta, where they opened their first joint venture. Their dedication has not gone unnoticed by the Cheba-verse.
While opening a shop in a new market is no easy feat, these owners have more than flourished. In fact, with the immense success of the Atlanta shop, they believe now is the time to open their new location in Athens to further spread the values, culture and dank food that Cheba Hut has to offer.
Justin Beatty stated, "I am so pumped for Athens to find out how great our food is! Also, I am super excited to bring a bar environment that has value, integrity, and great vibes to the city. Athens deserves a great restaurant/bar and we are going to give it to them."
Jon Beatty added, "We are going to bring the best vibes in Athens. Our unique combination of amazing food and great cultural values will resonate in this already amazing town. They need the Hut to get the full college experience for the students." 
Speaking on company beliefs and culture, Cheba Hut prides itself on upholding its brand Core Values (The Hustle, Show Respect, Own It, Pay It Forward, Keep It Real) and appreciates the trio for continually implementing different aspects of these values into their day-to-day operations.
"Keep It Real is what it's all about for us. I want Athens to see that we bring a different vibe and outlook to the scene. We can give a great experience while encouraging Moderation for the Duration, great value, and a great atmosphere," Jon Beatty stated.  
Burdick stated, "The Hustle! Since 1998, Cheba Hut has always out-hustled the competition. We work smarter, and harder, but we do it while having a lot of fun. Our Hustle in the Athens shop will create lasting relationships between employees and customers alike."
Not only will this new Georgia location be serving up a variety of dank subs, fluffy pretzel nugs, and gooey krispy treats that can cure any level of the munchies, but also, for the 21 and up homies, they'll be slinging some delicious signature cocktails and local brews from their full bar that will obliterate any presence of cottonmouth.
Located at 135 W Washington St Athens, GA 30601, it opens its doors on Monday, October 23. The brand is stoked to bring over 30 signature "toasted" subs, an array of delicious munchie treats, and cottonmouth cures (Crafted cocktails for the 21+ homies) to the Athens area.
For more information about opening day, check out @chebahut_athensdowntown
---
Source: Cheba Hut Franchising