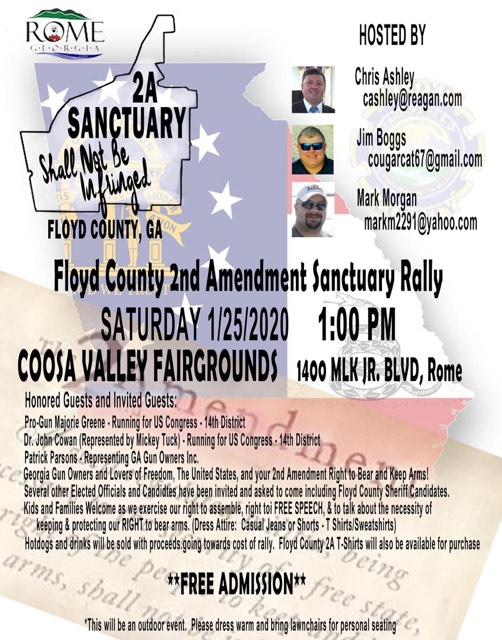 The rally was initially scheduled for the American Legion Farm off Old Dalton Road in Armuchee, but has now been moved to the Coosa Valley Fairgrounds. It is open to all and is slated to begin at 1 p.m.
Event organizer Chris Ashley told AllOnGeorgia that, "although Virginia seems to be ground zero for Americans right to bear arms to be swiftly taken, our nation has been under a slow, steady, relentless attack from the left for years. No state is safe as, just like Virginia, we are only one election away from those on the left trying to drop the hammer on our rights, smashing them for good. I feel all patriotic Americans should be preemptive or proactive and stand now and not reactive once sliding down the slippery slope. All five of our county commissioners or against passing anything to make for Floyd county a Second Amendment Sanctuary, although they claim to be pro second amendment. We cannot afford to give an inch in the battle to save our freedom so I started this movement."
Featured speakers will include Floyd County Sheriff candidates Ronnie Kilgo, Tom Caldwell and Dave Roberson along with US 14th Congressional candidates Clayton Fuller, Dr. John Cowan, and Marjorie Greene,  Patrick Parsons of Georgia Gun Owners Association will also speak.
The website Second Amendment Daily News has information about the rally and about Greene's scheduled visit. It reads, in part:
"The event, organized by Floyd County resident Chris Ashley and his leadership within the group, will focus on growing the Second Amendment Sanctuary movement in Floyd County, as well as serving as an inspiration to other gun owners in counties across the state."
"Marjorie Greene, who appears to be taking the 14th Congressional District (NW Georgia) by storm, is a longtime Second Amendment advocate, Life Member of Georgia Gun Owners and Gun Owners of America, and strong opponent of "Red Flag Gun Confiscation."
Greene's campaign team on Monday evening confirmed her attendance.
Ashley said members of the local legislative delegation as well as city and county elected leaders also have been invited to speak at the rally.
Ashley was born and raised in Silver Creek in Floyd County, he moved to Gulfport, Mississippi for 11 years, "so I can't say I am a lifetime resident but Floyd County has always been my home."