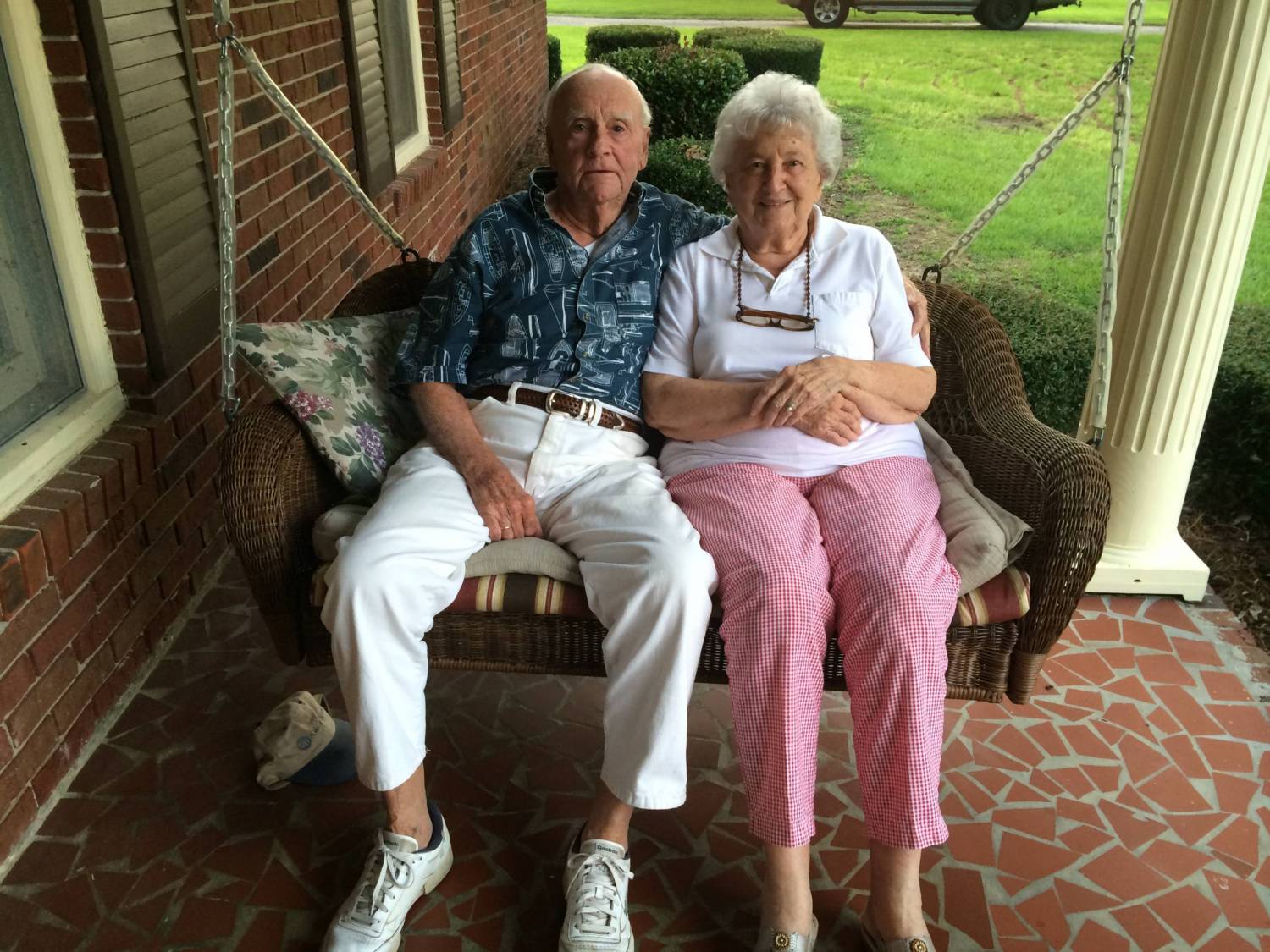 91-year-old Emory Rogers is a cheerful man who spends most of his time now with his wife, Etwinda. Their home is decorated beautifully, but more importantly, it is rich with family photos of their children and many grandchildren.


As one of eight children himself, Emory graduated from high school in 1942 and was drafted in 1944 to fight in the Pacific in World War II. He returned not too long after and decided he wanted to farm. But first, he married his sweetheart, Mrs. Etwinda Baxter on October 31, 1948.
With Glennville roots, Emory and Etwinda upset quite a few folks when they moved up the road to Evans County in 1950 after they were married. Sharing a little old house with another couple, the Rogers would move the bed around the room during rain showers to avoid getting wet from the leaky roof. It was tough and they were crammed, but it sufficed until they could get on their feet and afford their own.
Emory's father, Byron Green Rogers was a farmer, too. Emory grew up farming with his him and his family tending to fields, dusting cotton, and things of the like. But it was Emory's father-in-law, Lathem Baxter, who sold Emory half of the land still in the family today, and granted his wife the other half – about 106 acres surrounded only by dirt roads at the time. The farming began immediately, though they had no farming equipment and Emory purchased one tractor for just $1,400 from Fitz Beasley – a 1949 8N Ford tractor to be exact.
Doing all the work himself, Emory worked harder than most men you'll meet today. Dusting cotton and breathing in the hog dust with no masks and no equipment is likely the reason he struggles with breathing these days, but he doesn't make it a point to tell you that. His lungs are weak, but the stories and the memories are not.
The story of the building of the home they now reside in brings about nothing but cheerful memories for both. Emory and Etwinda built the house in 1969 for $25,000. A 2,400 square foot home with carpet and drapes… a steep $25,000. Even funnier for those of the younger generations is that Emory attained the funding for his home after it was completed. The Rogers paid off the home within two years and have been living-debt free since 1972…except for the property taxes, of course. And Mr. Emory isn't mum about how those have gone up over the years as they've made improvements to their home in simple ways like paving the driveway.
They both giggled when talking about the now-archaic appliances they still have, things they purchased when goods were made to be sustainable. They still have the same fridge they purchased for their first home in 1949. It operates perfectly and has only needed minor repairs- a new thermometer, even though it now sits outside. They had their same A/C unit for 40 years. Even now, the ATV 4-wheeler is one from 1985 and by the Rogers' standards, there's no need for new one. Though the mattress has been replaced time and time again, the Rogers still use their same bedroom suit they purchased when they were married.
The farm life picked up and the self-sustainable, oversized "garden" became the sole source of food for the Rogers family. Collards, onions, mustard greens were the starting crops, but it soon turned into a full-time job in itself.
Mrs. Rogers had just one rule about the garden: Never worry about over-giving. Anyone who wanted to stop by for produce could do so at will. They never sold a thing to someone they knew. Watermelons, corn, cucumbers, peas, tomatoes, it was all up for grabs and the excess was sold to stores only if no one wanted it. "I did it because I always knew it would come back to us in some way," she'll tell you.
And it did. As Emory and Etwinda have gotten older, the kindness has come full circle. They say they often open their side door to find bags and boxes of produce others have dropped off for them "just because."
In their younger years, Emory and Etwinda made their money off hogs and tobacco. The hogs were sold in Tison, Baxley, and Glennville for nearly 50 years until the hog business just wasn't sustainable anymore. Mr. Emory got out of that in 2000. The hardship came when corn was up. That meant the profit margin declined because it cost more to feed the hogs. That, and the cyclical nature of hog prices was stressful.
Tobacco was also the cash cow for a while. At one point, Emory tended over 200 acres alone. Everyone told him he would never get out of the tobacco industry, but after tobacco hit 3,000 lbs an acre, he sold his tobacco allotment to Herbert Daniels in the early 1980's.
The Rogers also had yard chickens which gave them the ability to sell eggs. Mrs. Rogers made and sold butter too, and the only things she ever purchased from the store were rice and salt. She even made every outfit her daughters ever wore.
They were a busy family. Emory also spent twelve years driving the school bus for Evans County and he was even the substitute mail delivery man.
One piece of advice Mr. Emory had to offer – more than once – "You can't have it good all of the time. Otherwise, you think you don't need help. And my help is upstairs." He'll also tell you not to get into the farm business unless you're willing to 1) work hard, 2) do it yourself, 3) Trust The Lord.
In 2003, Emory and Etwinda gave their land and farm to their daughters, which is still maintained – about 100 acres. The land now straddles the Evans and Tattnall county lines, and the Rogers' even had to change their voting paperwork though they haven't moved, but their hearts are in Evans County.
Throughout his lifetime as a farmer, Emory says he never had much time for front porch sitting. Now that Mr. Emory spends many of his days sitting on his front porch, he says he missing tending to his crops the most.