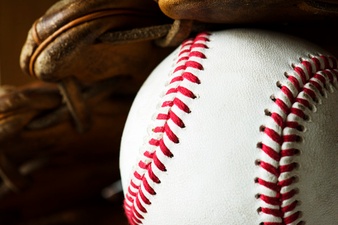 This past week, the GRPA District Tournaments for Baseball and Softball took place in various locations in the area.  Three teams from the Evans County Recreation Department earned their way to the next level and will compete in the GRPA State Tournament.

The Evans Co 14U Boys captured the District Championship by defeating Screven Co 9-3 in the finals.  The locals played 5 games in 5 days to complete the championship run.  They tallied 40 runs in the 5-game tournament.  Bryson Dutton was the winning pitcher in the final game.  Dutton pitched 6 2/3 innings while allowing 6 hits and striking out 10 batters, and no walks.  Christian Mixon broke the game wide open with a bases clearing triple.  They will now travel to Hazlehurst on June 22 to face Jeff Davis in the first round of the GRPA State Tournament.  Game time is 2:00.  Evans County is coached by Shannon Sapp, Clayton Dutton, and Larry Saylor.
The Evans Co 14U Girls coached by Kevin Hendrix, David Beasley, and Kenny Sapp clinched their spot by finishing as District Runner Up in their tournament held in Hawkinsville, Ga.  The young ladies defeated Hawkinsville on Wednesday night by a score of 9-6.  Adison Beasley was the winning pitcher with Ansley Crosby picking up the save.  Unfortunately, Hawkinsville came back to defeat Evans Co in the finals on Thursday.  Evans Co will not play June 22 in Hawkinsville against the District 2 Runner Up.  Game time is at 3:30.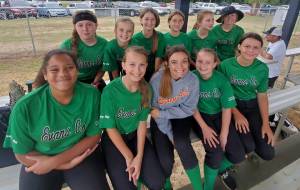 For the first time in District competition, a Coach Pitch Division was held this year.  Evans Co competed with Montgomery County and Dodge County to try and win the inaugural title.  After defeating MOCO in the first round by a score of 9-0, Dodge Co manhandled the group from Evans Co by a score of 27-5.  The next day, Evans Co fought back by defeating MOCO 10-2 and earn a spot in the finals against powerhouse Dodge Co.  This time, the scene was totally different.  After a back-and-forth game, Dodge Co finally pulled out a narrow 12-11 victory in extra innings.  Brayden Valentine and Weston Beverly were the leading hitters while Zion Hills and Colton Rhodes supplied stellar defense.  They will now play June 22 at 4:30 in the first round of the GRPA State Tournament.  The 1st ever State Tournament will be held at the Evans County Recreation Department.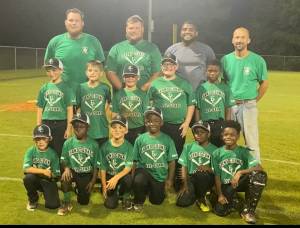 The ECRD also had teams compete in the 12U Boys, 10U Girls, and 10U Boys Tournaments.
"We are extremely proud of all our players and wish them luck in the State Tournament.  It is an exciting time of the year to be at the ballpark."