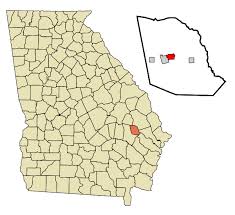 Elected officials from the City of Claxton, Commissioners and employees of the Evans County government, and residents heard from experts on consolidation Thursday evening.

Harry Hayes, a representative from the University of Georgia's Carl Vinson Institute of Government presented information on the pros and cons of consolidation, what a blended form of government would look like, and how a referendum would be implemented for voters to decide to a full Commissioners Board room.  The Carl Vinson Institute is a world-renowned resource for local and state governments all over the nation, and even some foreign countries.
Hayes was emphatic in stating that the role of the Carl Vinson Institute is to provide information, not influence a decision one way or another. A member of the audience asked whether it was the county or the city that requested the seminar and Hayes deferred to County Manager Casey Burkhalter who said it was a collaborative effort by elected officials in both offices so everyone would have the opportunity to learn about the concept and process.
Why do cities and counties consider consolidations?
A lot of local governments are already crossing paths. Cities and counties are already expected to plan together for future development and have corresponding comprehensive plans as well as a service delivery agreement to ensure all citizens receive the necessary services and by whom. Both are charged with coming to agreement on how Local Option Sales Tax (LOST) funds are allocated to municipalities and the county as well.
Is there more than one type of consolidation?
Yes. Two different types of consolidation exist.
Functional consolidation is when existing governmental entities remain in place, but departments are shared in certain areas. The benefit is a large number of elected officials at two levels of government, but the downside is that each governmental entity usually remains focused on looking out for their own best interests, instead of as a joint effort.
Full government consolidation is when a new elected body replaces city and county officials and there is one streamlined service mechanism. Examples of Georgia city-county consolidations include:

Columbus-Muscogee County
Athens-Clark County
Macon-Bibb County
Cusetta – Chattahoochee County
Preston-Weber County
Echols County
Augusta-Richmond Consolidated Government
Why are there so few consolidated governments?
Sometimes the city and county governments are just too different and don't desire to work together. It's also tough to get the initiative passed. Only 25% of consolidated government referendums pass on their first round on the ballot.
Will it save money?
Hayes said the answer is "definitely that it depends." He emphasized that while there is no way to accurately predict what a governmental entity will encounter, certain terms can be put forth in the charter for the new elected officials for governing.
What about the schools?
In some districts, schools are effected, but in Evans County, that would not be the case
Would employees lose jobs?
Hayes said that sort of decision would be made by a new set of elected officials after the city council and Board of Commissioners are dissolved. Sometimes there is a clause in a charter that no employee will lose their job just because of the creation of a consolidated government, but that doesn't stop people from being moved laterally or to another position all together.
Will there be differences in pay?
Salaries are often leveled out because of consolidation and the higher salary usually remains. If someone in city government was making more than the same position in county government, the position would likely maintain the higher salary after consolidation because it can be funded by the additional revenue coming in.
The same applies for employee benefits. Often times, consolidated governments freeze the plans currently employees enjoy, but "new hires" fall into a new plan.
What about laws and ordinances?
A new unified code of ordinances is established during the consolidation process.
What about the Sheriff and Constitutional Officers?
All remain untouched, though should a police department from a city be eliminated, the Sheriff would have additional duties.
Who gets to vote on a referendum and how are votes counted?
Any resident in a city participating in the consolidation with the county would be eligible to vote on the measure. Any resident in the unincorporated county but not within another city would also vote on the measure. The vote would have to pass by the majority of people in the county AS WELL AS the majority of voters in the city limits, not just a majority across the board.
What are some of the pros?
It's a one stop shop for economic development
Benefits economies of scale, meaning sharing of purchases for vehicles, office supplies, and things of that nature are narrowed to one office. Similarly, the output is lower
Additional revenue is collected from franchise fees. While cities can collect funds from local electric companies, cable, and private when they grant usage of the right of ways for a fee, counties are only permitted to collect on cable television companies.
Benefits would include wearing two hats. Consolidated governments are not required to declare themselves a city or a county and can apply for grants
Increased efficiency by eliminating city/county coordination problems
An opportunity to do things differently – no more "that's the way we've always done it."
What are some of the cons?
Bigger isn't always better
Dealing with the known is better than the unknown
There are costs associated with transition
It creates competition among local governments
Reduces the number of available elected officials
"If it isn't broken, don't fix it."
So, what happens if elected officials decide they want to move forward?
First, there would be a study committee to evaluate the needs and conditions. Either the Commissioners or the Mayor and Council would need to contact someone in the legislative delegation, like Senator Jack Hill, to have the initiative drafted in the General Assembly based on the Charter drafted by the two entities. Once the measure clears the hurdle of the legislature, a referendum is set to appear on the ballot and voters decide on the issue during the election.
Hayes fielded questions from the audience at the end of his presentation and while he said he can't provide concrete evidence on the reduction of costs, most consolidated governments will say their costs have decreased over time. He also noted that no consolidated government has made the effort to revert back to two separate entities after a transition.
Claxton Mayor Terry Branch, Councilman Mel Kelly, Councilwoman Tina Hagan,  Commissioners Jill Griffin and Del Beasley, and County Administrator Casey Burkhalter were among those present.
No decisions have been made and all meetings are for informational purposes. The Evans County Board of Commissioners are expected to continue discussing the topic and have requested the City of Claxton do the same at their next council meeting on December 5. Another public meeting on the joint effort, if one begins, will be set at a later date.