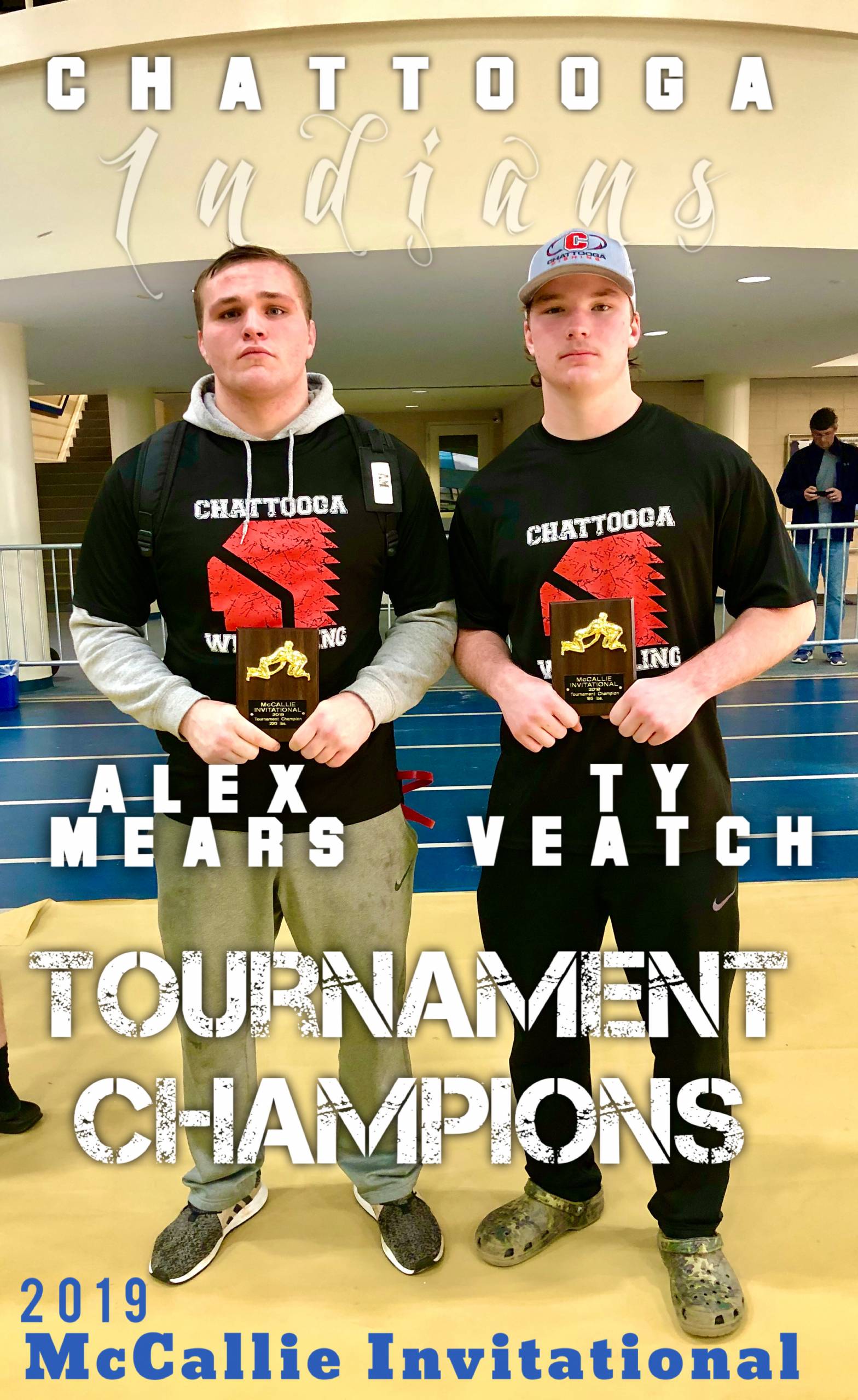 In a performance that shocked many spectators, the Chattooga Indians walked out of the McCallie Invitational Wrestling Tournament with a solid 3rd Place team finish. Tied with McCallie for 2nd Place going into the final match, Chattooga's Luis Medina was absent from the mat while on a football recruiting trip, so McCallie pulled ahead with their heavy weight victory.
Chattooga Moved into the Top 5 after the opening rounds of wrestling on Friday afternoon, and never looked back. Despite only bringing 11 wrestlers and being the only GHSA AA school on hand, the Indians were here to compete on an elite level, and placing 8 of their 11, compete is what they did.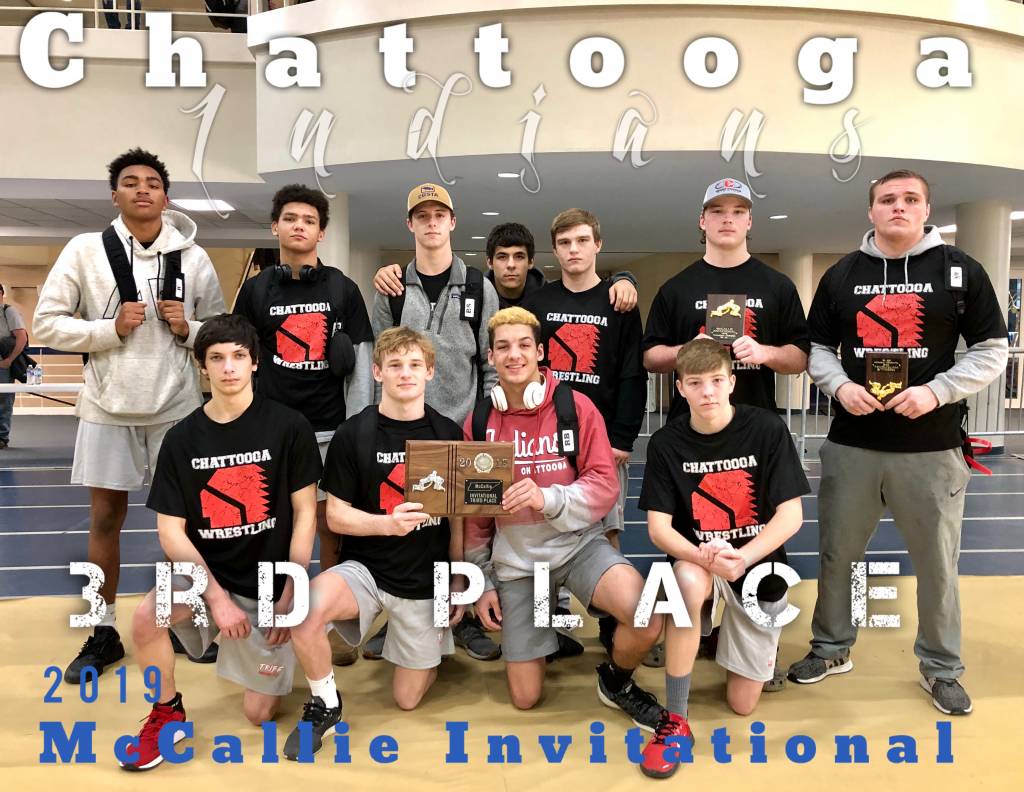 Placers
3x Georgia State Champion, Griffin Jarrett (120) bounced back from a semifinals loss to Woodland's Easton Bishop with a 4-1 win over Alabama's Vestavia Hills Christopher Hays in the conso-semis and then taking 3rd with a thrilling 2-0 win over Southeast Whitfield's Risso Webb.
At 126, Wes Conley looked unstoppable early on and then met up with Woodland's Colton Bishop in the semifinal round. With a 3-2 upset of the #2 seeded Bishop, Conley advanced to the finals where he suffered a hyper-extended elbow and finished 2nd.
Mason Sterner shook things up at 145 lbs when he battled hard against #2 seeded Vincent Manella of Woodward Academy. While Sterner lost the match, his performance raised some eyebrows and Sterner won his next three matches to enter the Conso-Finals. Sterner finished 4th after falling to Dalton's Hunter Noland.
Rowan Burdick (152) is the only sophomore among the Indian's eight placers and, following a narrow defeat to Sonoraville's Davin O'neal, Burdick rolled off three consecutive wins, including an exciting 4-2 win in the conso-semis over Georgia Walton Academy's Chris Sperin. In the conso-finals, Burdick took down McCallie's own Ryan Holtzclaw with a 2nd period pin for the 3rd Place finish.
At 182, Chattooga's Jakoby Cottrell didn't have much time to tune up before the semifinals after knocking off Harrison Kinsey 11-8. Cottrell fell to top-seeded Chase Looper of McCallie in the semifinals but battled all the way back to the consofinals where he knocked off Woodland's Jeremiah Rhodes 5-2 for a 3rd Place finish.
With Luis Medina gone, the big boys for the Indians were Junior Ty Veatch (195) and senior Alex Mears (220) and the dynamic duo did NOT disappoint. Both wrestlers entered the tournament as the top seed in their weight class and all the pressure that comes from every opponent bringing their very best against you. Veatch picked up three straight wins by pin before reaching the finals and facing off against defending AAA State Runner up, Charlie Brown of Sonoraville. Veatch had never beaten Brown in several meetings but Veatch put together a masterful performance on the mat. With an early takedown, Veatch led 2-0 and kept the pressure on all three periods. Neither athlete could manage the top position but Veatch put together a full six minutes of championship wrestling and won 5-2 for his first McCallie Invitational Championship.
Mears followed suit with, what many coaches called, the most dominant performance of the tournament. Pinning every opponent, nobody ever made it to the third period against the 220 pound titan. Mears made short work of each match, going 4-0 with four pins for his first McCallie Invitational Championship.
Record Performance for Chattooga
The Indians' Vision Quest season continues with another record performance as a team.
8 Placers – Most Placers
8 Top 4 Placers- Most Top 4 Placers
2 Champions- Most Champs
217 – Most Team Points
3rd Place Team Finish- Highest Team Finish
Top Teams
1.Woodland – 307
2. McCallie- 225
3. Chattooga- 217
4. Woodward Academy- 172
5. Northwest Whitfield- 158.5
6. Vestavia Hills, Al- 155
7. Sonoraville- 145
8. Oak Mountain, Al- 102
9. Fannin County- 99
10. Dalton- 96
Chattooga Placers
120- Griffin Jarrett     3rd
126- Wes Conley        2nd
145- Mason Sterner    4th
152- Rowan Burdick    3rd
182- Jakoby Cottrell    3rd
195- Ty Veatch        Champion
220- Alex Mears      Champion