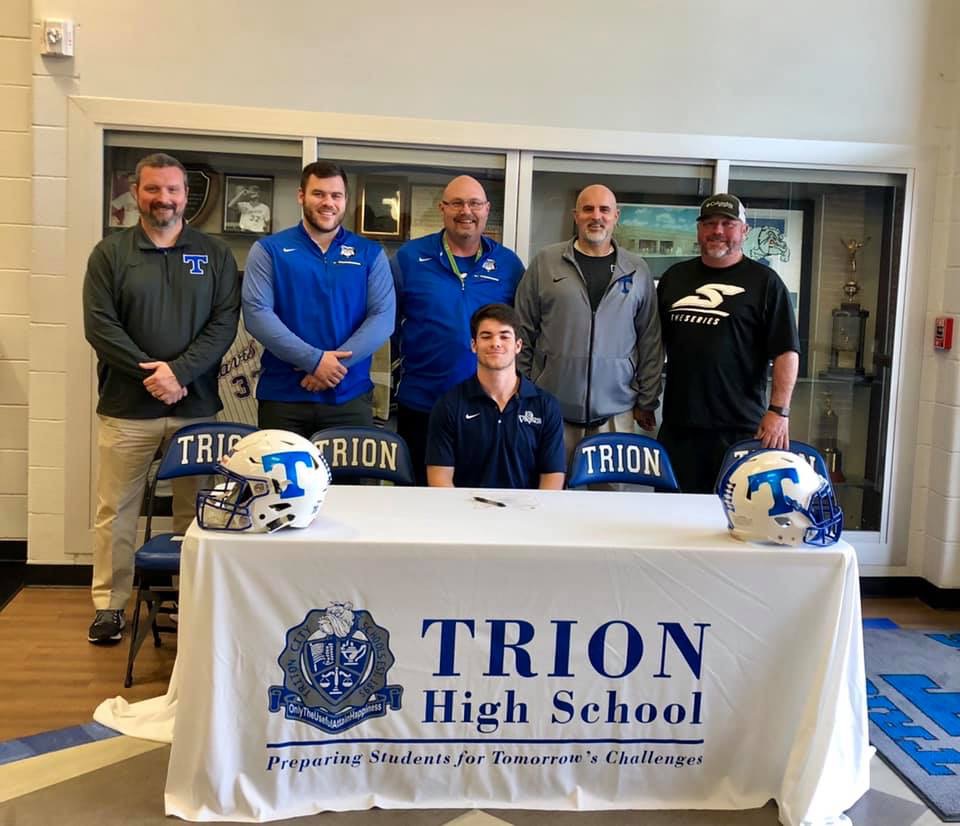 Trion running back Hagen Willingham signed with Berry College Football in a ceremony surrounded by coaches, family and friends.

Hagen Willingham is average height and average weight at 5'9″ and 170 lbs, but there is nothing else "average" about him. The senior All-Purpose football player at Trion High School took his final year on the gridiron to simply rewrite the record books for the Bulldogs.
As a tailback, Willingham ran deceptively fast and remarkably powerful. With key players graduating from the 2017 team, Hagen knew that the workload of the offense would fall squarely on his shoulders. "I knew I had to do a lot for our offense to be successful," Willingham reflected.  So that is what he did. A lot. Carrying the ball 177 times, Willingham compiled the largest Single-Season Rushing Total in Trion history, with 1,634 yards (breaking Daniel Calhoun's 1,627 mark set in 1999). Hagen averaged a staggering 9.2 yards per carry and tied the record for Most Touchdowns in a Season with 23. (Chris Chapman '03).
But the record-breaking season didn't stop with rushing yards and touchdowns, Willingham also recorded the Longest Punt Return in Bulldog history, an 84 yard return against Bowdon. Against rival Gordon Lee, Willingham rushed for 288 yards and scored five touchdowns, which puts him at third for both, Most Rushing Yards in a single game and Most Touchdowns in a Single Game and earned him Player of the Week honors from AllOnGeorgia.
Hagen Willingham Named Player of the Week

Brought to you by Jim Aaron's Summerville McDonald's, Trion Bulldog's Hagen Willingham earns the Player of the Week honors after picking up over 300 yards of total offense and a stunning TD off of a blocked field goal attempt to seal the 40-34 win over arch-rival Gordon Lee. Willingham's 288 yards rushing puts him at #3 in the Trion history books for Single Game Rushing and his 5 total touchdowns is also #3 in school history for a single game.

Posted by All On Georgia – Chattooga on Tuesday, September 25, 2018
Willingham led the team on special teams where he racked up another 348 yards on 12 kickoff returns, averaging 29 yards per return and scoring one touchdown on special teams. He led the team in receiving yards with 24 catches for 301 yards averaging 12.5 yards a catch and scoring twice.
In total Hagen Willingham had a staggering 2,283 all-purpose yards. 
"He had a season kids dream about," Coach Justin Brown said. "He broke numerous records and helped lead us to an eight-win season."
When asked about what his favorite moment of the season was, Willingham said, "honestly….it doesn't have much to do with me, but the success of my guys on defense during the Wilcox game. Getting to watch my best friend for life, Braden Johnson get sack after sack was something I will never forget."
Hagen Willingham walks out of Sam R. McCain and into the history books of Trion High School, with his focus on writing a new chapter at Berry College.
"College Football was always something I had thought about, but never knew if I would have the opportunity," Willingham said.
As far as the location of Berry in Rome, Georgia: "I am happy that my buddies and family will be able to come see me, that was definitely important in my decision process," Willingham said.
Willingham hopes to add versatility to the Vikings team, "I feel as if I could help in a lot of ways, whether it be special teams or in the backfield."
"I am most excited to become a part of the Berry community, and be able to be in such a great atmosphere and grow as a person," said Willingham.
For Willingham he said the biggest factor in helping him achieve his goal of playing football at Berry would be his father… "he is who has taught me things that no one else can."
Willingham said he will miss High School Football at Sam R. McCain, "the feelings of being under the lights in our home stadium, with the bleachers packed, and fences covered with people. That was an indescribable feeling."
The biggest game of his high school career came against rival Gordon Lee: 17 carries for 288 yards and five touchdowns. With the score Trion 34, Gordon Lee 34, with 3.4 seconds remaining, Trion had a field goal blocked, Willingham picked up the loose ball and ran into the end zone in dramatic style for the final play of the game.
Trion's Hagen Willingham had the game of a lifetime. 17 carries for 288 yards and five touchdowns. Willingham is now 3rd in the record books for most touchdowns in a single game and third in rushing yards in a single game. He picked up another 23 yards on a reception. With the score Trion 34, Gordon Lee 34, with 3.4 seconds remaining, Trion had a field goal blocked, Willingham picked up the loose ball and ran into the end zone in dramatic style for the final play of the game. #epic

Posted by All On Georgia – Chattooga on Saturday, September 22, 2018
When asked what coach had impacted him the most, Willingham said, "Coach Gable, not only has he taught me football knowledge, but has made me grow as a person, and realize that there's far more important things in life than just football. I will thank and love him for that forever."