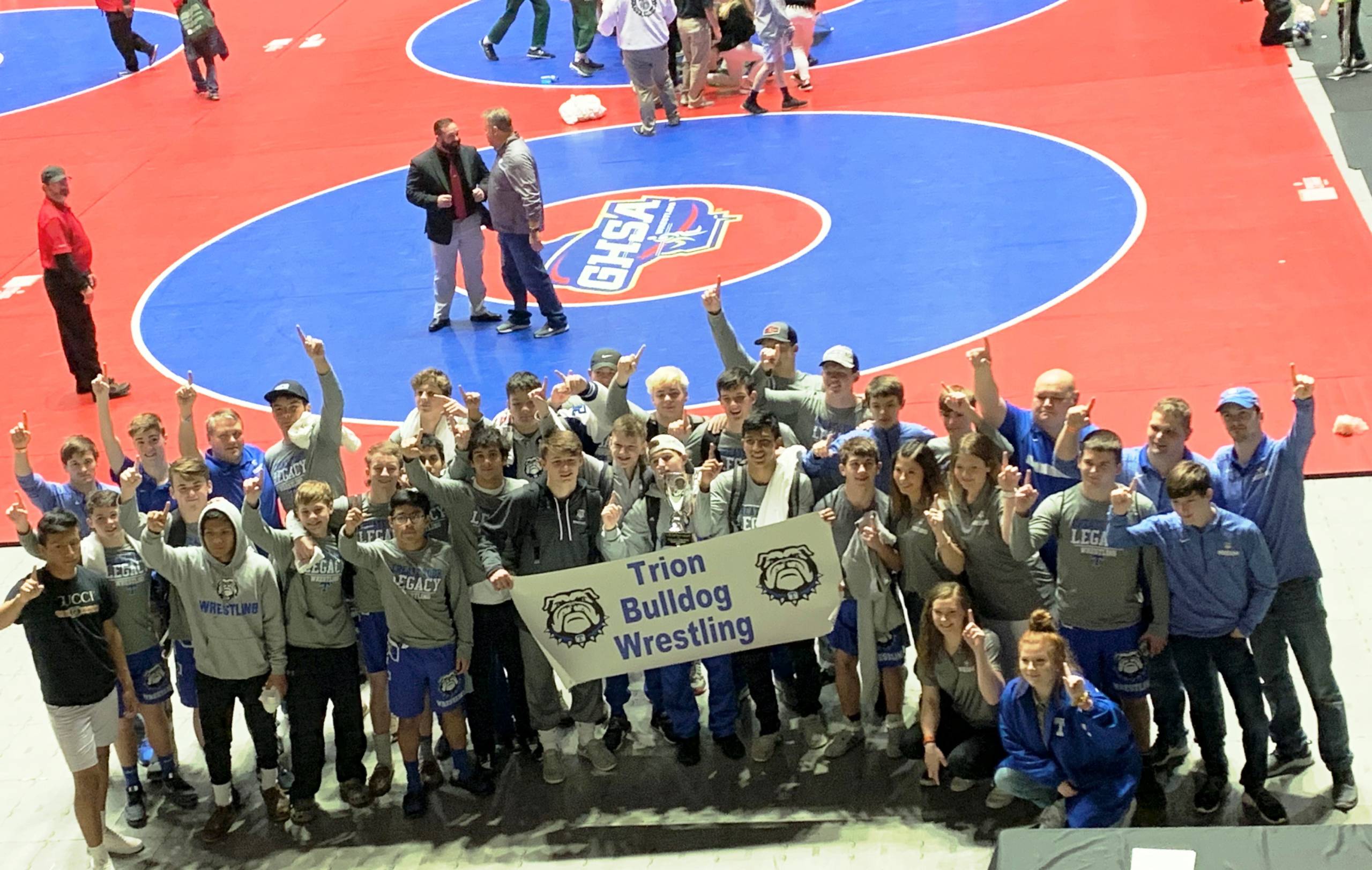 The following article is published with permission of the Bulldog Barker. 


This weekend was a fantastic weekend for the Trion Wrestling Team. They achieved an
amazing accomplishment that has never been done in school history. It's a goal that has been chased by the Trion Wrestling program this whole year. Realistically, many of them have been working to win a state title for many years. Many Trion wrestlers started before they could even read. All of their hard work finally paid off this weekend in Macon after they won the school's first ever Team Dual State Championship.
It was an extremely emotional weekend as the Dogs remembered coming up short the
year before when they were defeated by Commerce. This year, the Bulldogs took it to every
team they faced. They whipped Landmark Christian by a score of 66-6, and had fun doing so.
Coach Eric Brock had preached to the team not to overlook them just because Trion was the higher seed. None of the wrestlers overlooked their opponents; they faced and stayed focus and won their matches. After the first win against Landmark Christian, the team went back to the hotel to begin focusing on the next match, which would be against a highly competitive Mt. Pisgah wrestling team that had an abundance of good wrestlers. Coach Brock had told the team that Mt. Pisgah was a great team and could slip up and send the Dogs to the consolations if they didn't bring their "A" game. Indeed, Coach Brock was right about them being a great team, but the Trion wrestlers did bring their "A" game and defeated them by a score of 42-22 in hard fought matches. The THS Wrestling Team was now going to the state championship and was ready to wrestle.
The Bulldogs then began to prepare for the 6 time returning state champions that were
looking to further improve that Commerce streak. Coach Brock may have even grown a couple of grey hairs Friday night as he was preparing for Commerce. He had set up a plan that was sure to work.
FINALS: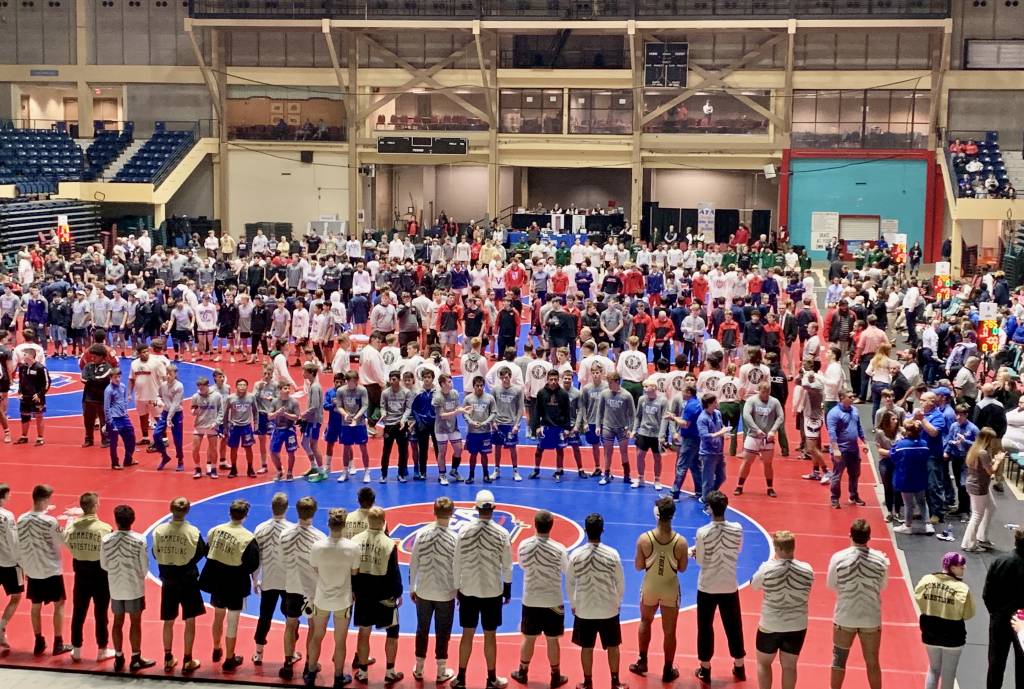 Saturday, 3:00 pm was show time. Alex Stewart kicked off the match by wrestling a
returning state champion from Commerce and holding his on, refusing to give up bonus points. He fought extremely hard and, although he didn't win his match, he won for his team.
The hype was all around, and Trion was leading 6-4 after a pin by Clay Baker. Seth
Huskins was up to wrestle. Seth went down early and was getting beat 7-0. The 2nd period
rolled around, and Seth knew it was time for him to get to work and come back. He made it 7-4 by the time the 3rd rolled around. In the 3rd period, Seth came all the way back and won the match 8-7. His effort energized the whole team and started a run with pin from Daegen Vaughn and huge win from Connor Deparlier.
Next, the Dogs got a huge pin from Bryce James, who came in clutch in a huge match
over a returning state finalist. Pins by Logan Eller, Lincoln Maddux, and David Piaz sealed the match. David Piaz came up big for the Dogs as his match was the deciding factor over who won the title. He was getting beat 7-2 but pinned his opponent and won the match. Sophomore wrestler Kaleb Park said, "It was one of the greatest feelings I have ever felt in my life."
Next, a win from Bladyn Bowman put the Dogs up to a score of 46. Trion defeated
Commerce by a score of 46-25 to win the State Championship. The Bulldogs finally
accomplished a huge goal for which they'd worked so hard.
Coach Brock, a legend in the making: 
Coach Eric Brock was able to add to his resume this whole season. Brock achieved a
feat of 300 dual wins in only his 13th season as a coach for the Trion Bulldogs. Brock secured his 4th consecutive area dual championship by winning 72-9 over Mount Zion and then won the Team Dual State Championship.
All of those accomplishments are the first and only for Trion Wrestling since GHSA
created the Team Dual State Championships in 2002. Although winning a state championship this year was the greatest accomplishment as a coach he's ever received, statistics and accomplishments could never define this man. Coach Brock isn't only a coach, he is a mentor, role model, and a father figure to many. He always makes sure his wrestlers, which he spends so much time with, always have the things they need and will always do anything for his wrestlers. He deserved the state championship just as much as the wrestlers. He has built a fantastic program of which many great young men are so proud to be a part of.
As one of his wrestlers, I can say that he is such a great coach, not only because of
what he teaches us about wrestling, but also what he teaches us about life. He puts in the work because that's what he expects us to do. I know that I could go to him with any problem I have and he'd be there for me and help me. I've learned so much from that man, and I'm so grateful that I get to keep learning from him for the next 2 years. Coach Brock was a member of Trion's traditional state championship team back in 1994. This weekend, the wrestlers asked him, "Was it more rewarding to win state as an athlete or as a coach?" He answered, "Winning as an athlete was a special moment in my life… but I have to say I can answer with honesty that winning as a coach will be one of the greatest moments of my life."Coach Brock is truly a great coach and an even better man.
By: Brantley Willbanks