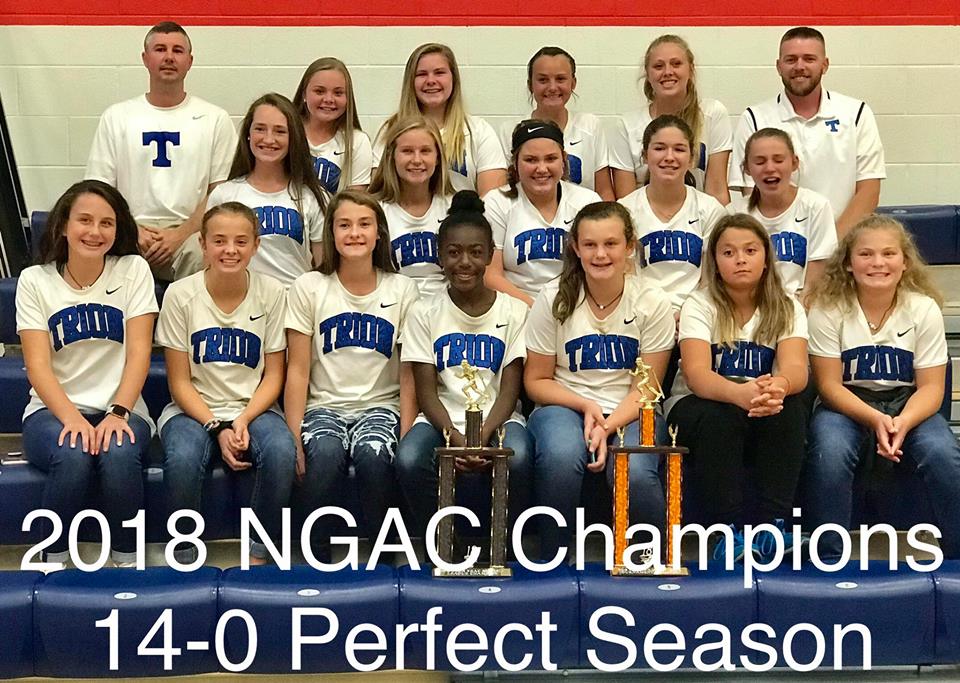 2018 was an incredible year for Trion Middle School softball as the Lady
Dogs went undefeated and won the North Georgia Athletic Conference Championship. The NGAC is an extremely difficult league in which to compete, the Bulldogs did more than compete, they had a perfect 14-0 season. "Every team is well coached and has very good players; having success takes a lot of talent and a lot of luck. Trion Middle School has been focused throughout the season on the "next play" and the "next game". No matter what the outcome of a play or a game (good or bad); we have continued to concentrate on what "we" can control about what will happen next," Coach Matt Brooks said.

A highly skilled 8th grade class with outstanding leadership qualities led the charge for the Bulldogs this year.
8th graders:
Hailey Adams
Aubrey Burke
Valaceia Burris
Ransley Lawrence
Bailey Smith
Every single player on this team played a critical role in this very special season, "we could not have had the success we had this year without every piece of the puzzle. Players, coaches, parents and administrators all had their part to contribute, and they all delivered in a huge way," Brooks said.
Pitching and catching are always extremely important in the game of softball and Trion is truly blessed to have the options they had at those positions. "I really cannot stress enough as a coach how important it is to have a good catcher and pitcher combination that know and work well with each other." Aubrey Burke did the bulk of the pitching ,she started ten games with 56.2 innings pitched. Aubrey was truly a "shut down" pitcher who had control of four different pitches with very good velocity on her fastball. Aubrey had a tremendous year finishing the season with an ERA (earned run average) of .988 and recording 84 strikeouts.
Ransley Lawrence spent the majority of her time behind the plate but also played a key role as a pitcher for us. She had four starts with a .292 ERA and 32 strikeouts. Behind the plate Ransley was a wall. She played the position with exceptional skill and intellect giving us a major advantage defensively. "Valaceia Burris, Anna Grace Brown, and Kaymin Calaway also had key innings pitched for us this season, contributing in huge ways when they were asked to do so," Brooks said.
Defensively, Trion averaged giving up only 2.07 runs a game. "We were again very blessed to have the amount of skilled players that we had at each position. It is very rare to have a truly solid defense that you can count on to make the routine plays at every single position; but to see the number of outstanding plays that we saw time and again was incredible". Valaceia Burris, I'ziah McCutichins, Kinzleigh Turner, Hailey Adams and Bailey Smith all had outstanding fielding percentages, not to mention Kaymin Calaway and Madison Huskey who had fantastic plays in the outfield all season long. Two of the key players defensively were Valaceia Burris and Bailey Smith because of their versatility. They were able to play multiple positions well, making them absolutely irreplaceable on the field.
On the offensive side of things, our lineup was solid from top to bottom. Making Trion's opponents earn every out gave the Bulldogs a tremendous advantage at the plate this year.
Bailey Smith was the cool-headed lead off hitter who had a batting average of .400 and an OBP (on base percentage) of .491. Smith led the team in singles with 13 and was a terror on the base path. Hailey Adams was the four hitter who had 40 at bats and an average of .500. Her OBP was .565 and she tied Bailey Smith for the most runs scored with 14. "Hailey stepped up in a major way this season and was consistently a leader at the plate," brooks said. She also had a homerun in the tournament championship series against a talented Ringgold team. Ransley Lawrence, who showed extreme vigilance and determination coming back to the team after suffering medical issues, had one of the highest batting averages on the team. She batted .357 and tied Aubrey Burke for most RBI's on the team with 14. Ransley had 14 hits on the year and an OBP of .413. Aubrey Burke also had a great year at the plate with an average of .308, OBP of .438 and 12 hits on season. Aubrey earned the tournament MVP not only with an outstanding pitching performance, but also by hitting a grand slam home run in the second game of the tournament championship series that shifted to momentum of the game to the Bulldogs.
Madison Huskey also had a truly incredible season batting .351 and earning 13 hits. "It seemed like every time we need a hit with two outs, Madison would get the job done," Brooks said. Madison and Valaceia Burris both helped preserve the undefeated season on two separate occasions by getting hits in the bottom of the seventh vs two extremely talented and well coached teams. Kaymin Calaway and Kinsley Turner also had big hits with runners in scoring position that came at crucial times during the game. Calaway had 13 hits while she and Turner both had 10 RBI's each. I'ziah McCutchins had an OBP of .405 and played a major role in our lineup. Her savvy at bats throughout the season put the Bulldogs in position to put pressure on the defense, which always results in runs.
"It is very difficult for me, as a coach and a fan, to put into words how important every single player was to the success of this championship season: To explain the importance of the many people, on and off the field, who were needed throughout the year to help in the various ways that they did; and to express how unbelievable it is that we went 14-0 in this exceeding competitive league. Our girls have worked extremely hard to do everything that Coach Bell and I asked them to do. I could not have asked for a better group of girls and I will remember them for the rest of my life. I consider my faith, my family, and my country the most important things in life. I feel so very blessed to have been a part of this team and I consider each one of these girls a special part of my bulldog family. Thanks to everyone who supported us and a very special thanks to Josh Bell for all his hard work this year, we could not have done it without him. Most of all thanks and congratulations to the Trion Middle School softball team!" –Coach Matt Brooks
7th grade:
Anna Grace Brown
Kaymin Calaway
Madison Huskey
I'ziah McCutchins
Kinzleigh Turner
Aubree Weaver
6th grade:
Sophie Webb
Addie Burke
Brystal Bowmen
Molly Edge
Heavenleigh Phillips