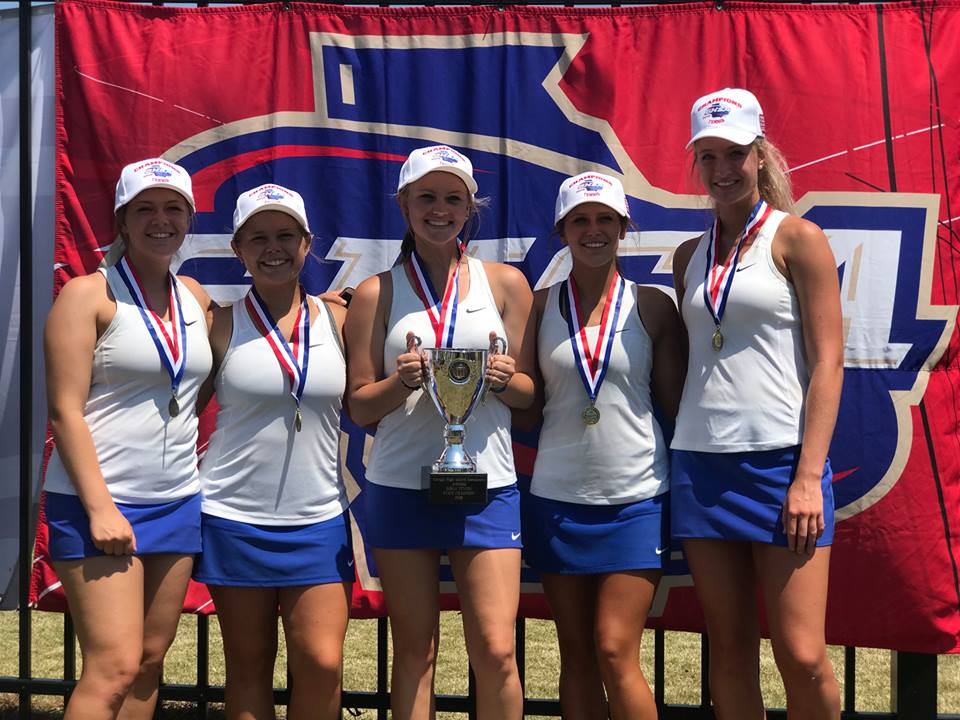 Trion High School girls tennis team made history by delivering the first girls state title for the Bulldogs on Saturday, May 12th. The ladies defeated Taylor County 3-2 in the State Finals to claim the Single-A Public GHSA State Championship.
For the first time since its completion, The Rome Tennis Center at Mount Berry hosted the GHSA State Tennis Finals for both girls and boys in all classifications.
For the Trion girls, this was a return trip to the finals and a shot at redemption in their second consecutive Finals appearance. "As the day began to unfold, the tension was high for the coaches and players but, once the first doubles and second doubles pulled out the wins, we were just waiting on third singles to bring it on home," says Gentry. The win was a culmination for a season-long effort to make it to the top. "It was an overwhelming victory, and very humbling to realize that all of the long hard practices, drills, and lessons finally paid off." Coach Gentry was quick to spread credit for the team's success among several coaches who put in many hours with the girls to hone their skills into championship material. "We started building this team three to fours years ago and many experienced local tennis enthusiasts had a hand in developing their fundamentals as well as their mental and physical stability ," says coach Connie Gentry.
Emotional Process
Coach Gentry said that the journey to the state championship was a process, "…it did not happen overnight."  In addition to winning a state championship, Gentry's daughter, Laurie, has been a major contributor for the team, and that has added heightened emotion for the Trion coach.  "With my daughter on the team, and it being her Senior year, it was just icing on the cake." The Championship finals also had a significance with the date for the two Gentry women as it fell on the day before Mother's Day. In fact, Gentry's own mother was present for the victory making it three generations on hand for the celebration.
On the Court
At First Singles, Abigail Decker, put up a rigorous fight against a mentally and physically tough opponent. She gave up the match 1-6, 1-6.  Second singles, Chloe DeBerry, showed her powerful match play and scrapped for each point. DeBerry dropped her opening set 2-6 but rallied in the second set before falling short, 5-7.
First doubles, Laurie Gentry and Shelby Carlock, rolled through their opponents with a 6-0, 6-0 to keep their record perfect on the year. Said Coach Howard Hughes, "These girls have it all figured out with Carlock dominating the net and Gentry maintaining the back court."
Second doubles Haley Price and Sophie Harward were off to a slow start before turning things around at the end of the first set. With a hard-fought 7-5 win, the pair teamed up well for the second set to play a fierce net game and pulled out a 6-3 win.
The Boo Factor
Third singles, Lorin "Boo" Walraven, has been a catalyst for the Bulldogs all season. Boo held steady and remained calm and fixated throughout her match. "She has shown consistency and has remained focused the entire season. "We were counting on her staying level headed and bringing the "boom" as we say," comments Gentry. Walraven found her boom and lowered it with a 6-1, 6-2 victory to seal the win.
Senior Laurie Gentry remarked, "…it is an incredible feat for us to have won state, and it did not come without a lot of hard work and dedication from our entire team. Since Freshman year we have been working vigorously for the State Title, and it is surreal that we have finally achieved what we have been working so hard for. I feel so humbled and excited to be a part of this State Champ team!"
Another key player, Sophomore Shelby Carlock, remarked, "Last year we came up short to Drew Charter. This year we worked really hard and put our whole heart into everything.  We knew we could be state champions. This year we came together as a team to reach our goal. I knew we could do it and I expected to win. I had that much faith in our team, our coaches, and in God."
First Time the Sweetest
"Before the match, we talked with the girls about what it means to write your name in the history books. We talked about all the hard work, sweat, and tears that have gone into the last four years in getting to this particular state playoff day. We challenged them to give their all, and leave no room for doubt. Today, the girls stood tall and faced this challenge with grace, integrity, strength, focus and courage. Today, they wrote their names in the history books of Trion High School, and they will forever be known as the first THS Tennis Team to win a state championship. Connie and I cannot express just how high our level of pride is in these young ladies. It has truly been an honor to coach them," Coach Hughes said.
Trion Tennis will hold an end of the year banquet next Thursday at 6:30 p.m. at the school cafeteria. The Ring Ceremony for girl's state winners will be in the fall when the rings are completed. The team will meet tomorrow to decide on what design they want… and yes, they will all say Rings Please.