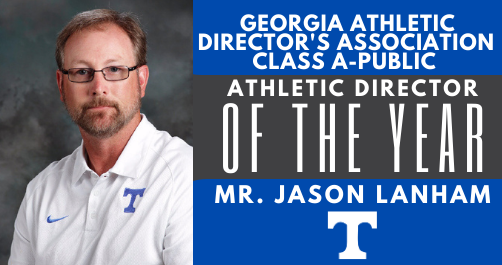 Trion High School Athletic Director, Jason Lanham has been selected as the Athletic Director of the Year for Class A. To say this award is a prestigious honor is an understatement, there are 135 Total Class A High Schools in the state, 83 Public and 52 Private.
The Awards Ceremony annually takes place in conjunction with the Georgia Athletic Directors Association (GADA) Conference held in March. Due to our state recovering from the pandemic, the committee has been forced to make some changes.  Lanham's award will be presented at the GADA Awards Ceremony on Saturday, June 5th.
"I am humbled, I have been put in positions throughout my career where I can be successful.  I have been put here by an administrative team of Dr. Williams, our Board of Education, and Coach Edge, they have put me in a spot where I can prosper and thrive and do what is best for our kids," Lanham said.
Transitioning from Coach to AD
Before becoming AD, Lanham coached for over 20 years at various levels and served as the head softball and head baseball coach at Trion High School. Lanham has over 250 high school career baseball wins and over 200 high school softball wins.
"Coming from the baseball/softball background where that was what got my full attention and whole heart, and now being able to now step back and do that same thing for our entire athletic program has been one of the big achievements of my life, it is one of the things I am most proud of."
His administrative duties as AD include being the Game Manager for athletic events, and the processing and handling of all GHSA Hardship Appeals and GHSA Paperwork. In addition he also oversees the high school athletic booster club and all athletic grounds and facilities.
Lanham has worked hard to make sure the athletes of Trion have the very best facilities, equipment, and greatest support structure. "You can have the best intentions and  ideas in the world, and if you are never able to put them into play, it doesn't really matter… they are just ideas. The great thing that we have here is that we don't deal in the realm of ideas, we turn ideas into reality."
He has totally revamped and restructured the High School booster club to make it more inclusive for all athletic programs and coaches, the new revamped booster club known as the Bulldog Athletic Club has given around $200,000 over the past three years to the student athletes, which he says is one of his proudest accomplishments. The BAC recently helped purchase over 100 Letterman jackets for Trion High School athletes, cutting a check for over $10,000.00.
He has started the "Champions Display", bringing all Championship banners and trophies from the history of Trion High School into one place to properly display all the student athletes hard work and tradition of success. Also, a Wall of Fame for all sports other than football, will be added soon.
Lanham implemented a New Weight Program by working with the administration and the Physical Education department to develop and implement a plan/workouts that are much more inclusive for all athletes, boys and girls in all sports.
On top of being a full time AD, this year due to the budget crisis that occurred due to Covid-19, Lanham helped the school out by re-entering the classroom for a half day as Honors Economics /Economics teacher.
"I wanted to do something with my life that I felt like when you run your course and they lay you down that you have done something that is worthwhile, that has meaning and to me there is nothing more worthwhile than helping kids," Lanham said.
Support of Bulldog Nation
Lanham said, "It is easy to do great things when you have great people." And Trion City Schools Superintendent, Dr. Phil Williams, couldn't agree more, as he considers Lanham one of the great people of Trion. "I'm not surprised that Coach Jason Lanham has been chosen as the Class A Athletic Director of the Year. The time commitment that he makes to our student athletes and coaches is unprecedented.  He never gets home at a decent hour because he's traveling to sporting events, fundraising, running concession stands, organizing many different things, etc. The list of duties that he's fulfilling is tremendous. He does all this while also teaching and coaching. There's no doubt he loves Trion and is committed to doing whatever it takes to make it better for our students, staff, parents, and our community. He's in the right seat on the bus to success, and I appreciate everything he does everyday," Dr. Williams said.
Lanham did say that the sacrifice his wife and sons have made over the years has been immense. "I have missed weddings, funerals, graduations, etc. I am lucky to have my family's support. I would not be here without my wife, Cheryl, and my two sons, JJ and Chase, and their unyielding love and support," Lanham said.
Trion is a Class A school in a town that has a population of around 2,000 people, but yet shows up to every contest from wrestling, football, softball, basketball with the "Bulldog Nation" donned in Blue and White.  "The overwhelming support allows this school to thrive and that support comes from the administration, the teachers, and the parents… this is family and you don't want to let to your family down. Trion is Family," Lanham said.
When you get recognized by peers outside your community it hits different. "I was super humbled to be recognized by the region and now to have the recognition at the state level, it is truly humbling, I am kind of awestruck. We are just a small school in Trion, Georgia, but we do great things, we do big things."
Great leaders and coaches live by rules, the following are just a few life rules Lanham tries to live by daily and ones he says have served him very well in his role as AD and Coach at Trion High School:
Always try to Leave It Better Than You Found It: basically everyday do all you can to make things better, always be improving, always be working, make the world a better place
To Whom Much Is Given Much Is Expected: this means when you are trusted with responsibility you are obligated to do your absolute best for everyone involved, being a leader or administrator is not easy and it takes hard work and you must be willing to put in the extra effort if you want people to follow and respond…do more and do it the right way
Last but certainly not least, Have A Servant's Heart: this means do the little things, do the unnoticed things, work for others and care for others with your full heart even if you get nothing in return, do things for the right reasons, find joy in working for others
Professional Athletic Honors for Jason Lanham while at Trion High School
2021 Class A AD of the Year
2020-2021- 6A Region AD of the Year
2019 GADC Class A Softball Coach of the Year
2017 GADC Class A Softball Coach of the Year
2016 Chattanooga Times Free Press Best of Preps Baseball Coach of the Year
2016 Chattanooga Times Free Press Scrappy Moore All Sports Coach of the Year Finalist
2015 GADC Class A Softball Coach of the Year
2015 GACA Region 6A Coach of the Year
2014 Rome News Tribune Softball Coach of the Year
"Do all you can every single day to make sure that all the people you come in contact with know that you will do your absolute best to make things better by being the kind of person that people want to work with, grow with, and do great things with. People are the only things that genuinely matter and the impact you have on others will be the true measure of your impact on the world."–Jason Lanham