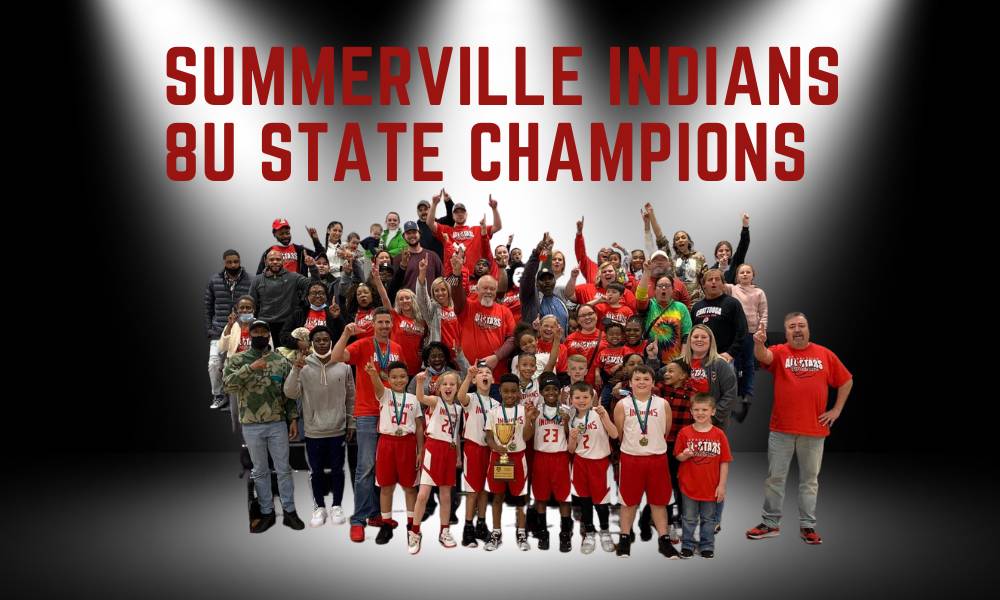 Summerville's Recreation Department's Basketball Program has seen phenomenal success over the years and this weekend added another State Championship title to its resume. A group of seven and eight year old boys delivered the first boys basketball state title to the City of Summerville since 1992. The 8U Indians captured the GRPA State Championship capping off a 23-0 undefeated season.
16 District Champions met in Effingham County to compete for the State Title. Games were played Friday and Saturday.
On Friday night, Summerville faced off against the District 3 Champion from Mitchell County in the Pool Game. The Indians defeated Mitchell County 31-26. Buddy Fields was the lead scorer with 10, followed by James Moore with 9, and Colt Cochran with 6, Mai'Jhor Blair had 4 points, and Camp Bullard added 2 points in the victory. This was not the only time the Indians would face Mitchell County. Mitchell County fought its way back into the Championship Game held Saturday night.
Saturday the Indians faced host team, District 1 Champion Effingham County and easily handled the opposition 31-8. Mai'Jhor led the way with 10 points. Colt and James chipped in 6 points, with Sawyer Mowry and Buddy adding 4 points each in the win.
The semi-final match saw the Indians facing off against District 4 Champion Villa Rica. Mai'Jhor once again led scoring with 12 points in the 29-16 win. This time Buddy and James each added 6 points with Camp chipping in 4 points.
The State Championship Game was a re-match with Mitchell County and would come down to the wire. With 2.6 seconds left on the clock and up by only two points, Cruz Allen inbounded the ball with a half-court pass to Mai'Jhor. Coach Tad Allen knew that if they got the ball across half court and touched it there would be no way Mitchell County could get a shot off. The Indians had completed the same play Friday night against Mitchell County and it had worked, so they went for it again.
Mai'Jhor was able to catch the inbound pass, he attempted a lay up but missed, and as the buzzard went off the Indians had claimed the state title by two points.
Mai'Jhor led the way in the 32-30 victory with 10 points, James added 9 and Buddy chipped in 7 points in the win.
While the Championship game was played five hours away, the crowd that traveled with the Indians made it feel like a home game atmosphere. "We had a big crowd, and even more folks at home following on social media," Summerville Recreation Director Bo Chamlee said.
"It's really special with these little kids, ten to twenty years from now, they will all still remember this championship, and I will too. I had said I hope to win one more State Championship before I retire, and these boys gave me that," Chamlee said.
STATE CHAMPION ROSTER:
Sawyer M.
Colton C.
Buddy F.
Camp B.
Cruz A.
Taj G.
Cove W.
Mai'Jhor B.
James M.