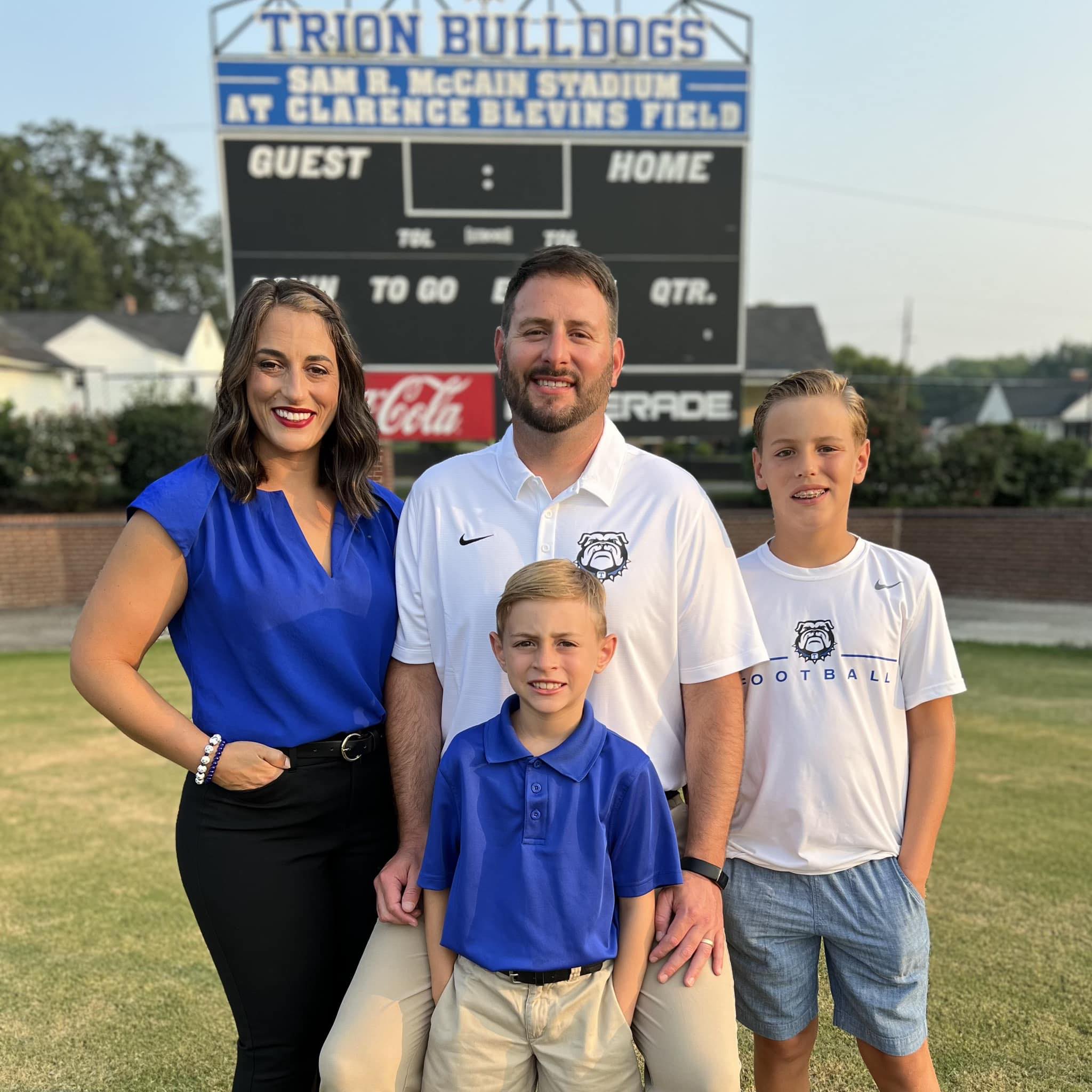 This is Sean Patrick's fourth year as the head football coach at Trion High School.

Coach Patrick will be coaching alongside:
Darrel Roach (Offensive Coordinator / Quarterbacks Coach / Running Backs Coach)
Cody Simpson (Defensive Coordinator / Linebackers Coach)
John Cornett (Defensive Backs Coach / Special Teams Coordinator)
Chandler Pettyjohn (Defensive Backs Coach)
Jarod Willingham (Defensive Line Coach)
Jake Sanders (Offensive Line Coach)
Hagan Willingham (Wide Receivers Coach)
Dwayne Tinney (Assistant Coach)
Trion Football Preview: Head Coach Sean Patrick
How do you feel about the team's performance during off-season training and preparations for the upcoming season?
I feel like our kids had a really good off-season and I feel we got better. Our attendance to our summer workout program was phenomenal and that is one thing we are blessed about. Overall our kids did a great job. We were busy, we worked out, we practiced, we threw some 7 on 7, and we OTAed with some really good competitions and I think all of those things really helped our kids to become better players and hopefully help us become a better football team.
Are there any key players or new faces that we should keep an eye on this year?
We've got a lot back from last year, which is exciting. We have Toby Maddux, Ezra Adams, and Andy Ramirez, all 1st team All-State kids, returning which is a luxury to have. With that being said Logan Stokes, Lucas Stoker, Cohen Blaschke, and maybe some I am forgetting, were all 1st team All-Region kids last year that are coming back. Ethan Willingham, Colby Evans, Garrett Mahan, and Brock Payton have all played a ton of snaps. Kade Smith, who broke the school record in passing yards last year and has played a lot just to be a junior, is also returning. We are definitely excited by what we have coming back and to see what they look like with another year of growth.
What are your expectations for the team this season, in terms of performance and goals?
I think we have an opportunity to achieve great things, but that is all we have right now, an opportunity. My goals for this team is that we get better everyday and that this team reaches its full potential. Whatever that looks like, I'll be satisfied with it. If we can find a way to reach our full potential, I think I'll be happy, our kids will be happy, and our community will be happy. As far as right now, we have nothing more than an opportunity.
How do you plan on addressing any weaknesses or areas of improvement from last season?
We have sat down as a staff and looked at things that gave us issues last year both offensively and defensively. Hopefully through preparation we can identify our weaknesses and continue to work on them to turn those weaknesses into strengths this season.
Are there any changes to the team's strategy or game plan that we can expect to see this year?
Not really. We are going to do what we do and hopefully it is good enough. I am really excited about our coaching staff because they care about our kids and work really hard. They put our kids in the best situation that they can to be successful. We are going to rock and roll and let the chips fall where they may.
Can you identify any specific challenges or tough opponents that the team will face this season?
We play in a tough region and have a tough non-region schedule. Every week we are going to have to get up and play. I think every week we are going to play an opponent that is good enough to beat us. The challenge for our kids is we have to be ready to play every game and we can't take weeks off. If we take weeks off and we take opponents lightly, we are going to get our feelings hurt. We don't prepare to beat somebody, we prepare to beat everybody.
How do you plan on maintaining the team's morale and motivation throughout the season?
Well everybody likes winning, so winning helps. The last couple of years we have been fortunate enough to do that, but our kids have created a bond and they are always going to fight for each other regardless of the situation. We talk a lot about culture and love in our program, so if there are bad times I hope that helps with it. Hopefully we have done enough team building and preaching love that our morale stays up.
What kind of leadership qualities are you looking for in team captains and senior players?
Accountability. Holding your teammates accountable, which it is a hard thing to do to call out your teammates. I  think player led teams are the best teams. We have met with a leadership group since January to help guide them through those things and answer any questions. At the end of the day holding themselves and their teammates accountable when they do wrong.
What message would you like to send to the fans and supporters of the team as we head into the new season?
We are very gracious for our fan support. We are blessed to be in a community that cares about this team and this sport. We are going to go out and give all we got and hopefully we make this town proud of us.