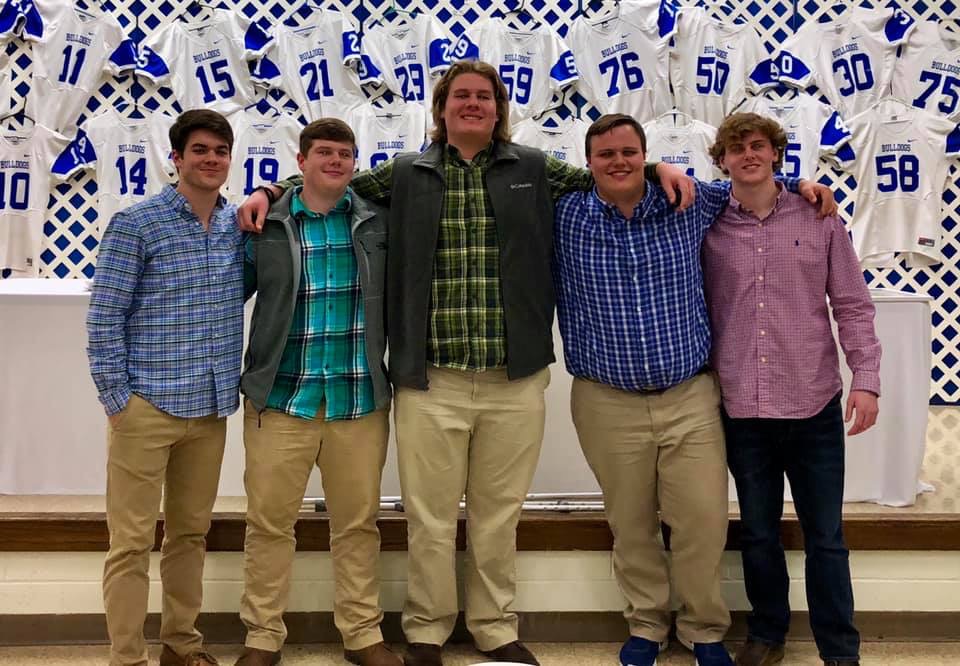 Trion High School Football held it's annual end of season Football Awards Banquet on Thursday, January 31st.
Who Are We
According to Trion Head Coach, Justin Brown, the 2018 season was quite a journey, "We had so few starters returning and even less with any meaningful game experience."  In fact, the Bulldogs had a staggering amount of question marks on both sides of the ball and, after a disastrous preseason scrimmage loss at Lafayette, many fans were shaken with concern about the season that lay ahead.
But the fans didn't know what the players and coaches knew. That this team had long been busy digging and searching for their own identity. And play after play throughout the 2018 season, that identity would be shaped by individual effort and leadership, and through the sheer teamwork that is signature Trion Bulldogs.
The 2018 Bulldogs began their work with 6:30 am workouts for 11 weeks. They attended two clinics, hosted a third clinic at home, went to Mike Hodges linemen camp, took some lumps in 7 on 7 throughout the summer, spent countless summer hours in the weight room and the pit in the heat.
The Work Before the Friday Night Lights
"We didn't have an identity.  We didn't have much, if any, leadership on the team during the winter, spring, and summer months.  The coaches had to lead at that time.  What we did have….were some Trion Football Players," Coach Brown said.
"There's a lot of things that could be said about this group.  This team is one of the most resilient that we've coached.  They bounced back so many times.  It started on the first day of practice.  It happened again at the LaFayette scrimmage."
Brown knew that his young team had faced a lot and the season had yet to even begin. This much adversity could cripple a team with no back bone. But Trion had that. And they had a lot of it.
"Adversity always happens every season," recalls Brown. "Some teams are built for it.  This team almost seem to thrive on it.  We never had two bad practices in a row.  We never lost two games in a row." The Bulldogs had thrilling wins and they suffered heartbreaking losses, but the team never hung their head and they never felt defeated. After making it to the playoffs, the Bulldogs would face their biggest test of the year.
We Are Trion
"Adversity happened again in the playoffs at home against Wilcox County.  Down by two scores with seconds left in the third quarter.  No panic.  No quit." says Brown. Despite the obstacle ahead, the Bulldogs never lost their composure or their fight. "They were prepared by that time.  They were light years away from the inexperienced team that walked on the field on a Thursday evening in LaFayette, Ga.  This group of Bulldogs would not be denied of that playoff victory."
The incredible come-from-behind playoff win would cap a season of resilience for Trion and Coach Brown couldn't be more impressed with the effort from his Bulldogs. "They bounced back time and again through the 2018 season.  They developed an identity.  That identity included being the hardest playing team around.  Heart, grit, toughness.  That's what you can say about this football team," Brown said.
End of Year Awards
scoutSMART Award (Jake Hayes)(11/9/18)
Lines of Distinction Gordon Lee 9/21 (Clay Baker, Tucker McCoy, Rylan Tomlin, Ross Moore, Luke Westbrook, Bill Ramirez, Jake Hayes, Alex Stewart, Caleb Devier, Will Wyatt)  Armuchee 9/7 (Luke Westbrook, Rylan Tomlin, Bill Ramirez, Jake Hayes, Clay Baker, Tucker McCoy, Ross Moore, Caleb Devier, Will Wyatt)
All Region (Clay Baker, Rylan Tomlin, Luke Westbrook, Bill Ramirez, Jake Hayes, Alex Stewart, Will Wyatt, Hagen Willingham, Chris Pace, Braden Johnson, Libni Ramirez, Kodiak Crabbe)
Best of Preps (Jake Hayes, Hagen Willingham)
 All State (Jake Hayes, Hagen Willingham)
-Special Awards
1,634 ornaments All offensive players involved in Hagen's record. 
Senior Recognition Footballs
Special Recognition Balls (Hagen Willingham 1,634 yards)
Takeaway Belt (Hagen Willingham)
Prowler Master Award (Rylan Tomlin)
100 tackles award (Braden Johnson, Will Wyatt)
Bulldog Achievement Award (Jacob Hammitt)
Stacey Searels Award (Rylan Tomlin)
Captains (Jake Hayes, Hagen Willingham, Luke Westbrook, Braden Johnson)