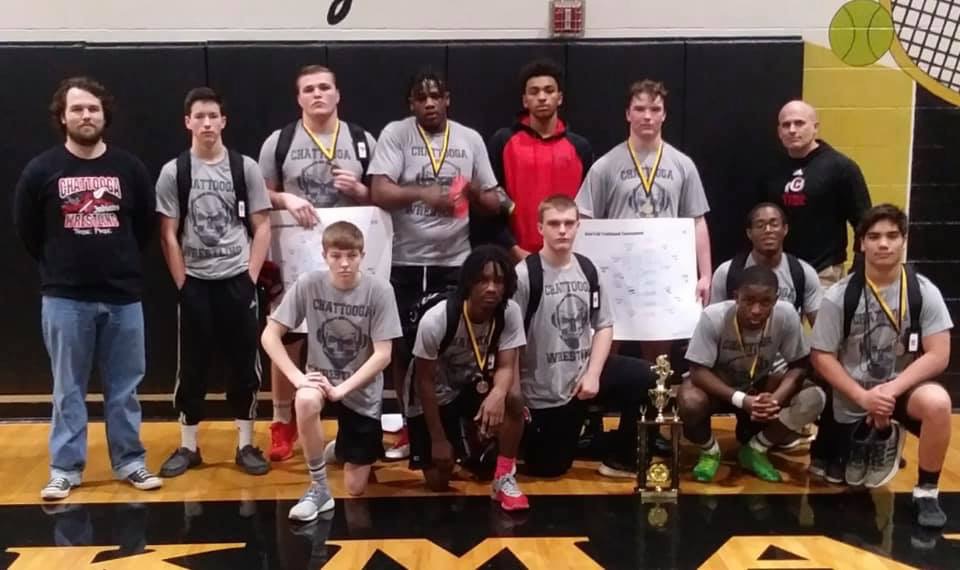 Chattooga Wrestlers finished in 2nd place at the Area 5-AA Tournament, just 5.5 points behind Area winners, Pepperell.

"It was a great performance. Just fell short…" Coach Beasley said.
Juniors Luis Medina, Alex Mears, and Griffin Jarrett all tied for the most team points with 22. This placed them tied in the entire Area tournament for most Team Points as well. Sophomore Ty Veatch was right behind them with 20 points while Jakoby Cottrell and freshman Devon Heroch each scored 18. Cottrell picked up two pins on his way to the finals before losing to Rockmart's Zoltan Hendricks, the defending state runner-up. Heroch pinned three opponents and suffered only one loss on his way to finishing third.
Heroch, Yusef Shockley, and Tim Robinson all has solid performances qualifying for sectionals in their first Area Tournament.
Sophomore Ty Veatch(195 lbs) joined the champion club by winning his first Area Championship.
The Indians entered the match giving up forfeits at 113 lbs & 138 lbs and still were within striking distance of winning the Area title.
Individual results:
106-Griffin Jarrett (1st)
120-Tim Robinson (4th)
132-JJ Roberts (6th)
145- Jason Malone (6th)
152-Yusef Shockley (3rd)
160-Devon Heroch (3rd)
170-Jacoby Cottrell (2nd)
182-Noah Cordle (5th)
195-Ty Veatch (1st)
220-Alex Mears (1st)
285-Luis Medina (1st)
The Indian grapplers head to Toombs County next weekend for Sectionals. The Top 6 competitors from each weight class will move on to compete in the GHSA AA State Championship Tournament the following weekend in Macon.