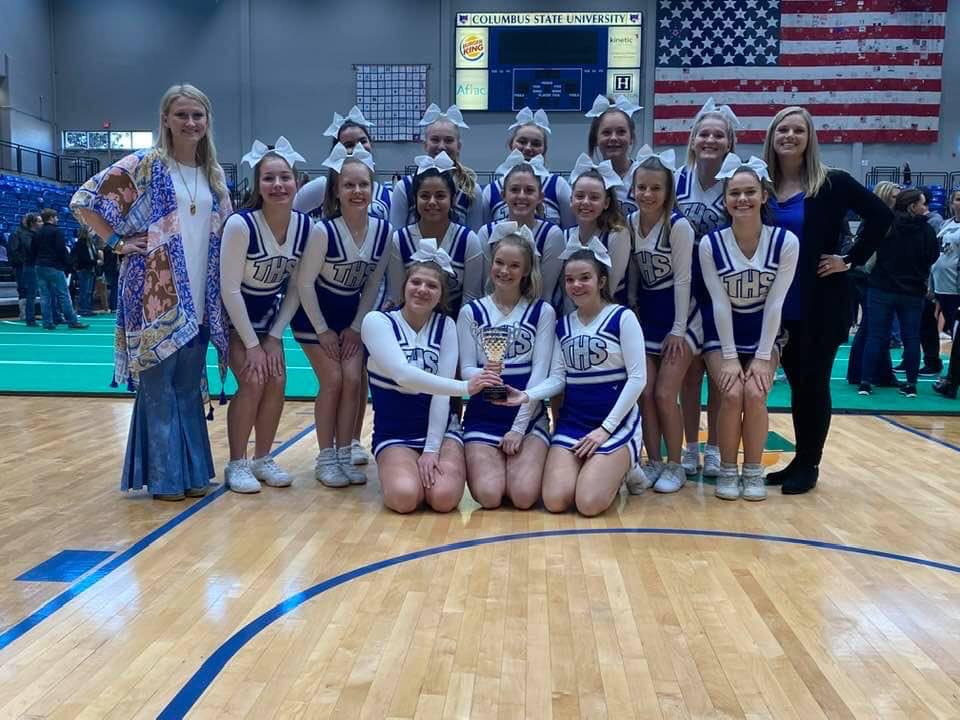 The following article is published with the permission of the Bulldog Barker


On Friday February 21st, the Trion High School spirit cheerleaders travelled to
Columbus Georgia to compete in the GHSA State Gameday Competition! Trion had 15 girls
participate on the team in the A-AA division! The Bulldog Cheerleaders placed second in state, falling short by ¼ of a point away from the first place title! THS cheerleading coach, Hayley Tanner, stated I was absolutely amazed at how well the team performed on Game Day.
The girls did such a great job in the preliminary rounds, and hearing our name called to be in the finals will always be one of my favorite coaching memories! Their finals routine was beaming with THS spirit, and I watched in awe at how much fun it looked like they were having. They put on a show! I have never been more proud of a trophy!".
The GHSA Game Day competition consists of two rounds, the preliminaries and the final
round. The preliminaries consist of three different segments including a fight song, a band
chant, and a crowd leading cheer. At the end of the preliminary rounds, the competition judges determine the top five schools and routines to move further on in the competition, and compete for the state championship.
Freshman cheerleader, Maggie Ragland, stated "I was so anxious to hear the five teams to move on to the final round. The announcer said he was announcing the final teams in alphabetical order, so of course Trion would be the last school called. It was the
most nerve-racking experience but I have never seen my team so happy after we were called!".
The Bulldog cheerleaders moved on to the final round of the competition, this round
requires all teams to have a three minute routine consisting of the three former elements, and a situational cheer, where a cheerleader has to determine and call a cheer regarding the offense or defense situation given by the announcer. Senior, Isabelle Walters, scored a 5/5 for her calling of the offense cheer during the situational portion of the routine. After the cheerleaders performed for the final time, the five teams were sent to the cheer mats for awards.
The cheerleaders were awarded the best band dance, and was announced state runner up.
Cheerleader, Julia Wilson, stated "I am so happy with our results. I was upset at first
when i found out we were .25 points away from winning, but I am so proud of all we
accomplished. Last year we did not even make it to the finals, and this year we were number two in the whole state. I'm so glad cheerleading will get the recognition it deserves!". Trion High School is so proud of what our cheerleaders have accomplished and is excited to see the team's bright future. Go Dogs!
By Isabelle Walters