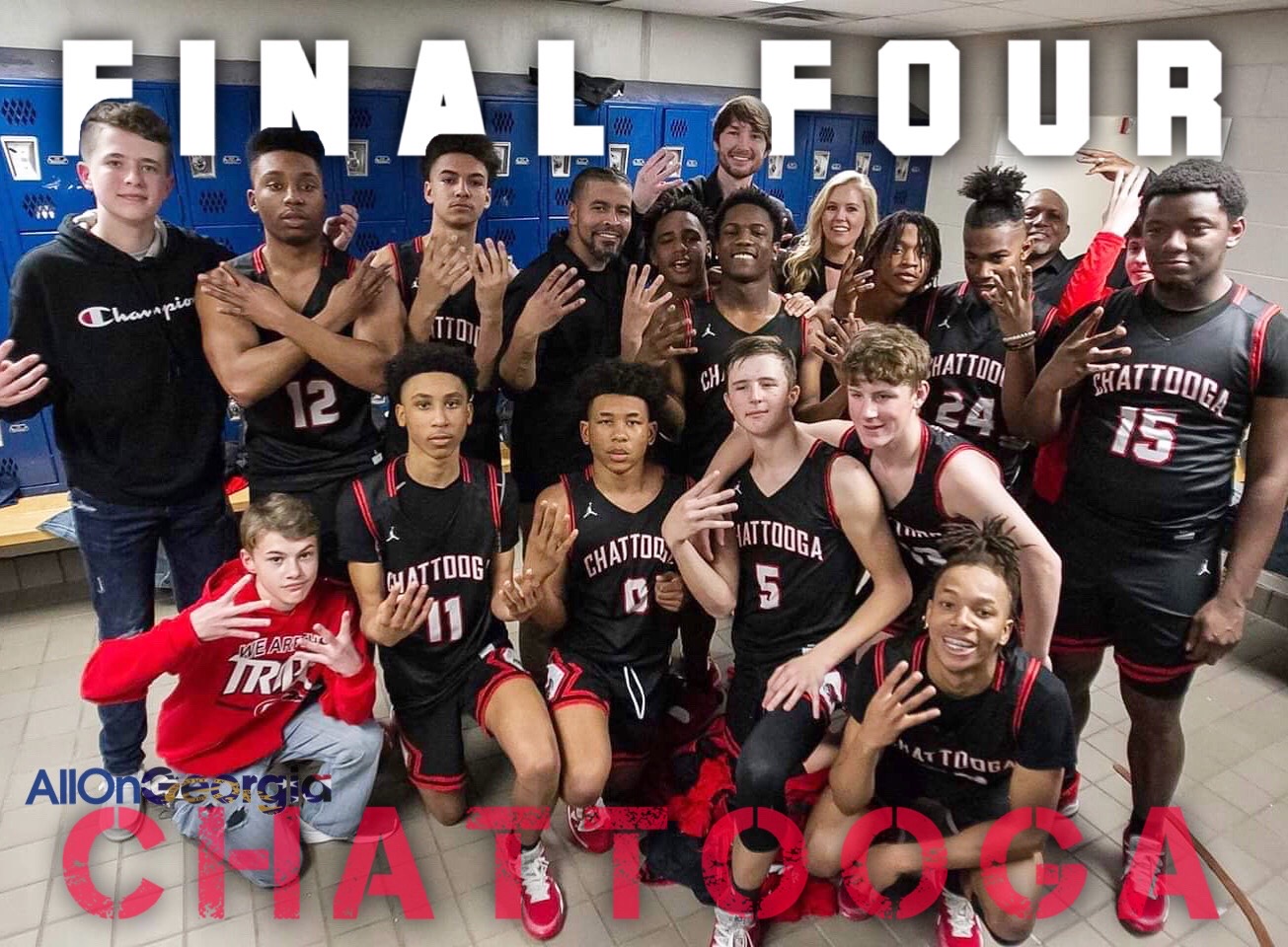 Chattooga Basketball Coach Jared Groce claimed his 133rd win, and delivered the Tribe their first trip to the Final Four.
Chattooga's Elite Eight 67-57 victory over Banks County sends them to Georgia College and State University to play Therell on Saturday at 8 pm.
To say the Elite Eight win was historic or special does not adequately describe what these young men and coaches accomplished. "The Elite Eight win was absolutely huge. There weren't many people that would have given these young men a chance to have accomplished what they have accomplished this season as we lost over 70% of our offensive production and five of our top six players in terms of minutes played to graduation last year. Our current players were ready to start working for this season the day after our Sweet 16 loss last season, and they haven't stopped since. They deserve this so much," Groce said.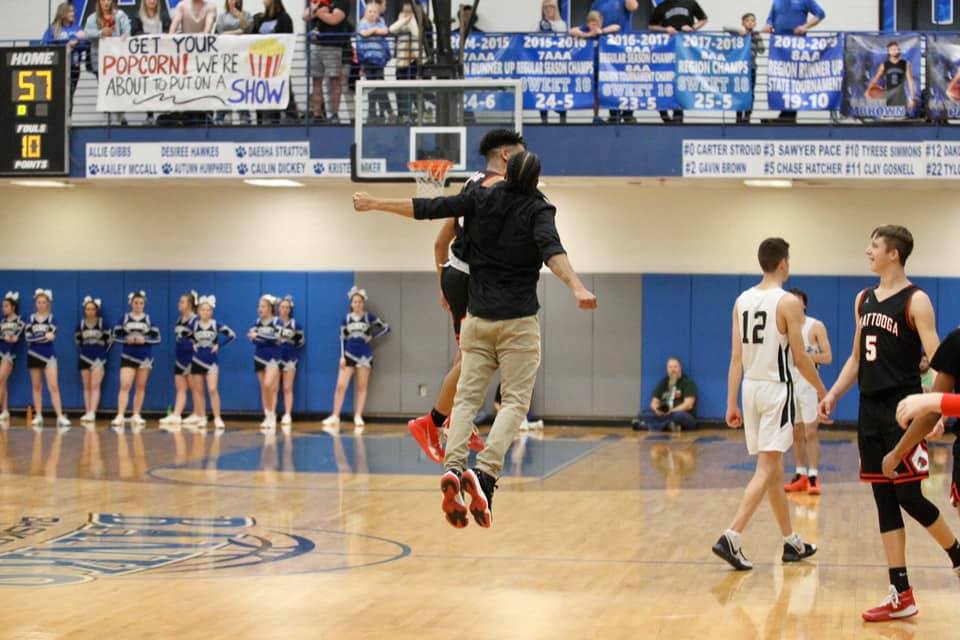 Coach Groce has leaned on a trio of seniors this season to lead the charge, Jamarious Mosteller, Malachi Jackson and Jatorrian Williams, and the three have delivered.
When asked what makes this team special Coach Groce had this to say: "I could write a book about what makes this team special with a chapter for each member of the team. It all comes down to us having one heartbeat, and that doesn't just apply to the boys' play on the court. We're all close. We know each other so well. Player-to-player, coach-to-coach, coach-to-player, everyone respects each other. Nobody expects to be treated differently than the next guy because of his abilities. Each individual has the desire to be in sync with everyone else. It's not often that you see a team of players that are as unselfish as this group."
Team Members: 
0 – LA Riley (Soph.)
2 – Timyus Lawrence (Jr.)
3 – Damien Smith (Fr.)
4 – Jamarious Mosteller (Sr.)
5 – Cash Allen (Jr.)
10 – Bowden Heathcock (Fr.)
11 – Jatorrian Williams (Sr.)
12 – Jaterrion Williams (Sr.)
13 – Brody Mobbs (Soph.)
15 – Quenton Perry (Sr.)
22 – Jaylon Johnson (Soph.)
23 – Malachi Jackson (Sr.)
24 – Shaun Lester (Soph.)
#133
Win #133 was special for Coach Groce, "even when you know you have the most supportive family in the world, it is still so encouraging and comforting to see them in the stands every time. Half of my family was on the bench and half of my family was on the row right behind the bench for one of the best experiences of my life. What more could you ask for?"
Prior to the Elite Eight game the coaching staff collected a total of 15 games on Banks County. "As a team, we watched one game together. As a coaching staff, we watched all of the games. We knew we would be playing man-to-man defense for the overwhelming majority of the game, and once we figured out our defensive assignments for each of our players, we sent each player clips highlighting his matchup's go-to moves and tendencies."
Coaching Staff and Years Coaching Basketball at Chattooga:
Rachel Groce (4 Years)
Brandon Stewart (2 Years)
Zack Martin (16 Years)
Arthur Burse (7 Years)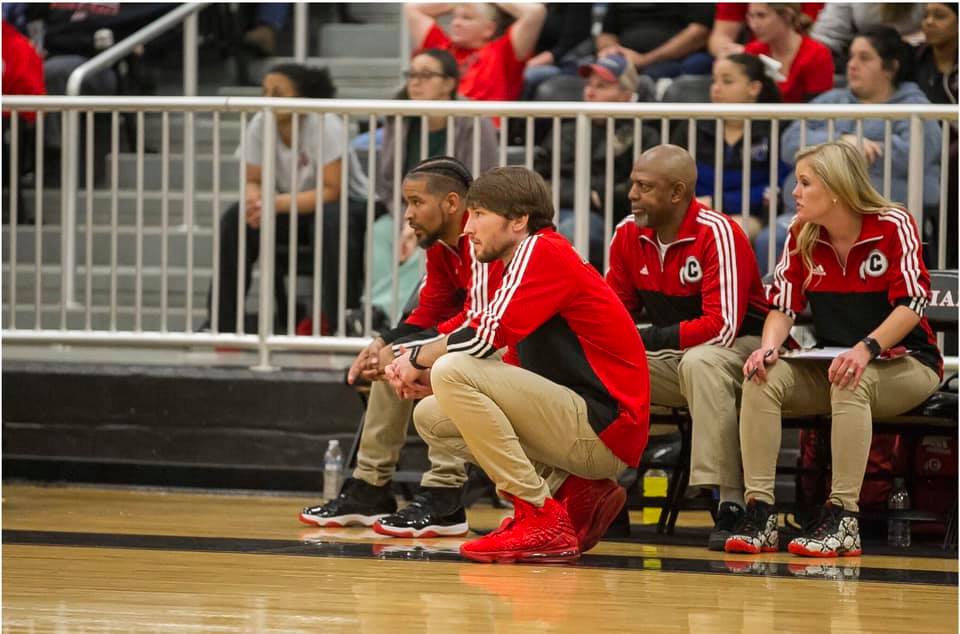 The game plan for Banks County was to shut Carl Cleveland down, and the Indians did just that. "Carl Cleveland is one of the best basketball players we have ever played against. I watched him score 55 points in person last season in a playoff game against a great team as he pounded inside, made hook shot after hook shot and/or drew fouls to get to the free throw line (18/22 on free throws that night), and made a couple of three pointers. Jamarious Mosteller had an absolutely huge game. Huge! We've seen Jamarious lock down on defense time and time again to contain great offensive players, no matter their particular skill set or size. We knew Jamarious was going to be a challenge for Carl all by himself with no help defense or double-teaming. In watching film, we saw that Carl was a great passer when he was double-teamed by other teams. So, our approach was to play Carl as tough as we could straight up and let him do his worst against our best defender. We tasked our other guys with making sure Banks' other players didn't hurt us too much. I was able to collect 15 games worth of film on Banks County, and we sat down with Jamarious and showed him all of Carl's go-to moves on offense so he knew what to expect. We knew Carl was a great free throw shooter and that he incorporates a lot of pump-fakes in an effort to draw fouls and get to the line, so we just told Jamarious to hold his ground and "wall up" on Carl without leaving his feet. We knew we couldn't afford for Jamarious to be in foul trouble, and we told him that Carl would make his free throws anyway. In the locker room before the game, we told the boys that if we could hold Carl to under 30 points, we felt like we had a chance, and if we could hold him to 20 points or less, we should win the game. This is all easier said than done. The officials let the boys play physically, and Carl, who's listed at 6'6", 240 pounds, was definitely trying to take advantage of that. Jamarious didn't back down. He took elbows and shoulders to the chest and held his ground all night, and he never backed away from the challenge. He also never complained or retaliated in an unsportsmanlike manner. We had other guys that ended up matching up with Carl here or there when it was absolutely necessary that our guys had to switch men, and our other players held their ground as well. But this was Jamarious' challenge and he was on Carl 90% of the time. Carl Cleveland finished with 18 points and only shot 3 free throws on the night. That's with every offensive play designed to go through him. It was just an unbelievable performance by Jamarious to hold him to 18 points."
Final Four: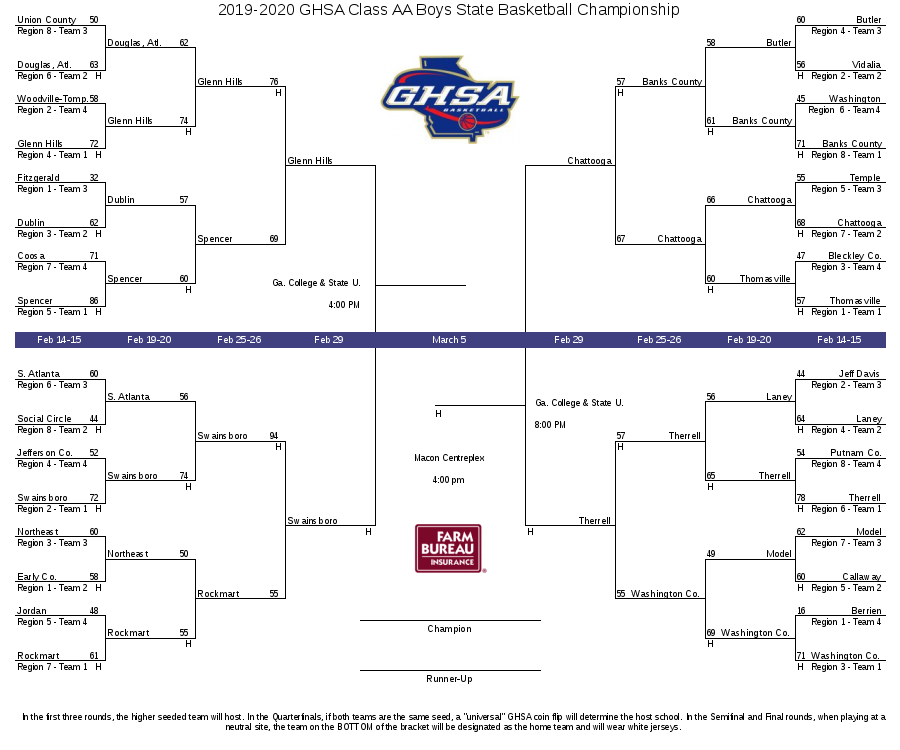 The Indians are the first Chattooga Boys Basketball team to advance to the Final Four. "I'm just incredibly blessed to be in the position I'm in. This accomplishment is such a huge group effort starting in the homes of our boys. We have countless passionate coaches we are fortunate to have for our rec-league teams. Our middle school has been led by a great coaching staff that has been in place since all of these young men have developed within our program at Chattooga. I have an amazing coaching staff in place at the high school level that all go above and beyond for our young men. I know for all of us, it's all about the kids. We should all be happy that we have played a role in helping these boys to achieve greatness. It honestly hasn't really had time to sink in that we're in this position because we haven't had time to do anything but start focusing on our next game against Therrell."
Game Plan for Therrell: "We're doing more of the same with a lot less time to do it. Film study, shooting practice, installing the opposing team's plays and practicing our defensive strategies against them, reviewing our sets that we think we can use against their defense, et cetera. We know we've got our hands full with the defending state champs, but we're going into the game with confidence."
Coach Groce was quick to add, "We're hungrier now than we have been! We're going to give it all we've got!"
**Chattooga High School opened in 1964 when the district combined all high schools Gore, Lyerly, Menlo, AC Carter and Summerville, into one newly-constructed building. Summerville High School and AC Carter High School both won basketball State Championships in 1950, this is Chattooga High School Boys first final four appearance.**