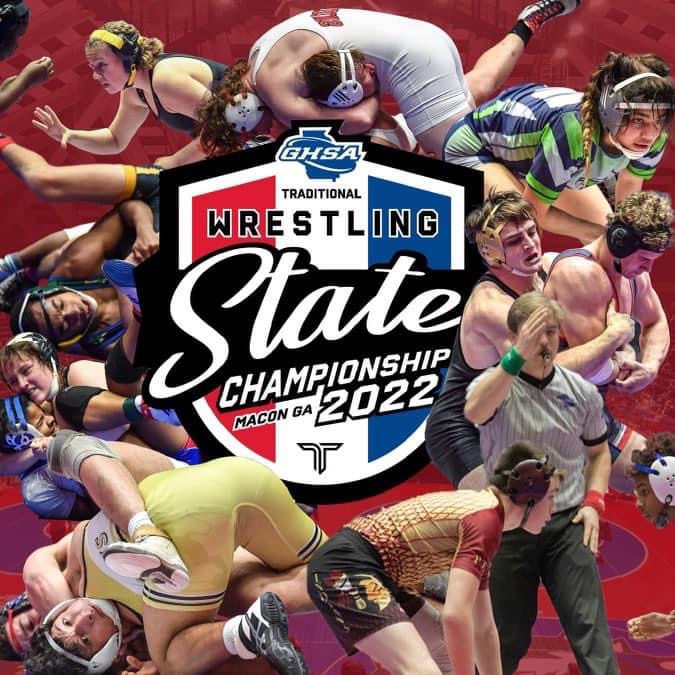 The 2022 GHSA Traditional Wrestling State Tournament will be held February 10-12 at the Macon Centerplex. Girls will compete in their own single championship with 10 weight classes and boys' individual state titles will be contested in seven classifications with 14 weight divisions.  All matches on all mats will be streamed live on NFHS Network.

Wrestling State Friday Update: 1A, 2A (8am), 7A & Girls (12noon) in Round of 12 thru Semis. Championship & Conso Finals for 3A, 4A, 5A & 6A around 6pm.
Tickets
#GoFanHS
https://bit.ly/2fan285
Brackets
#TrackWrestling
https://bit.ly/3rAltDQ
Trion Wrestling:
The Dream Team '22 had ALL 14 wrestlers qualified for GHSA Traditional State Championship in Macon. Seven of the 14 place 1st, both are school records.
Sectional results:
113-Daegen Vaughn 1st
138-Bryce James 1st
160-Toby Maddux 1st
182-Bladyn Bowman 1st
195-Logan Eller 1st
220-Brantley Willbanks 1st
285-Zach Sharp 1st
106-Jason Jenkins 2nd
120-Seth Huskies 2nd
126-Crawford Lee 3rd
132-Andrew Jones 3rd
145-Gus Hames 3rd
170-Cohen Blaschke 3rd
152-Connor DeParlier 5th
The Chattooga Indians finished with five qualifiers and an alternate at the Class 2A B Sectional:
106-Landon Carlton (1st)
138-Gavin Carlton (3rd)
142-Kendra Heroch (1st)
160-Zayden Cook (7th)
172-Khanija Avery (1st)
220-Devon Heroch (2nd)
These wrestlers include two girls will compete at the AA GHSA State Championship.