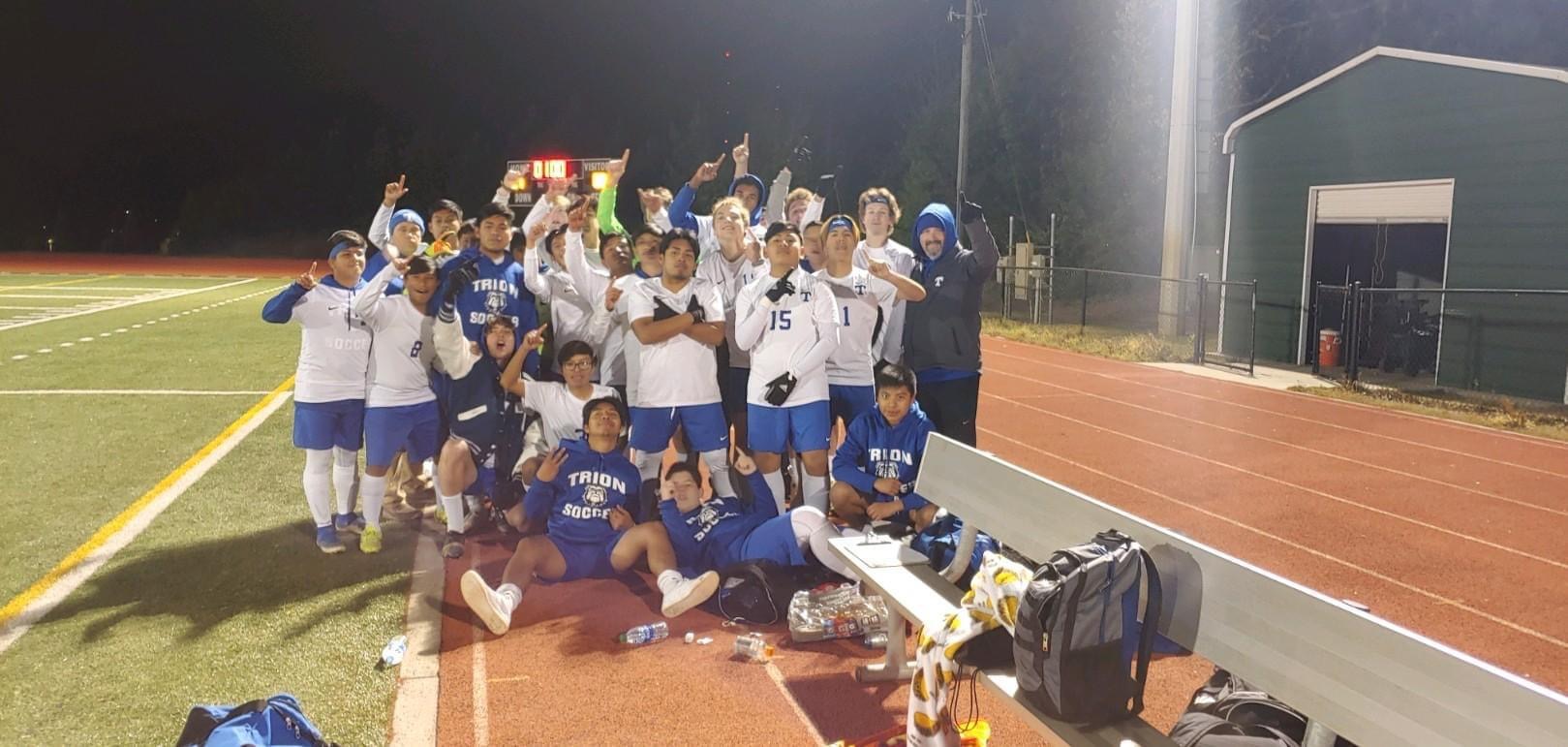 The Trion Bulldogs Varsity Soccer Team won their away game at Drew Charter by a score of 7-0.  The bulldogs were held to 1 goal in the first half in scoring against a very fast and counter attacking Drew Charter team.  The Drew Charter goalkeeper made several saves throughout the first half.  Brayan Chillel led the Bulldog scoring with the 3 goal hat trick. Brayan was a consistent threat with both breakthrough runs and distance shots throughout the match.   Kamdyn Harris finished with 2 goals in the second half.  One of those goals was set up with a settled trap from teammate Ei Hudgins.  Kam  tapped into  the goal  from the trapped pass from Eli.  Julio Casteneda moved up from his defensive play into midfield,  and on a great run into space, scored a well placed goal from a super cross field pass from Johnny Vasquez.   Brock Corbin concluded the Bulldog scoring with a strong 25 yard shot into the top of the net.  Jose (Chepe) Mateo, Eli Hudgins, Johnny Vasquez, and Julio Casteneda had assists.

"The  team has improved consistently in their play throughout the season. The team has played tough opponents and developed a strong defensive character. The offense regained a strong scoring momentum in their play, with the seven goals scored in the game against Drew Charter. Midfielders  Wesley Ramirez and  Johnny Ramirez  have helped set the defense and contributed to the offense," Bulldog Soccer Head Coach John Chance said.
The team has captured the Region Championship in their 4 region victories with no goals scored against them in region play.  Defensive backs Jason Ramirez, Julio Casteneda, Rhys Wallin, and  Brady Dawson have helped Jacob Spraggins as  goalkeeper to hold region opponents scoreless in 4 games. This iron curtain defense will be tested in the upcoming and final region game at home on Tuesday, April 13 at 7:00 by region rival Morris Innovative.  The team is hoping for the sweep of the region with a 5th region win and a defensive shutout.
Roster:
Senior
Wesley Ramirez
8
Brock Corbin
20
Eli Hudgins
42
Jacob Spraggins
GK-88
Jason Macario
2
Anthony Castro
3
Armando Bernardo
23
Kevin Mendez
9
Kam Harris
13
Brady Dawson
21
Rhys Wallin
32
Yorly Gonzalez
GK-24 /
Junior
Brayan Chillel
22
Bryan Figuerro
12
Will Price
35
Sophomore
Collier Gable
18
Jason Ramirez
15
Johnny Vasquez
16
Julio Castenada
11
Jose (Chepe) Mateo
6
Bielman Lopez
10
Carlos Hernandez
5
Sergio Ramos
17
Casey Pelico
14
Freshman
Jesser Lopez
31
Duglas Perez
27
Allan Paiz
1
Managers
Summer Railley
Carlie Railley