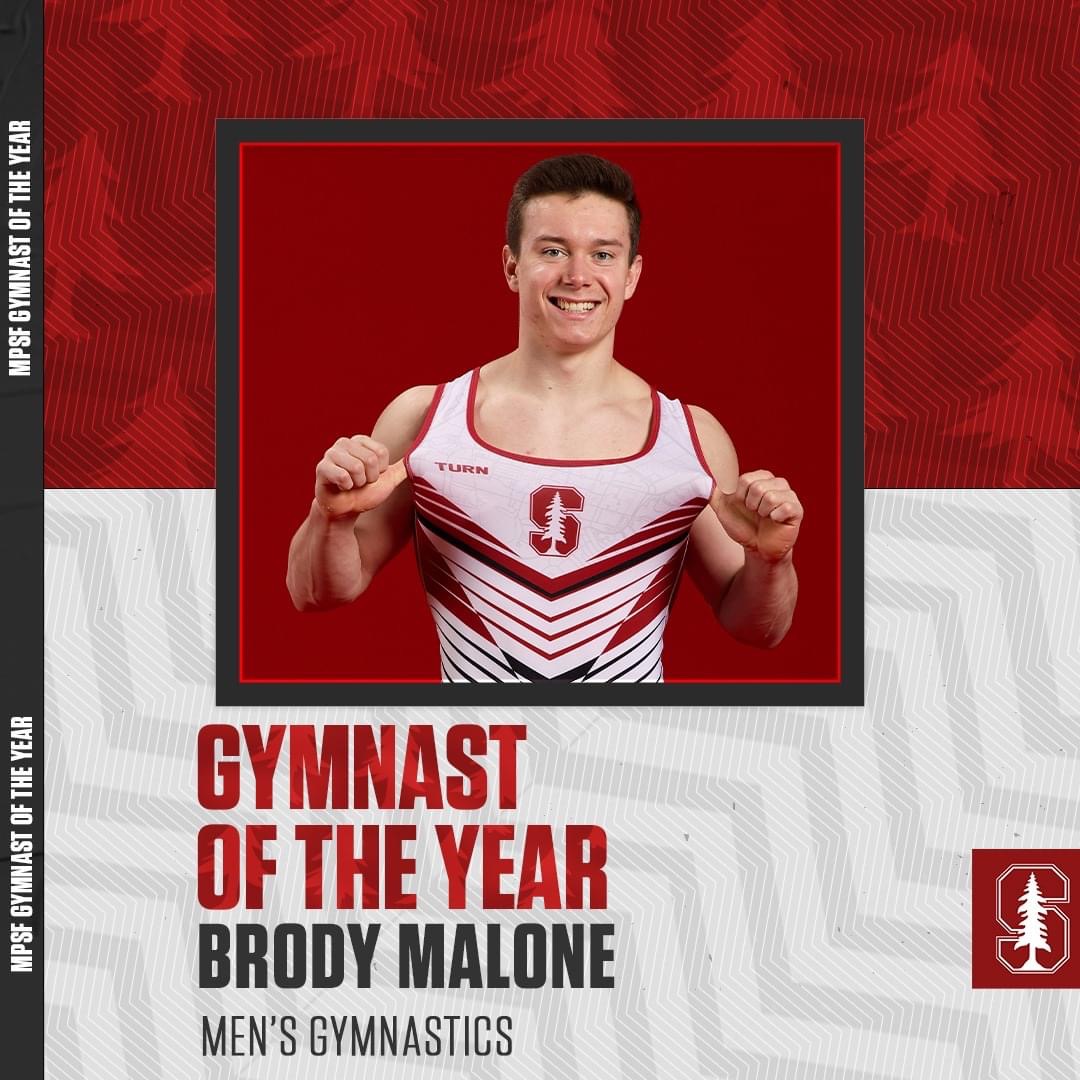 Brody Malone earned his third consecutive MPSF Gymnast of the Year selection.

STANFORD, Calif. – Junior Brody Malone claimed his third consecutive Mountain Pacific Sports Federation (MPSF) Gymnast of the Year selection, while head coach Thom Glielmi also earned his third consecutive Coach of the Year honor, it was announced by the MPSF on Thursday.
Malone is the first Stanford men's gymnast to win consecutive MPSF Gymnast of the Year honors since Akash Modi took the honor in four consecutive seasons from 2014 through 2017, becoming just the third four-time MPSF Athlete of the Year in any sport, joining Tony Azevedo (Stanford Men's Water Polo; 2001-04) and Aimee Harrison (Hawaii Women's Diving; 2013-16).
With Malone capturing the honor in his first three seasons on The Farm, Stanford has now earned 10 MPSF Gymnast of the Year selections in the last 18 years. Joining Malone on the list are Modi, Tim Gentry (2011), Sho Nakamori (2009) and Dan Gill (2004).
Malone, a U.S. Senior National Team member, has won 12 of the 15 events he's entered after competing in the last four meets for the Cardinal this year. The native of Summerville, Ga. has captured three event titles on pommel horse, three on parallel bars, two on rings, two on high bar, one on floor, and the only all-around he competed. Malone has finished top three in 13 of the 15 events entered, and he has claimed a pair of MPSF Gymnast of the Week honors – running his career total to seven.
Malone owns the highest parallel bars score in the nation (15.100), and is the only gymnast this year to go 15-plus on an event. Ranked first nationally on parallel bars, fourth on pommel horse and ninth on still rings, he owns the second-highest high bar score (14.450), fourth-highest pommel horse score (14.500), and second-best all-around score (86.500) this year.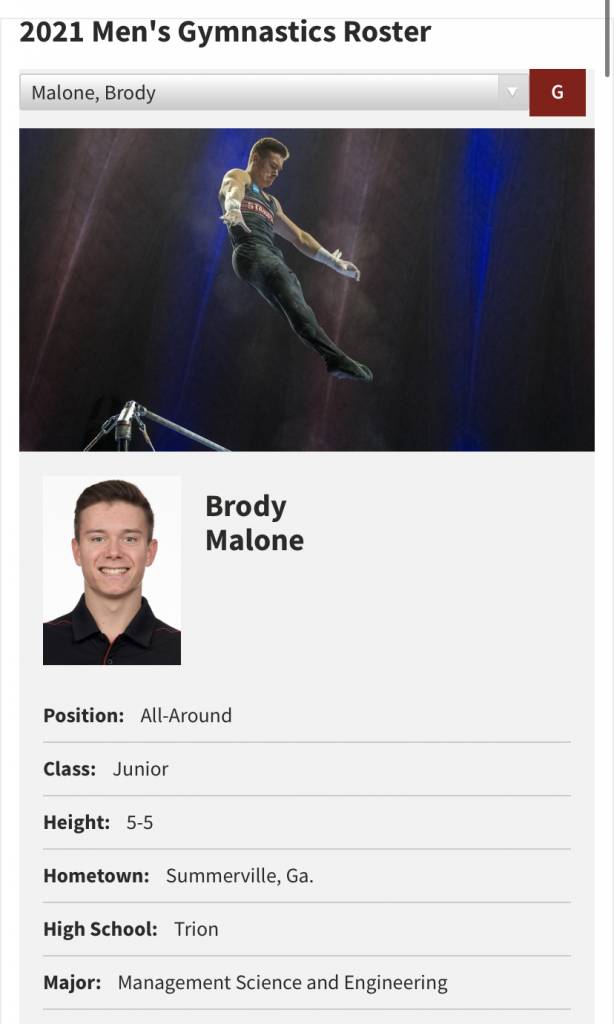 Career Accolades
NCAA team champion (2019)
Three-time NCAA National Champion (2019: all-around, floor, high bar)
Eight-time NCAA All-American (2019: all-around, floor, high bar, parallel bars, still rings; 2020: all-around, parallel bars, vault)
Two-Time MPSF Gymnast of the Year (2019, 2020)
Finished third in all-around in preliminary round of Winter Cup Challenge to earn spot on US Senior National Team (2020)
Seven-time MPSF Gymnast of the Week (Jan. 29, 2019, Feb. 5, 2019, Apr. 2, 2019; Jan. 21, 2020, Feb. 25, 2020; March 9, 2021, March 30, 2021)
Block S Outstanding Sophomore Award Winner (2020)
CGA Rookie of the Year (2019)
Four-time CGA National Gymnast of the Week (Feb. 5, 2019, Apr. 2, 2019, Apr. 24, 2019; March 30, 2021)
Six-time CGA National Rookie of the Week (Jan. 29, 2019, Feb. 5, 2019, Feb. 26, 2019, Apr. 2, 2019, Apr. 9, 2019, Apr. 24, 2019)
Block S Outstanding Freshman Award Winner (2019)
MPSF All-Academic Scholar-Athlete (2020)
As a Junior (2021)
CGA National Gymnast of the Week (March 30)
Two-time MPSF Gymnast of the Week (March 9, March 30)
As a Sophomore (2020)
MPSF Gymnast of the Year
Three-time NCAA All-American (all-around, parallel bars, vault)
Two-time MPSF Gymnast of the Week (Jan. 21, Feb. 25)
Block S Outstanding Sophomore Award Winner
Stanford men's gymnastics Hardest Worker Award recipient
MPSF All-Academic Scholar-Athlete
Finished season as the national leader on parallel bars (14.500) and was ranked second in the all-around (82.650)
Won seven event titles overall, including four on parallel bars, and one each on still rings, vault and the all-around
Captured all-around title (81.900) in a tri-meet with California and Air Force (Jan. 18)
Hit for a career-best 14.900 on vault to post the third-highest score in the nation and win the event title at the Stanford Open (Jan. 25)
Registered the third-best all-around score in the nation (84.200) at the ASU Invitational (Feb. 8)
Turned in the second-best vault of day one (14.400) and second-best parallel bars routine in the prelims (14.600) to finish third in the all-around during the 2020 Winter Cup Challenge preliminary round with a score of 83.950 to earn a spot on the US Senior National Team (Feb. 20)
As a Freshman (2019) • National Champions
CGA Rookie of the Year
MPSF Gymnast of the Year
Three-time NCAA National Champion (all-around, floor, high bar)
Five-time NCAA All-American (all-around, floor, high bar, parallel bars, still rings)
Three-time CGA National Gymnast of the Week (Feb. 5, Apr. 2, Apr. 24)
Six-time CGA National Rookie of the Week (Jan. 29, Feb. 5, Feb. 26, Apr. 2, Apr. 9, Apr. 24)
Block S Outstanding Freshman Award Winner
Three-time MPSF Gymnast of the Week (Jan. 29, Feb. 5, Apr. 2)
First Stanford gymnast to win three individual NCAA titles in one season
Fourth Cardinal gymnast to record five All-America honors in one Championship Meet
Third gymnast to win NCAA all-around crown as a freshman (Sam Mikulak, 2011; Yul Moldauer, 2016)
Captured national title on floor with a career-best 14.800, won the all-around with a career-high 85.832 and high bar with a mark of 14.633
Won 16 event titles in total, including five all-arounds, five on high bar, and two apiece on parallel bars, vault and floor
Ranked first in the nation in the all-around (84.225), sixth in high bar (14.100), seventh in parallel bars (14.188), eighth in vault (14.588), and top-25 in floor (18th, 14.150), rings (20th, 13.950) and pommel horse (20th, 13.563)
Hit for a career-best 14.300 on still rings to capture third at Pac-12 Invitational (Feb. 2)
Won high bar event title at International Collegiate Challenge (Feb. 23) with a career-high 14.750
Season-best 13.900 on pommel horse against California (March 30)
Captured the parallel bars event title against California (March 30) with a season-high 14.550
Managed four of Stanford's top seven scores for the season on high bar
International Competition
Member of USA Senior National Team
2018 RD761 International Junior Team Cup in Katy, Texas
2017 International Junior Gymnastics Competition in Yokohama, Japan
2017 P&G National Championships titlist (three-time international high bar silver medalist)
Prior to Stanford
2018 graduate of Trion High School in Trion, Ga.
Competed for Cartersville Twisters Gymnastics club team (2014-18)
Won a pair of Georgia State Championships (2017-18)
Personal
Born in Johnson City, Tenn.
Named to 2019 USA Pan American Games squad
Son of John and Tracy
Has two brothers, Cooper and Tyler, and one sister, Briley