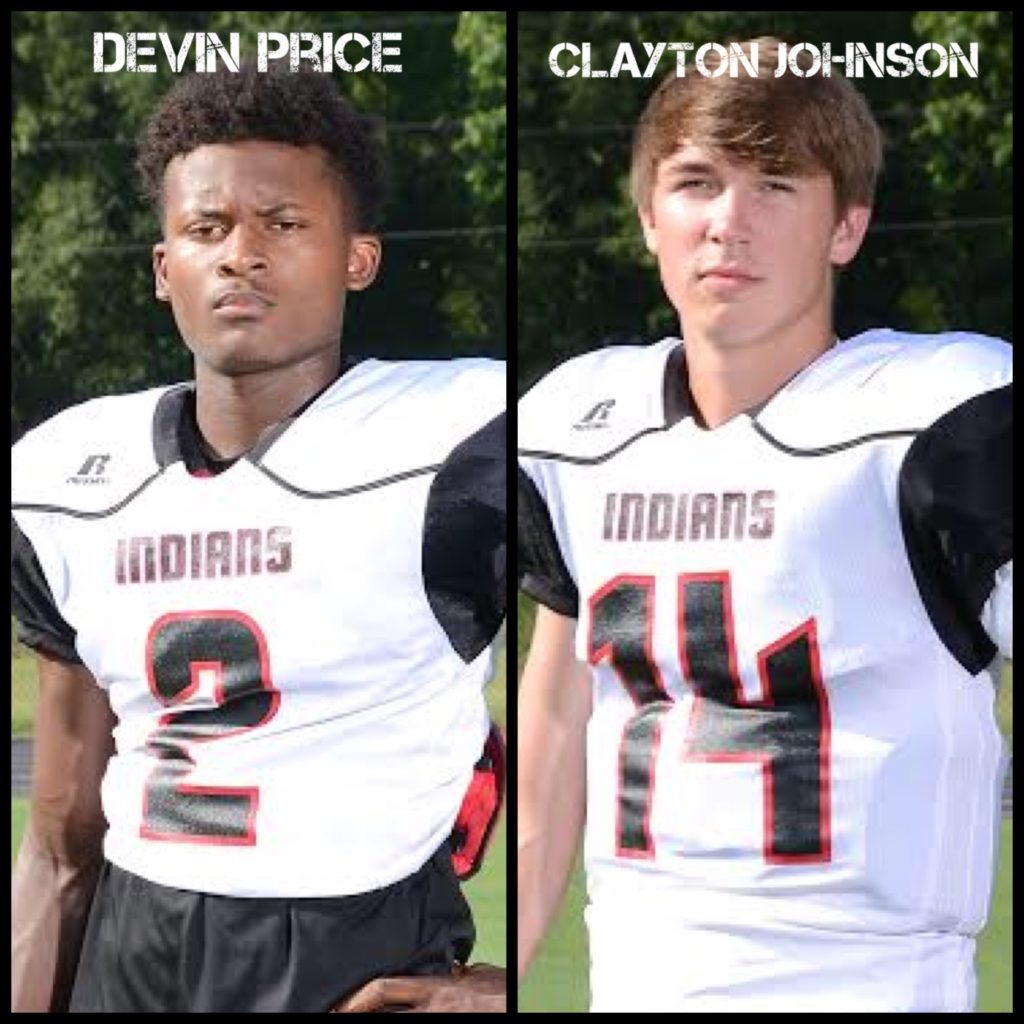 After opening the season with 24 yards through the air, on 4 of 10 passing, with zero touchdowns and one interception in two games, the Chattooga Indians seem to have found an aerial connection that works. Senior quarterback, Clayton Johnson, finished up last week's contest against Wesleyan, after an ankle injury sidelined starter Devin Price. Johnson threw just one pass in that game, a 7-yard completion, but was bolstered by a record night from sophomore tailback, E.J. Lackey. The Indians' ground attack rolled up 339 yards behind Lackey (242 yards) and freshman Lashaun Lester. The result was a well-earned win against the Wolves, but fans were left wondering about any possibility of an air attack to compliment the ground game in the event that opposing teams stacked the box in an effort to shut down the run.

Johnson to Price
Indian Nation needed only one week to get an answer to their questions about a passing game, as Clayton Johnson needed only five completions against the Heritage Generals to post 168 yards passing and three touchdowns. Johnson completed 4 of 6 attempts to Devin Price for 160 yards and all three scores. In terms of accuracy, Johnson's two incompletions were spot-on passes that were dropped. And both attempts were likely to have been scoring catches as well. Senior fullback Izzy Dammond picked up the other reception for an 8 yard first down.
With Johnson's arm and Price's hands, the Indian offense was far more balanced. After a combined 103 carries in the first two games, Lackey and the Indian backfield only needed 29 carries to roll up 183 yards and another 3 touchdowns on the ground.
The Indians opened the scoring on a Johnson to Price connection and cruised to an easy 21-0 point lead in the opening minutes of the game. The Generals were only able to put points on the board after a kick off return to mid-field was aided by a personal foul that set Heritage up with a 1st and 10 from the Indians 32 yards line. A quick strike pass from sophomore quarterback, Nick Hanson, tightened the gap to 21-7 but the Indians were in control throughout the game. Chattooga added two more scores before halftime to go into the locker room 34-7.
The second half was more of the same as Lackey and Lester pounded out yardage and controlled the clock. Indians Head Coach Charles Hammon employed a conservative approach in the second half as the Indians outscored the Generals 21-13, and both clubs kneeled out the final four minutes of regulation play.
A Balanced Approach
The theme of the night seemed to be balance. In addition to posting 168 yards through the air and 183 yards on the ground, the scoring was spread around as well. The Indians scored three rushing TD's, three passing TD's, one touchdown on special teams and a fumble return for a TD. Price scooped up a Timyus Lawrence fumble following a Heritage kick-off and took it 50 yards for the Special Teams score and Jackson Lowenberg grabbed a heritage fumble as the Generals were threatening from the Indian's 25 yard line and returned it 75 yards for and Indian defensive touchdown.
Top Performers
Rushing: E.J. Lackey – 15 carries for 75 yards and 1 TD / Lashaun Lester – 9 carries for 70 yards and 1 TD
Passing: Clayton Johnson – 5 of 8 for 168 yards and 3 TD's
Receiving: Devin Price – 4 catches for 160 yards and 3 TD's
Kicking: Luis Medina – 5 of 6 on PAT's
THE GOOD
Devin Price totaled 4 touchdowns on the night. Clayton Johnson tossed three TD passes and added another score on a bootleg run. The offensive line demonstrated the ability to pass block and run block with some consistency and physicality. The defensive front was hungry and applied good pressure.
A monster lead gave the Indians a chance to roll in many JV players as early as the third quarter for some valuable experience and reward some 2nd and 3rd string seniors with skill position plays.
THE BAD
The secondary again was exposed on several plays as the General's sophomore QB piled up 18 first downs and 175 yards passing and 3 TD's. The air attack was enough to throw some confusion into the Indian defense which also allowed over 100 yards rushing by the Generals.
THE UGLY
While the secondary has had some ugly moments, many coaches hope that the absence of Danny Bare and Jamarious Mosteller contribute to those woes, the penalties Friday night were again severe. Chattooga was flagged 11 times for nearly 100 yards. The defense had several sloppy moments and were caught out of position with some uncharacteristic poor tackling on a few plays.
Despite some great passing, Clayton Johnson had some mix ups that remind coaches of his relative inexperience at the position. Johnson is still a 17 year-old QB with only a season of starts under his belt and still has plenty of room for growth and development.