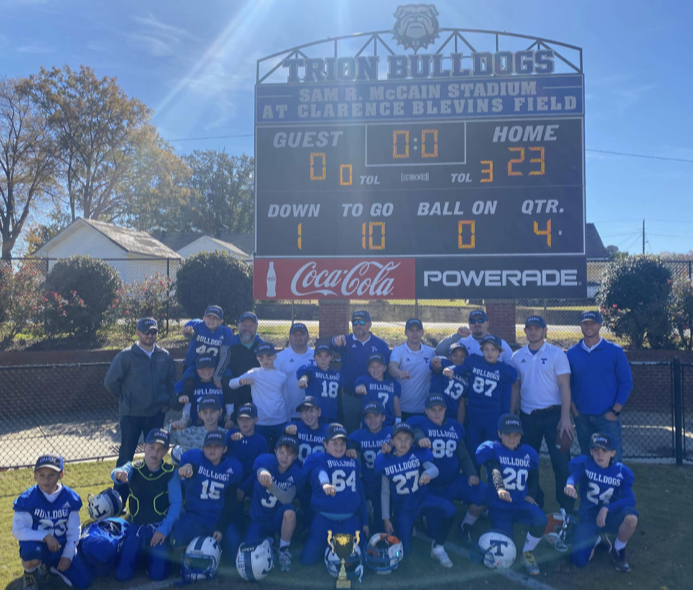 The 10U Trion Bulldogs claimed the Super Bowl Championship capping off a perfect, undefeated 10-0 season in which they outscored opponents 303-20.
Regular Season recap:
Wk1 vs Calhoun 20-12
Wk2 vs Bartow Tigers 24-0
Wk3 vs Catoosa Fox 33-0
Wk4 vs Catoosa Sellers 34-0
Wk5 vs Cass Gold 48-0
Wk6 vs Lafayette 28-0
Wk 7 vs Bartow Wildcats 39-0
Wk8 vs Summerville 27-0
The Bulldogs defeated Summerville, 28-8 in the first round of playoffs.
In the Super Bowl the Bulldogs defeated the Bartow Tigers, 23-0.
Up next for the undefeated Super Bowl champs will be a trip to Mercedes Benz Stadium on Dec. 12th where they will compete against other teams from around the state. The team will also get to tour the stadium and the Atlanta Falcons locker room.
Roster:
00 – Brady Parris
01 – Butler Crowe
3 – Maddux Colbert
4 – Branson Bryant
7 – Kason Maddux
8 – Pierce Blackmon
9 – Finn Stivers
13 – Tamarion Daniel
15 – Josh Chandler
18 – Graysen Carpenter
20 – Karsen Keith
21 – Jarrett Helms
23 – Jace Wells
24 – McKinley Mann
27 – Xander Warnock
40 – Cason Sanford
64 – Parker Chambers
70 – Konner Smith
87 – Jayden Marks
88-Riley Jarrett
99 – Avery Hogue
Coaches:
Russ Maddux
Bryan Colbert
Jase Warnock
Philip Wells
Landon Bryant
Dewayne Clark
Nic Parris