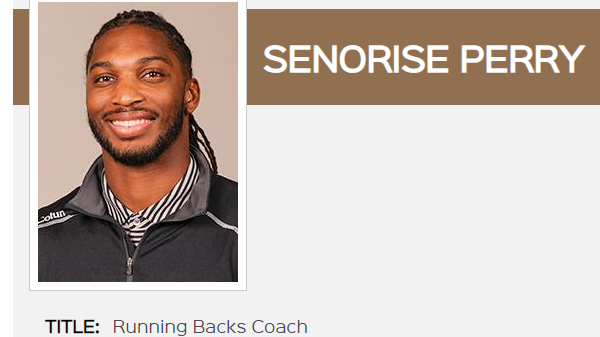 Senorise Perry joined the Wofford coaching staff in January of 2023. He will work with the running backs.
He played college football at Louisville prior to a career in the NFL. He began his NFL career as a rookie free against with the Chicago Bears in 2014 and played in all 16 games, recording a team-high 17 special teams tackles. He missed the 2015 season due to injury and was signed to the Miami practice squad in 2016. In 2017 and 2018 he played in a total of 32 games with the Miami Dolphins. He led the Dolphins in special teams tackles in 2018 with nine. During the 2019 season with the Buffalo Bills he saw action in 11 games. He signed with the Titans in 2020 and played in seven games. For his career he played in 66 NFL games with 13 carries for 42 yards, along with 22 kick returns for 454 yards.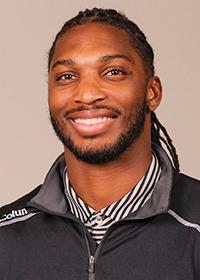 While at Louisville, he had 1,409 career rushing yards on 289 carries with 18 touchdowns along with 36 receptions for 359 yards and a touchdown in 46 career games. Shawn Watson was the offensive coordinator in three of his four seasons with the Cardinals. As a senior he was second on the team in rushing with 141 carries for 677 yards and six touchdowns, along with 18 catches for 178 yards and a touchdown. He led the team with eleven touchdowns as a junior in 2012 which included four touchdowns against Pittsburgh. He had 705 rushing yards and 181 receiving yards as the team played in the Sugar Bowl. He played in 13 games as a sophomore and ten games as a freshman. He graduated from Louisville with a degree in communications.
A native of Summerville, Georgia, he played at Chattooga High School and had his #32 jersey retired by the school in 2021. As a senior he had 918 rushing yards and 15 touchdowns to earn All-State honors. He also won the state championship in the 100-meters. He has a son, Braylen, and a daughter, Violet.
Wofford College is a private liberal arts college in Spartanburg, South Carolina. It was founded in 1854. The 175-acre campus is a national arboretum and one of the few four-year institutions in the southeastern United States founded before the American Civil War that still operates on its original campus.