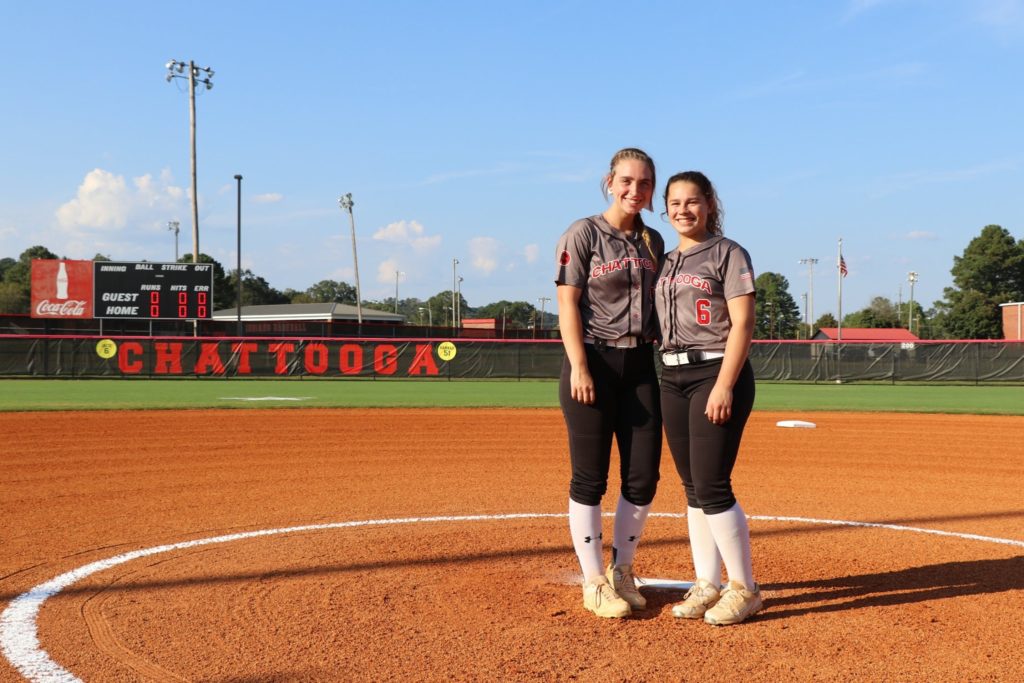 "This is the first time our softball program has gone back to back state playoff," Coach Jeff Bennett said. And much of that success goes to his senior players, Jacie Martin and Hannah Trasher, "both those young ladies are a big part in that as well as our other girls, we start state playoffs next Wednesday or Thursday I will find out Thursday who we play and where."

Chattooga finished region play on Wednesday evening dominating Coosa in a 14-0 win. On Monday the Lady Indians defeated Pepperell 14-2. The Lady Indians finished with an overall record of 16-8 and 10-4 in region play.
Monday Chattooga Softball recognized its senior players: Jacie Martin and Hannah Trasher. "They are two very important people on our softball team they both are four year starters they both are not very vocal leaders but they are very quiet leaders. But what I mean about that is if something happens either on the field or the dressing room they address it. They will be greatly missed in our softball program. Hannah has been one of the best pitchers that we've had in our Softball program and one of the best hitters Jacie is one of the top outfielders in our program she is fabulous in Centerfield she tracks the ball down making it look easy. Hannah and Jacie both were voted by the region coaches last year on the all region first team. That should tell you what the region coaches think of them," Coach Bennett said.
Pepperell Recap:
Junior Gracelyn Veitch was clutch at the plate on Monday, driving in five on two hits to lead Chattooga past the Lady Dragons 14-2. Veitch drove in runs on a in the first and a grand slam in the third. The grand slam was Veitch's first home run.
Chattooga scored five runs in the third inning. The big inning was thanks to a walk by Ramsey Elrod and a home run by Veitch.
Hannah Thrasher was the winning pitcher for Chattooga Lady Indians Varsity. She surrendered two runs on four hits over four innings, striking out six and walking one.
Chloe Jones took the loss for Lady Dragons. She surrendered 14 runs on nine hits over three and two-thirds innings, striking out three.
Chattooga Lady Indians Varsity socked one home run on the day. Veitch had a homer in the third inning.
Chattooga Lady Indians scattered nine hits in the game. Emma Howard, Veitch, and Kayleigh Byars each racked up multiple hits for the Lady Indians Varsity. Byars, Veitch, and Howard each collected two hits to lead the team.
Coosa Recap:
Clara Of Chattooga Lady Indians Varsity Shuts Out Coosa Eagles Varsity
Clara Wyatt didn't allow a single run against Coosa Eagles Varsity, throwing a complete game shutout and leading Chattooga to a 14-0 victory on Wednesday.
Chattooga scored one run when Emma Howard singled in the first inning.
Chattooga tallied six runs in the fifth inning. The offense in the inning was led by Hannah Thrasher, Howard, Emma White, and Wyatt, who all drove in runs.
One bright spot for Coosa Eagles Varsity was a single by Maddie Shell in the second inning.
Wyatt was credited with the victory for, she lasted five innings, allowing two hits and zero runs while striking out eight and walking zero.
Shelby Nutter took the loss for Coosa Eagles Varsity. She surrendered 14 runs on 14 hits over five innings.
Chattooga racked up 14 hits and 14 runs. Howard, Thrasher, Grace Dooley, Jacie Martin, andWyatt each had multiple hits. Howard led Chattooga  with three hits in four at bats. Chattooga stole 11 bases during the game as four players stole more than one. White led the way with three.
Shell went 2-for-2 at the plate to lead Coosa Eagles Varsity in hits.