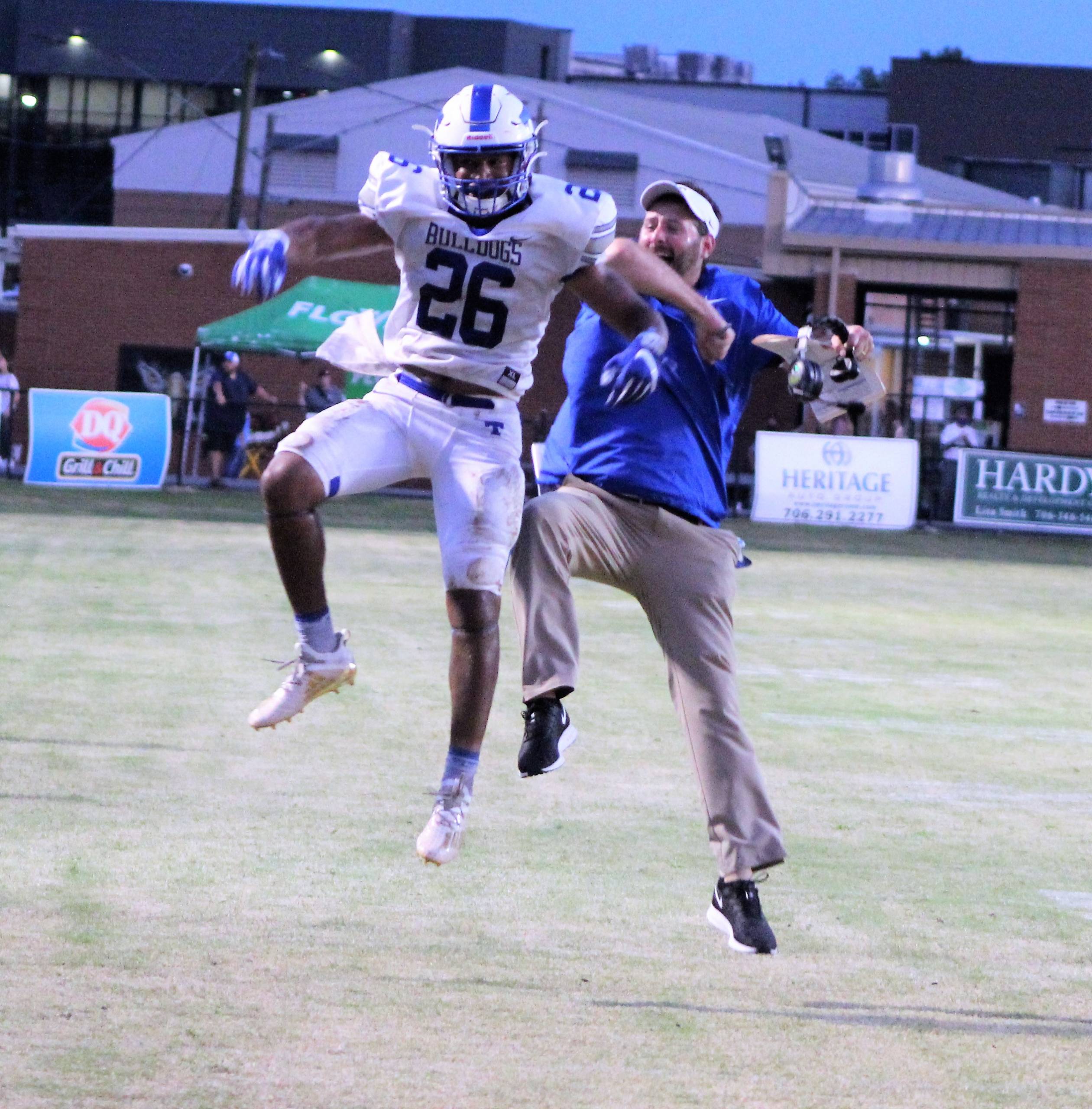 Four Overtimes… Four
Coach Sean Patrick made his debut for the Trion faithful Friday night in Coosa. It took four overtimes for the Eagles to defeat the feisty scrappers from Trion 51-45. And in that long ballgame the kids in white and blue proved one thing to their new head coach, they will fight until the last whistle.
Coach Patrick said the game was exhausting, "an emotional roller coaster, but it was fun to finally have an opportunity to play."
At the end of regulation the teams were tied at 28. In the first and second overtimes the Bulldogs and Eagles each scored touchdowns. The third overtime the teams exchanged field goals. In the fourth overtime a high Trion snap was recovered at the four-yard line to set up the game winning Coosa touchdown.
Patrick said he was pleased with how hard the  kids played. "The kids fought their tails off. There were times that we ran the ball well and times when we stopped the run well. We just have to be more consistent."
Coosa soared to a 14-0 lead in the first quarter, scoring on the ground and in the air. Trion found their answer in running back Rob Brown who scored three unanswered touchdowns in the first half. Trion was held to six points in the third and fourth quarters.
Sophomore quarterback Logan Eller went 7 for 16 for 42 yards and added another 106 rushing yards and one touchdown on the ground before being injured in the final minutes of regulation.
Backup quarterback Connor Deparlier stepped in for the overtimes.
Trion had several bright spots in the game, Rob Brown had four touchdowns on 22 carries rolling up 110 yards. Freshman Tody Maddux rushed for 40 yards.
According to Coach Patrick his Bulldogs have a lot of things to clean up, "we have to do a better job of executing on both sides of the ball. There were a lot of bust offensively. We have to be more physical. But we are an incredibly young team and we know that there will be growing pains. We'll get better."
Some of those growing pains were evident with yellow flags. Trion had nine penalties for 75 yards. Coosa had 12 penalties for 125 yards.
Trion's offense ran 96 plays for 332 yards of production: 67 of those yards were in the air, 265 were on the ground. The Bulldogs had 21 first downs. They went 4-16 on third downs, 2-2 on fourth downs.
The Bulldogs had two turnovers in the game, "we just made too many mistakes last night to win," Patrick said.
Up next for the Bulldogs will be another 2A team, Model. Model is 1-1, winning over Lafayette (21-20) and losing to Sonoraville (20-14).