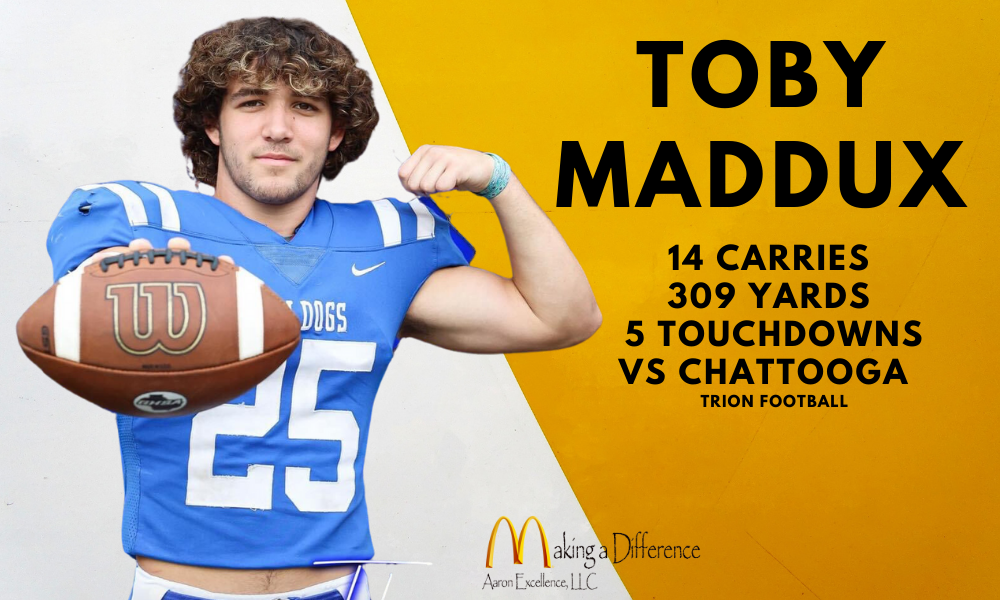 This week's AllOnGeorgia Player of the Week honors brought to you by Jim Aaron's Summerville McDonalds go to Trion Football's Running Back and Free Safety Toby Maddux. 
Maddux's dominating performance on the field was nothing short of extraordinary in Trion's recent game against Chattooga, where the Bulldogs secured a resounding 52-17 victory. On just 14 carries, Maddux rushed for an incredible 309 yards and five touchdowns, displaying a combination of speed and power.


The game pushed Maddux over the 1,000-yard mark for the season. With 98 carries in total, Maddux has amassed an impressive 1,111 rushing yards and an astonishing 19 rushing touchdowns, demonstrating his ability to find the end zone with remarkable frequency.
Maddux's yardage per touch is a jaw-dropping 11.3 yards, showcasing his big-play potential and knack for turning every opportunity into a substantial gain. In addition to his ground game, Maddux has also contributed through the air, with six catches for 90 yards and one touchdown.
"Toby is a baller. He's so hard to tackle. He just runs so hard," Trion Head Coach Sean Patrick said. "But he has put in a lot of work to get his body in shape to do the things that he's doing now. He makes plays all over the field and in all three phases of the game. He's fun to watch."
Here's a little more about Toby Maddux:
What is your pregame routine? 
Before each game we have a speaker in the locker room with us to help us get pumped up. The team's pump up song is First Day Out by Tee Grizzley
What makes the Trion vs Chattooga game so special? 
What makes the game so special is just about everybody on the team has a lot of friends that go to Chattooga, some of their players even used to go to Trion. Also the fact that we never get to play each other unless it's a scrimmage. A game that actually means something is far more important to everyone in the county.
What was your favorite play in the game? 
My favorite play of the game would be the 75 yard touchdown I had.
Do you have any personal goals for this season? What about team goals? 
Yes, I have a couple of personal goals. I want to finish the season with at least 2,000 rushing yards.  Also as a team one of our big goals is a region championship.
Tell me a little about your O-Line: 
Our O-line did amazing in the game. Most of us have been playing with each other since we were 6 years old. Huge shoutout to all of them. We wouldn't have been able to have the success we had without my boys on the line.
What qualities make a good football player and teammate? 
There are a couple qualities that a good football leader has to have. A good leader has to be vocal and not afraid to get on to a teammate. Also someone that can back up what is being said. A good football leader can't be all talk. They have to be able to back up what they say by how they play.
What qualities make a good football coach?
A good football coach isn't always going to be your best friend at practice. They will discipline you and make sure that you do things right for the betterment of the team. A good football coach will also be there for you on and off the field.
What is the best part of being a Trion Bulldog?
One of the things that makes being a Trion football player so good is our community. Our community does a lot for our team and they show us a lot of love every Friday.
Where do you see yourself in 10 years?
In ten years I see myself helping run my fathers roofing company with my brother.
What is something most people do not know about you? 
Most people may not know that I love playing guitar. I play for around an hour almost every day.
Who is your role model and why? 
One of my biggest role models is Tim Tebow because of how he makes sure that people know he's a Christian and his mindset about things.
GPA: 4.0
Favorite Class:  American Government/Civics Honors.
Favorite Teacher: he most fun teacher I have this year is Coach G.