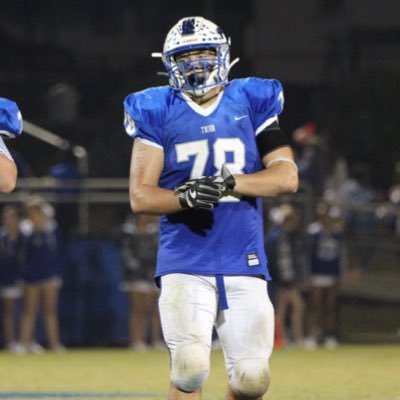 Trion High School's senior heavy football team has several players you will see playing on Saturdays. Leading the Dog's recruitment trail  is 6'3″, 265 lb offensive tackle, Kaleb Park.

Park has already picked up offers from Webber International, Culver Stockton University, and Shorter University.
Not too shabby for a kid who at a young age was told he wouldn't play football again.

"Being recruited is mind blowing, knowing that when I was younger I was told I wouldn't be able to play again, now to having opportunities to play after high school, it's truly a blessing," Park said.
When Park was around eight-years-old he was diagnosed with Juvenile Idiopathic Arthritis. After many trips to the orthopedist, he was referred onto neurology, where he had muscle biopsies because he was too weak to walk.
"I've been in braces for walking, had multiple surgeries, and ended up in hard boots. I was in a wheelchair for around 8 months when I was 11. Told by a doctor to rethink my career choice in nursing and quit playing sports to do something that used my brain and not my body,"  Park said.
He also received a diagnosis of muscular dystrophy. "Around 7th or 8th grade I just started to get better. I never stopped playing sports, and I just pushed through. The Lord is the only reason I am where I am and why I rely on faith."
The 2nd team All-Region offensive tackle plans to pursue a Bachelor of Science in Nursing.
Park admitted he was currently, "a little sweet on the Shorter offer", but isn't ready to commit.
Park will be attending several camps over the next few weeks, including Valdosta State.
His goals for his senior season in blue are to grind in the weight room, and on the field, "make myself better for my team, offers are great don't get me wrong, but I just want to win championships with my boys. A region championship, then a state championship, keep winning to get another week."